Atlona® Conferencing 4K Ultra HD Multi-Format Switcher with Two HDBaseT Inputs and Mirrored HDMI / HDBaseT Outputs
AT-UHD-CLSO-612ED-A
Description
Specs
Support
Description
Description
The Atlona AT-UHD-CLSO-612ED is an advanced six-input, multi-format switcher with built-in 4K scaling and mirrored HDBaseT and HDMI outputs. It simplifies classroom and small office system integration by providing two HDBaseT inputs, two HDMI inputs, and two multi-function analog inputs.
Atlona® Conferencing 4K Ultra HD Multi-Format Switcher with Two HDBaseT Inputs and Mirrored HDMI / HDBaseT Outputs
The Atlona AT-UHD-CLSO-612ED is an advanced six-input, multi-format switcher with built-in 4K scaling and mirrored HDBaseT and HDMI outputs. It simplifies classroom and small office system integration by providing two HDBaseT inputs, two HDMI inputs, and two multi-function analog inputs. HDBaseT inputs enable integration of remote sources at lecterns, meeting tables, and walls via HDBaseT transmission, alongside locally connected sources. The CLSO-612ED is designed to be the central component of an automated AV system; it combines the benefits of a scaling switcher with automatic display control and automatic input selection, plus the advantages of HDBaseT signal transmission to extend AV, power, control, and Ethernet over a single cable. The switcher enables input selection from the front panel, RS-232, or TCP/IP commands, and is ideal for applications where multiple signals with different resolutions must be optimized for a display. Professional audio features such as a microphone input with 48 volt phantom power and ducking are also included, allowing the switcher to address a wide array of AV needs in professional settings. In addition to automated input selection, the switcher can be controlled via the Atlona AT-ANC-108D button control panel.
Important Notice - Atlona does not guarantee the function of CEC with all televisions. We can confirm proper operation with many current Samsung, Panasonic, and Sony TVs. Many manufacturers do not support the CEC "off" command when sent from a source and older TVs use proprietary commands. Atlona only supports those TVs that follow CEC command structure from HDMI 1.2a and support the "off" command when issued by a source. We encourage any dealer to get a product evaluation prior to designing a system around this control technology or be prepared to use other control methods if CEC is not compatible with their installed displays.
Two Ethernet-Enabled HDBaseT inputs
Used with Atlona HDVS-150/200 or AT-UHD-EX-100CE-TX-PD series transmitters, this device is ideal for placement at remote sources near lecterns, conference tables, and instructor's desks up to 330 feet (100 meters) from the switcher. It also simplifies integration of remote sources by eliminating power supplies when used with PoE-powered transmitters. A single category cable carries AV signals, Ethernet, control and PoE power.
Two HDMI Inputs
These inputs support up to two DVI, HDMI and DisplayPort sources. These inputs are compatible with PCs, Blu-ray players, document cameras, teleconference systems, or other wireless solutions with industry standard digital audio/video outputs.
Two Multi-Function Analog Inputs On 15-Pin HD Connectors
This switcher accepts RGBHV, component, S-video, or composite signals using common adaptors and break out cables, and also provides input options for legacy analog sources.
Automatic Display Control
The CLSO-612ED provides control to a display through TCP/IP, RS-232, or CEC*, without the need for a separate control system. This simplifies system design and integration while reducing costs. With automatic display control, the CLSO-612ED can trigger a display to power on automatically whenever a laptop or other device is connected locally to the switcher or over HDBaseT. Then, when the user disconnects the laptop, it forces the display to power off. Ease of presenter interaction with the system, and the savings incurred by automatic display shutdown provide a significant return on investment. The CLSO-612ED's display control capability can also be triggered by an external control system. A power button on the front panel can be used for manual on/off control of either the CLSO-612ED or the display. Front panel volume controls are also available to control the display's internal audio, or another device with volume control, such as a DSP or another switcher.
Automatic Input Selection
The CLSO-612ED automatically selects an input source based on detection of the 5 volt hot plug detect (HPD) signal, as well as active video. This ensures reliable auto-switching operation for all video sources, including DVRs, DisplayPort / Mini DisplayPort adapters, and other devices that always maintain the HPD line at the 5 volt "high" state but may not be delivering active video.
RS-232 Distribution to Sources and Destinations
Dedicated RS-232 connections for all local sources and destinations, plus transmission over HDBaseT, allow the switcher to be used as a RS232 distribution system to all local and remote sources and displays. This lowers the cost of control system integration by reducing the number of RS-232 interfaces on the processor, providing much-needed install flexibility.
---
Conference Gear That Works
We offer a wide range of communication equipment—including switchers, receivers, transmitters, converters, and more—that work together to create fully-integrated commercial conferencing solutions.
Learn More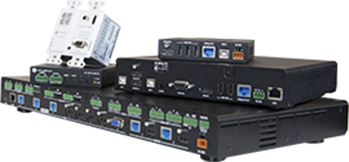 Specs
Specifications
AT-UHD-CLSO-612ED
CAT5e/6 @ 4K: up to 70 meters / up to 230 feet
CAT5e/6 @ 1080p: up to 70 meters / up to 328 feet
CAT6a/7 @ 4K: up to 100 meters / up to 328 feet
Switchable – Complaint/Non-compliant – 1.4
8-bit, 10-bit, 12-bit
Color Space: YUV, RGB
Chroma Subsampling: 4:4:4, 4:2:2
17.24" x 1.73" x 10"
20 to 90% non-condensing
32°F to 122°
43W
-4°F to 140
7.10 lb
4096×2160@24/25/30Hz, 3840×2160@24/25/30Hz, 2048x1080p, 1080p@23.98/24/25/29.97/30/50/59.94/60Hz, 1080i@50/59.94/60Hz, 720p@50/59.94/60Hz, 576p, 576i, 48
PCM 2Ch
2560×2048, 2560×1600, 2048×1536, 1920×1200, 1680×1050, 1600×1200, 1600×900, 1440×900, 1400×1050, 1366×768, 1360×768, 1280×1024, 1280×800 1280×768, 1152×768, 1024×768, 800×6
32kHz, 44.1kHz, 48kHz, 88.2kHz, 96kHz, 176.4kHz, 192kHz
up to 24-bit
Yes
AC100-240V ~ 50/60Hz
DC 48V/3.125A
HDBaseT Connections
HDCP Compliance
HDMI Max Color Depth
Dimensions (W x H x D)
Operating Humidity
Operating Temperature
Power Consumption
Storage Temperature
Weight
Supported Resolutions
HDMI
VESA Resolution
Supported Sample Rates
Bit Rate
CEC
Power Input
Power Output
Support
Manuals and Guides

Sales Resources

Support Documents

Control Protocols and Drivers
Affiliate Warranty
We want to make our Affiliate program as easy as possible. That's why we process all claims directly, without any third party telephone tag. Specific warranty terms and details from the manufacturer are below. View the full Atlona® Warranty.