JVC DLA-RS3000K D-ILA 8K e-shift 2,200 Lumen Projector
JVC-DLA-RS3000K-A
Description
Specs
Support
Description
Description
JVC offers ultimate image quality with ease of operation and impressive installation flexibility. The RS3000 is a further upgrade to that with a 8K e-shift, our best lens, 2,200 lumens, 100,000:1 Native Contrast and 100% DCI color.
JVC DLA-RS3000K D-ILA 8K e-shift 2,200 Lumen Projector
JVC offers ultimate image quality with ease of operation and impressive installation flexibility. The RS3000 is a further upgrade to that with a 8K e-shift, our best lens, 2,200 lumens, 100,000:1 Native Contrast and 100% DCI color. D-ILA imaging devices offer the best black level and contrast with native 4K resolution. 8K e-shift quadruples that resolution. Frame Adapt HDR is JVC's dynamic tone mapping system, processing all 4K HDR-10 content (including Dolby Vision) either frame by frame or scene by scene, so it is never too dark, or too bright. Its built-in Theater Optimizer automatically adjusts the projector to the exact installation and fine tunes 4K HDR-10 playback over time. 4K HLG and SDR content are also played back seamlessly via Auto Picture Mode Select. It also features motorized focus, zoom, and shift, along with 10 installation modes, allowing easy integration with the most sophisticated home theaters. This includes ultra-wide screen designs, with a choice of lens memory or anamorphic scaling. A 2X zoom, along with 100% horizontal and 43% vertical lens shift ensure installation flexibility.

Superb Picture Quality
2,200 Lumens Brightness provides a stunning image, even with larger screen home theaters. Vibrant color is assured with 100% REC709 and approximately 100% of the DCI standard. The BT2020 color mode insures full compatibility with the newest 4K HDR content. D-ILA imaging chips offer the best black level and contrast in the industry.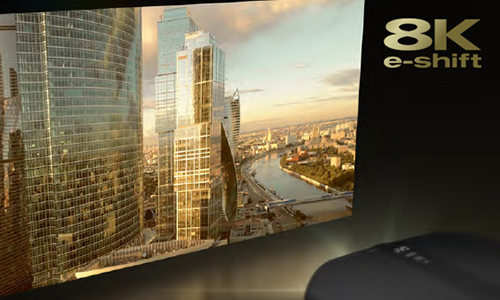 8K e-shift
JVC's proprietary 8K e-shift technology reproduces image quality beyond 4K. It works by shifting pixels diagonally 0.5 pixel — quadrupling the picture resolution. Together with the new Native 4K D-ILA devices, the projector is able to realize 8K image resolution of over 35 million pixels using a standard 4K input.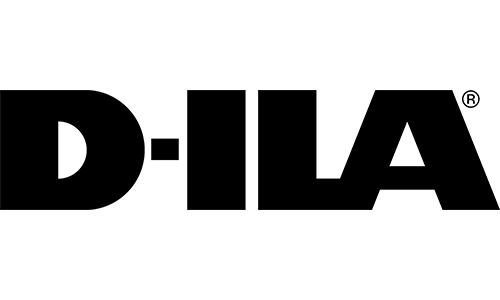 D-ILA with 100,000:1 Native/1,000,000:1 Dynamic Contrast
JVC's latest D-ILA imaging chips offer the best black level and highest native contrast in the industry. A dual aperture light engine design in combination with these D-ILA chips improves the native contrast ratio to 100,000:1, with 1,000,000:1 dynamic contrast.

Premium 100mm Diameter All Glass Lens
JVC uses an all glass design with 18 elements in 16 groups, and a full aluminum lens barrel for the highest resolution image at every corner of the screen. The 2X Zoom along with 100% Vertical and 43% Horizontal shift provide exceptional installation flexibility. The 100mm diameter maximizes light output to the screen. Five special low dispersion lens accommodate the different refractive index of Red, Green and Blue to suppress chromatic aberration, color bleeding etc., faithfully reproducing 8K resolution. Fully motorized controls make it easy to adjust.
Frame Adapt HDR
This is JVC's unique Dynamic Tone Mapping solution which is essential for watching 4K HDR content. Hollywood does not have a standard for 4K HDR brightness. So, JVC dynamically analyzes the picture on either a frame by frame or scene by scene basis. Next, JVC seamlessly adjusts all aspects of picture quality for the absolute best picture with each program.
Theater Optimizer
JVC leads the industry with their new Theater Optimizer feature. Simply input screen size and screen gain. The projector takes this into account, along with throw distance, lamp hours, and many other variables, and adjusts the picture over time to maintain the optimum picture for any home theater installation.
100% DCI with Cinema Filter
A cinema filter can be engaged which expands DCI color coverage to 100% and BT2020 coverage to approximately 77%.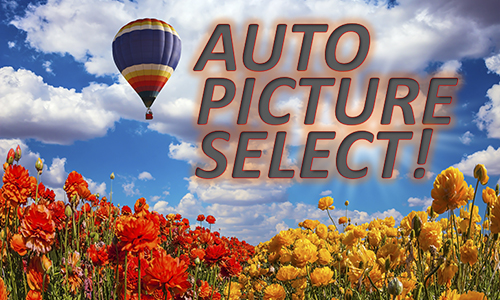 Auto Picture Mode Select
Just press play! JVC projectors offer completely automatic operation. During setup, the preferred picture mode can be saved for all popular signal types. Based on that, the JVC automatically switches picture modes, with no need for any input from the user. It does not get any easier than this.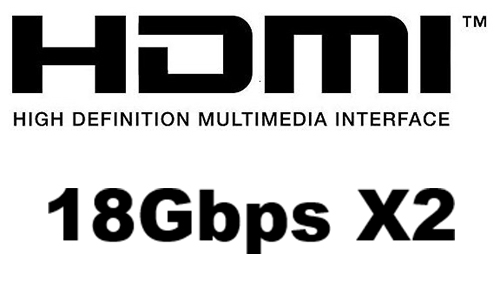 Full Speed Full Spec HDMI/Low Latency Mode
Both HDMI inputs support high bandwidth 18Gbps content such as 4K HDR, and are compliant with the HDCP 2.2 standard. And, this JVC projector is ideal for gaming applications with the low latency mode.
10 Installation Modes/Lens Memory
For use with an ultra-wide screen such as a 2.40:1 or Cinemascope design. This saves and recalls up to 10 different combinations of lens settings for different aspect ratios, including focus, zoom and lens shift, as well as pixel alignment and screen masking.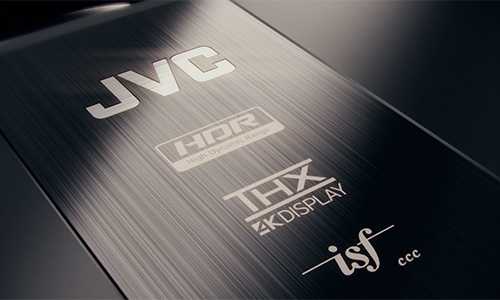 THX Certified, ISF Licensed
This JVC projector is ISF licensed for the ultimate in calibration capability, and feature specific ISF memories which can be unlocked by a certified ISF calibrator. It is also THX4K certified.
Specs
Specifications
JVC-DLA-RS3000K
8K e-shift, Native 4K (4096x2160)
Aspect Ratio: 17:9 (Native), 16:9 (Compatible)
Imaging Device: D-ILA
Cinema Filter: Yes (100% REC709, 100% DCI, 77% BT2020)
2200
100,000:1 (Native), 1,000,000:1 Dynamic
2:1
1.35:1-2.7:1
Memory: Yes/with 10 Installation Modes
265W UHP Lamp (PKL2618U)
HDMI X2
Yes
1
1
9.25" x 20.5" x 19.75"
48 lbs
Supported Resolutions
Features
Lumens
Contrast Ratio
Zoom Ratio
Throw Ratio
Lens
Lightsource
Inputs
RS-232 Ports
Ethernet Ports
12V Trigger
Dimensions (W x H x D)
Weight
Support
Manuals and Guides

Sales Resources

Control Protocols and Drivers



Distributed Brand Warranty
We want to make our Distributed Brand program as easy as possible. That's why we process all claims directly, without any third party telephone tag. Specific warranty terms and details from the manufacturer are below.
This projector comes with a 3-Year Parts & Labor/Advanced Replacement Warranty.