Episode® Digital Amplifier with 150 Watts x 2 Channels
EA-AMP-150
Description
Specs
Support
Description
Description
This Episode® Digital Amplifier features two channels at a powerful 150 watts per channel RMS, making it the perfect fit for stereo applications.
Episode® Digital Amplifier with 150 Watts x 2 Channels
This Episode® Digital Amplifier features two channels at a powerful 150 watts per channel RMS, making it the perfect fit for stereo applications. With audio sensing turn-on, loop outputs, adjustable gain control and bridgeable outputs, this amp offers the versatility required for today's sophisticated audio systems.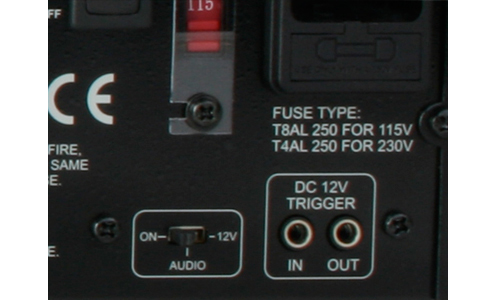 Audio Sensing
Audio-sense is perfect for multi-room audio – when the last source shuts down, the amplifier will gracefully go into a power-saving standby mode. The 12V trigger inputs and outputs allow you to use a preamp or control system to turn the amp on or off, or have it "wake up" another device when the amp is activated.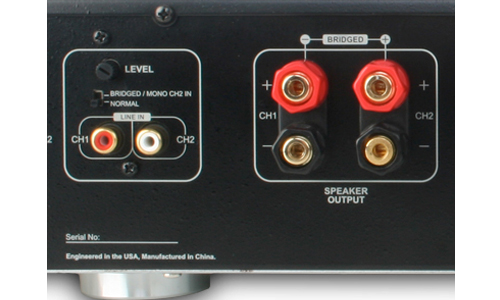 Bridgeable Speaker Outputs
For larger speakers or high-power applications, bridgeable channels allow you to turn this amplifier into a powerful 300W monoblock! Perfect for high-power outdoor applications, or double-up for a killer stereo system.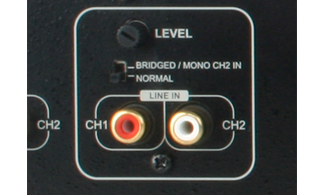 Gain Controls
This amp offers a gain adjustment to optimize the amplifier to your specific system. This is used to prevent harmful clipping that could cause damage to the amplifier or speakers.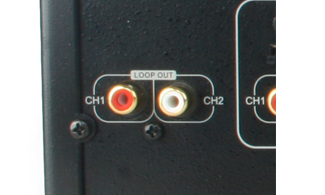 Loop Outputs
When using a stack of amplifiers, the loop outputs are a convenient way to daisy-chain the signal to downstream components. This eliminates the need for RCA splitters and gives a much cleaner, faster install.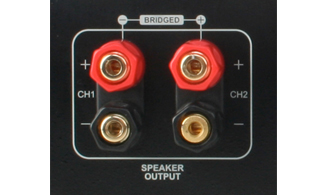 5-Way Binding Posts
No spring terminals here! Gold-plated, 5-way binding posts create a pure signal path with a variety of connectivity options.
ESD & Surge Protection
Multi-room AV environments can be tough on an amplifier. Each speaker run acts like an antenna, so all kinds of nasty things can happen when the weather changes. That's why we engineered this amp with surge protection components that exceed CE Level 3 standards. During development, every connection – all speaker outputs, RCA connectors even the power input - were ESD tested with up to 15,000V and Surge tested at 2,400V.
Improvements
This amplifier was engineered for not only the best surge protection but also with an isolated common ground for the audio circuits. The result is a great sounding, and reliable system that your customer will enjoy for years.
Installation Flexibility
A slim 2U chassis takes up less space when stacked on a shelf or installed in a rack. Included removable rack ears and amplifier feet give you the flexibility to install it where you need it.
GEMtech™
Green Energy Management technology is a stringent product design criteria established by SnapAV that focuses on energy savings through active energy management circuitry.
Specs
Specifications
EA-AMP-2D-150A
2
20,000 ohm
150W
95W
280W
570mV
Class D-3
<0.2%
20 Hz to 20 kHz
Black
17" x 4 x 13"
400W
115-230V AC
17 lbs
95 dB
Channels
Impedance Input
Power Output @ 4 ohm
Power Output @ 8 ohm
Power Output Bridged @ 8 ohm
Sensitivity Input
Topology
Total Harmonic Distortion (THD)
Frequency Response
Color
Dimensions (W x H x D)
Power Consumption
Line Voltage
Weight
Signal to Noise Ratio
Support
Manuals and Guides

Sales Resources

Support Documents

2-Year Limited Warranty
This Episode® Amplifier product has a 2-Year Limited Warranty. This warranty includes parts and labor repairs on all components found to be defective in material or workmanship under normal conditions of use. This warranty shall not apply to products which have been abused, modified or disassembled. Products to be repaired under this warranty must be returned to SnapAV or a designated service center with prior notification and an assigned return authorization number (RA).