Binary™ 520 Series 1080p HDBaseT Conference Room Extender & Scaler
B-520-EXT-HV
Description
Specs
Support
Description
Description
This Binary™ Single Cat-5 extender proves that one extender really can meet all your needs. With just one cat-5/5e/6 cable, send either HDMI or VGA with Stereo Audio signals over distances up to 330ft (100 m).
Binary™ 520 Series 1080p HDBaseT Conference Room Extender & Scaler
This Binary™ Single Cat-5 extender proves that one extender really can meet all your needs. With just one cat-5/5e/6 cable, send either HDMI or VGA with Stereo Audio signals over distances up to 330ft (100 m). As a bonus, this extender can be used in either light commercial or heavy residential, as it supports bi-directional IR, RS-232 and IP over a single category cable. You can even use the dip switch setting to set the priority of HDMI or VGA based on the Conference room applications.
Digital Video Image Scaling
Connect laptops to a projector or a television without worrying about a distorted image! This extender converts VGA signals into digital form and delivers a full, unskewed picture, no matter what size screen clients are using. It's capable of extending either HDMI or VGA up to 330 ft.
Stereo Audio Input + 3 Dip Switches
For clients who need audio to come out of the mic even with an HDMI TV, the stereo audio input converts audio from a VGA source to an HDMI signal output. Three dip switches can also be used to control the audio, depending on whether you're using VGA/an external source or the digital signal available on the HDMI input. A dip switch table built specifically for this B-520 helps select the priority source for audio settings, allowing for an easier setup.
In-Wall Transmitter
An in-wall dual gang transmitter eases installation, whether you're working under the conference room table or installing in the wall. A basic white decora plate is included, but you can swap it out for whatever color matches the install.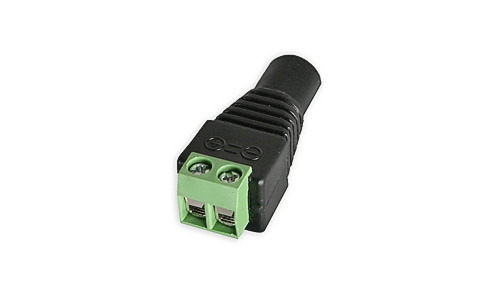 Need More Powering Versatility?
To simplify the install even further, you can use a single power supply for both the transmitter and receiver. Just purchase our WPS-ACC-PWR-F and WPS-ACC-PWR-1X2.
IR Flexibility
Using the dip switch, you have the flexibility to provide power to an IR receiver when connected to an IR receiver, or shut power off when connected to control systems
Plenty Of Power Options
Since this extender pair features Power over Cable (PoC), you've got the ability to power the extender from either side – or even power it remotely if there's no outlet near your receiver. Everything you need is in the box! Grab the included removable screw terminal and the female power supply adapter, add a 16- or 18-gauge 2-conductor wire, and you're ready to go. Once you're done, the power supply can easily go in a rack or another out-of-the-way place.
Bi-Directional IR, RS-232 and IP
Get no-hassle integration with a variety of control systems. Bi-directional IR, RS-232, and IP means you can easily send IR signals from the TV location back to cable boxes, DVD players, and other source equipment at the head end. All IR connections feature active circuitry that supports a wide variety of IR and control system types.
Easy Firmware Upgrades
You never know when a new TV or BluRay player is going to throw you a curve ball. Upgradable firmware gives our software team the ability to update the system to handle any "gotchas." Just flip the switch on the RS-232 port and upgrade on-site.
Package Contents
(1) HDBaseT Extender Transmitter as in-wall
(1) HDBaseT Extender Receiver
(1) 12V Power supply
(2) Rack ears
(4) Screws
(4) Rubber feet
(1) Dual gang wall plate
(2) HDBaseT Label
Specs
Specifications
B-520-EXT-330-HV
HDMI 3D
HDCP 1.4
10.2 Gbps
Full HD 1080p 36-bit deep color: 330 ft (Cat5e/6/6a/7)
Full HD 1080p 24-bit color: 330 ft (Cat5e/6/6a/7)
1080i/720p 24-bit color: 330 ft (Cat5e/6/6a/7)
UltraHD 4K@30Hz (4:2:0): 115 ft (Cat5e/6), 130 ft (Cat6a/7)
(1) Human body model: ±15kV (air-gap discharge) & ±8kV (contact discharge) (2) Core chipset — ±8kV
Transmitter: Latch-Locking; Receiver: Latch-Locking
5V (peak-to-peak, TTL)
1.2V (peak-to-peak)
Carrier frequency: 20–60kHz
Transmitter: 1 x RJ45
Receiver: 1 x RJ45
Transmitter: 1 x HDMI Type A (19-pin female)
Receiver: 1 x HDMI Type A (19-pin female)
1x 3.5mm Stereo/Mono
1x 3.5mmMono
Transmitter: DB-9
Receiver: DB-9
Transmitter: Ethernet; Receiver: Ethernet
IR RCVR PWR OFF/ON
RS-232 Pin Configuration (DCE /DTE)
Service/Link
Transm itter: VGA scaling (720p @60Hz / 1080p @60Hz)
Metal enclosure
12W (max)
12V DC, 2A
32–104°F
-4–140°F
20–90% RH (no condensation)
Product: CE, FCC, RoHS
Power Supply: CE, FCC, RoHS, UL
Transmitter: 6.25 "x 3.1" x 1.3"
Receiver: 3.48" x 2.8" x 0.66"
1.1 lb
HDMI Compliance
HDCP Compliance
Supported Video Bandwidth
Transmission Distance
Transmission Distance - 4K/Ultra HD
ESD Protection
Power Connection Type
Input DDC Signal
Input TMDS Signal
IR Signal Frequency
HDBaseT Connections
HDMI Connections
IR Receivers
IR Flashers
RS-232 Ports
Connector Type
DipSwitch 1 Controls
DipSwitch 2 Controls
DipSwitch 3 Controls
DipSwitch 4 Controls
Construction
Power Consumption
External Power Supply
Operating Temperature
Storage Temperature
Operating Humidity
Certifications
Dimensions (W x H x D)
Weight
2-Year Limited Warranty
This Binary™ product has a 2-year limited Warranty. This warranty includes parts and labor repairs on all components found to be defective in material or workmanship under normal conditions of use. This warranty will not apply to products that have been abused, modified or disassembled. Products to be repaired under this warranty must be returned to Snap One or a designated service center with prior notification and an assigned return authorization number (RA).
Keycap engravings
This feature is not currently optimized for mobile devices. We apologize for any inconvenience this may have caused. Please access Keycap engravings from a tablet or desktop computer.