SunBrite™ Fixed Wall Mount
SB-WM-F-A
Description
Specs
Support
Description
Description
This resilient, all-weather tilt mount pairs perfectly with our full line of SunBrite™ TVs.
SunBrite™ Fixed Wall Mount
This resilient, all-weather fixed mount pairs perfectly with our full line of SunBrite™ TVs. A durable steel construction, finished in an outdoor-rated coating, ensures this mount withstands even the harshest of elements without rusting. Plus, post-install leveling screws and lockable tabs make installation a breeze.
Spacers - For all Veranda Series TVs, spacers will be needed in order to accommodate the plug and media bay access behind the TV.

Weatherproof Coating
This mount is primed with a dependable powder coating, as well as two layers of a durable, corrosion-resistant coating for added protection against scratches. Plus, stainless steel hardware means you'll never have to worry about rust.
UL Listed
Strength & integrity are crucial ingredients in flat panel mounts due to how much money they are holding up. Rest assured we understand and continue to uphold our product quality by getting the most effective "guarantee-on-a-box" we can provide - UL approval.
Solid Construction
Underneath its beautiful black powder coat, the mount is 3mm of solid steel.
Slimmed Down
Our wall-hugging mount features a low profile feel and minimal mounting depth – just 1-1/4" for the XL mount and 1-1/8" for M and L models.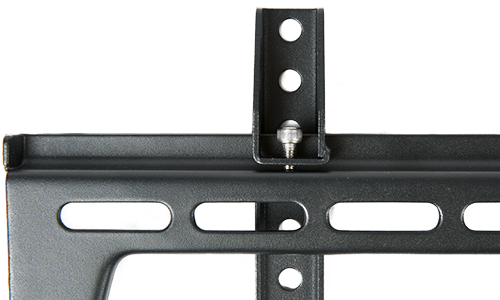 Post Install Leveling
We understand the pain of having to re-level an installed mount, so our SB-WM-F mount includes post-install leveling screws for last minute adjustments.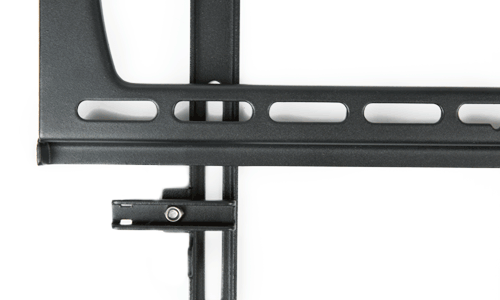 LokTight™ Tabs
Our new SunBrite™ fixed and tilt mounts now include LokTight™ rotating lockable tabs directly on the arms themselves. The lockable tabs keep the arms against the mount, eliminate easy lifting from curious kids, and allows for a locking device to be added for security measures.
Friendly Wall-Plate
How so? Well, reason number one is that the center bolt hole location includes a notch so you can drill into your surface for temporary hanging. Two, it's reversible so there is no set top or bottom, which means no confusion. Three, the wide mouth in the center allows for easy placement over a large Midi plate.
Specs
Specifications
| SB-WM-F-XL-BLK | SB-WM-F-L-BL | SB-WM-F-M-BL |
| --- | --- | --- |
| 1.25" Profile (Depth) | 1.25" Profile (Depth) | 1.125" Profile (Depth) |
| 90" | 75" | 43" |
| 55" | 49" | 23" |
| 200x300, 300x200, 300x300, 400x300, 400x400, 500x400, 500x500, 600x400, 600x500, 600x600, 700x500, 700x600, 700x700, 800x500, 800x600, 800x700, 900x700, 1000x700 | 200x200, 200x300, 300x200, 300x300, 400x300, 400x400, 500x400, 500x500, 600x400, 600x500, 600x600, 700x500 | 100x100, 100x200, 200x100, 200x200, 200x300, 300x200, 300x300, 400x300 |
| Black | Black | Black |
| 250 lb | 165 lb | 100 lb |
| 3mm Steel, Corrosion Resistant Coating, finished in sleek textured Powder Coating | 3mm Steel, Corrosion Resistant Coating, finished in sleek textured Powder Coating | 3mm Steel, Corrosion Resistant Coating, finished in sleek textured Powder Coating |
Distance Extended
Maximum TV Size
Minimum TV Size
VESA Mounting Pattern
Color
Maximum Load Support
Construction
Support
Manuals and Guides



Sales Resources

Lifetime Limited Warranty
SunBrite™ Mounts have a Lifetime Limited Warranty. This warranty includes parts and labor repairs on all components found to be defective in material or workmanship under normal conditions of use. This warranty shall not apply to products which have been abused, modified or disassembled. Products to be repaired under this warranty must be returned to Sunbrite™ or a designated service center with prior notification and an assigned return authorization