Parasound ZoneMaster Series ZM12 Power Amplifier | 100W x 10 Channels and 150W x 2 Channels
PARA-ZM12-A
Description
Specs
Support
Description
Description
ZoneMaster is Parasound's line of versatile, extraordinarily high performance power amplifiers for residential and commercial multi-zone amplification.
Parasound ZoneMaster Series ZM12 Power Amplifier
ZoneMaster is Parasound's line of versatile, extraordinarily high performance power amplifiers for residential and commercial multi-zone amplification. The Parasound Zonemaster 12 is the first single solution for every amplifier application in an entire home. We've combined renowned Parasound high current design, sound quality and ingenuity to build a superior 12 channel amplifier that handles 2 ohm loads with ease. While typical class D amplifiers use cheap car radio ICs, we use Parasound's own class AB input stages to drive six expensive, high performance Class D amplifier modules.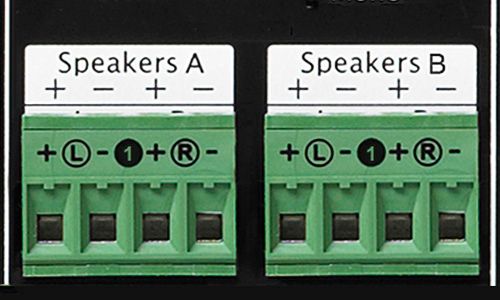 Easily Power 24 Speakers with 2-Ohm Stability
A and B outputs for all 12 channels means you can easily connect and power 24 speakers. 2 Ohm stability means you can even power two 4-Ohm speaker per channel. Detachable speaker connectors accept up to 12 gauge wire.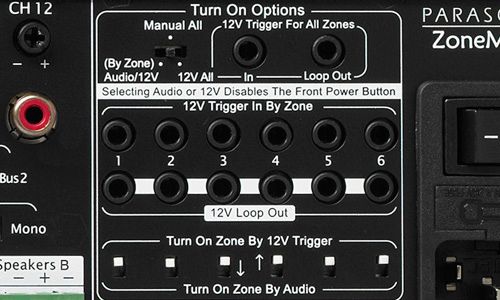 6 Independent 12V & Audio Triggers
With the ZoneMaster 12 you can set up each zone to turn on-off independently with its own 12V trigger or audio sensing trigger. 6 Independent 12V trigger inputs, one for each zone. Independent audio sensing triggers, one for each zone. Looping 12 volt trigger outputs for each zone. Master 12 volt trigger input to turn all zones on-off at the same time.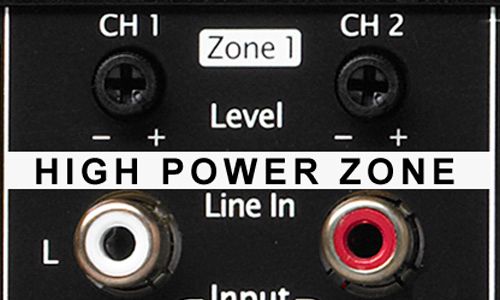 Zone 1 is Higher Power
Channels 1 and 2 (zone 1) are more powerful than the other channels. This unique feature allows zone 1 to be used with more demanding speakers. For example, zone 1 might power a pair of larger floor standing speaker or multiple outdoor speakers where more power is necessary. Zone 1 is rated at 120 Watts at 8 Ohms and 150 Watts at 4 Ohms.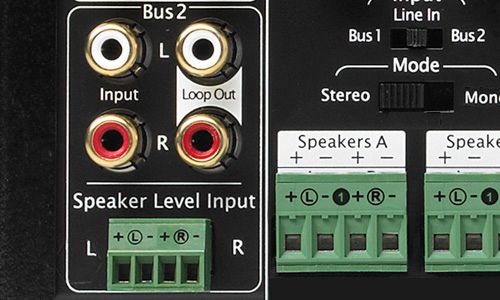 Two Bus Inputs with Speaker Level Input
Two bus inputs can be routed to any zone. Bus loop output jacks for passing audio to another amp. The speaker level input enables the ZoneMaster 12 to connect to any audio receiver or stereo system even if it lacks preamp output jacks.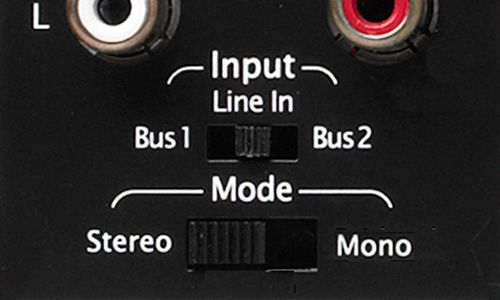 Mono/Stereo Mode Switch For all Zones
The Mono setting combines the Left and Right channel inputs into a summed L + R mono signal. The Mono Mode is particularly useful for applications such as bathrooms, hallways or outdoors where mono sound may be preferred or is more practical than running separate L and R wires and two speakers.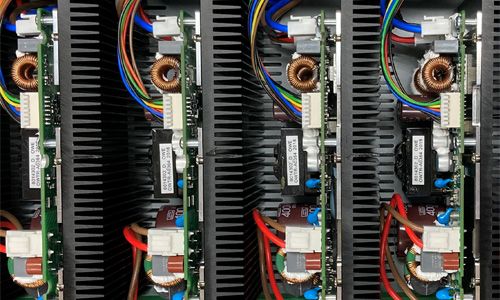 Six Premium Class D Modules
Unlike most 12 channel amps, the ZoneMaster 12 has independent power supplies and modules for each of the 6 zones. This means all channels can be driven to full power at the same time.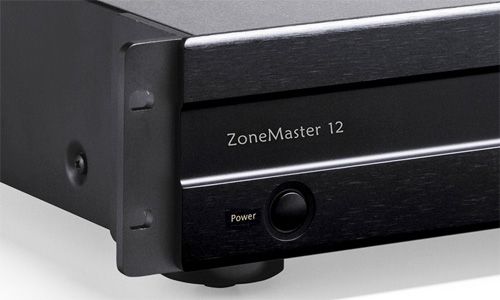 Rack Mount Kit Included
The ZoneMaster 12 front panel occupies two rack spaces (2U) in a standard 19" equipment rack. The rack mount kit is included in the box.
Specs
Specifications
PARA-ZM12
2-Channel
CH 1, 2: 120W x 2, 8 Ω
CH 3-12: 60 W x 10 @ 8Ω
CH 1, 2: 150W x 2, 4 Ω
CH 3-12: 60 W x 10 @ 4Ω
@ 2ohm:
CH 1, 2: 150W x 2, 2Ω
CH 3-12: 60W x 10 @2Ω
High and Low Pass Crossovers:
Sub Mode and Sub out jack: 80 Hz, 24 dB per octave
High Pass Filter: 30 Hz or 80 Hz, 12 dB per octave
1550W max.
150W typical (audio playing on all zones)
55W idle (all zones on)
15Widle (one zone on)
0.5W standby
100-250 VAC 50/60 Hz (automatic)
N/A
< 0.05 % at typical listening levels
< 1.0% at full power
Yes, all channels driven
2U rack (mounting hardware is included in box)
20 Hz - 20 kHz, +0/-0.25 dB
5 Hz - 50 kHz, +0/-3 dB
70 dB at 20 kHz
N/A
29 dB
N/A
>112 dB, input shorted, IHF A-weighted
Audio Trigger: 2 mV audio signal
+9 Vdc to +12 Vdc, 5 mA
N/A
17.25" x 3.5" x 14.5" (437 x 89 x 369mm) (without feet)
17.25" x 4.15" x 14.5" (437 x 105 x 369mm) (with feet)
Depth with cables: 16" (406mm)
Net: 21 lbs (9.5kg)
Shipping: 27 lbs (12.2kg)
Channels
Power Output @ 8 ohm
Power Output @ 4 ohm
Power Output
Audio Features
Power Consumption
Current Rating
Total Harmonic Distortion (THD)
Power RMS
Rack Spacing
Frequency Response
Audio Crosstalk
Impedance Input
Audio Gain
Sensitivity Input
Signal to Noise Ratio
Triggered Action Desc.
External Trigger Voltage
Connectors
Dimensions (W x H x D)
Weight
Support
Manuals and Guides

Affiliate Warranty
We want to make our Affiliate program as easy as possible. That's why we process all claims directly, without any third party telephone tag. Specific warranty terms and details from the manufacturer are below. View the full Parasound Warranty.