---
The Enhanced Home Entertainment Experience
Give your customers the perfect TV viewing experience in the best entertainment location —over the mantel! MantelMount offers a unique solution to installing TVs above the fireplace allowing your customers to easily lower and adjust their TV on the fly. See how MantelMount redefines the entertainment experience for customers.
Supporting the Center of Entertainment
Above the mantel is an ideal location for a TV but can offer a subpar viewing experience without adjusting the TV's position. MantelMount allows your customers to easily adjust their TV to create the perfect viewing experience. Any customer can easily tilt, swivel, or pull their TV off the wall and set it to eye level. MantelMount offers full-range television motion for TVs from 20-125 lbs. and 44"-100".
Easy Installation
MantelMount offers more versatility to your customer's TV placement but is as easy to install as a typical TV mount. MantelMount is made of lightweight alloys and can easily be surface-mounted to drywall, brick, or stone surfaces. With its adjustable stops and patented auto-straightening technology, you and your customers won't have to worry about damaging walls while swiveling or raising the TV.
Heat-Sensing Technology
Patented heat-sensing handles turn red if the temperature above your customer's fireplace exceeds a safe level, protecting their investment and home from any potential fire hazard.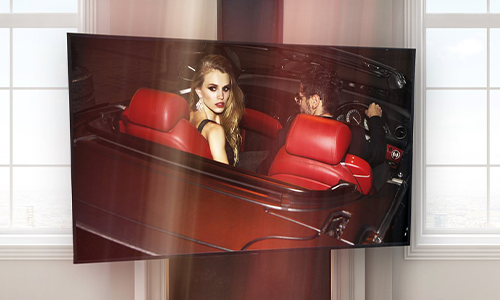 Motorized Adjustment
The MM860 Pro series MantelMount offers a fully motorized adjustable TV mount. Have your customers lower and swivel their TV in one quick, fluid motion all from the comfort of their couch.