SnapAV's Partner Rewards program was created for one simple reason– to reward you for giving us your business. We're helping you save money on the products that you buy most, because we appreciate your loyalty. This program was built on your feedback to make doing business with us easier than ever.
A Program Designed By You
Over time, you've told us exactly what you wanted in a rewards program. We surveyed, we called, and we listened. Check out some of the features offered in Partner Rewards:

IT'S ANNUAL. Your business doesn't run on a quarterly schedule, so neither does your rewards program. Partner Rewards Program period runs from July to June.

UP TO 10% IN UPFRONT DISCOUNTS. Partner Rewards gives you immediate savings that help your bottom line.

MORE BENEFITS. No restocking fees, advanced replacement, free OvrC Pro licenses for all partners, and additional partner-only promotions.
We understand changes can impact your business. Please call us at 866.424.4489 for any additional information you may need.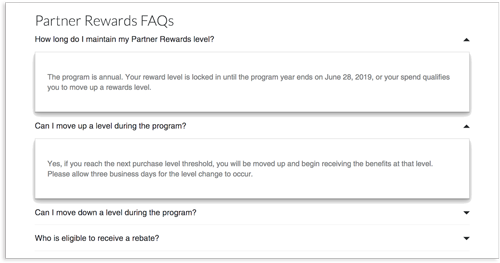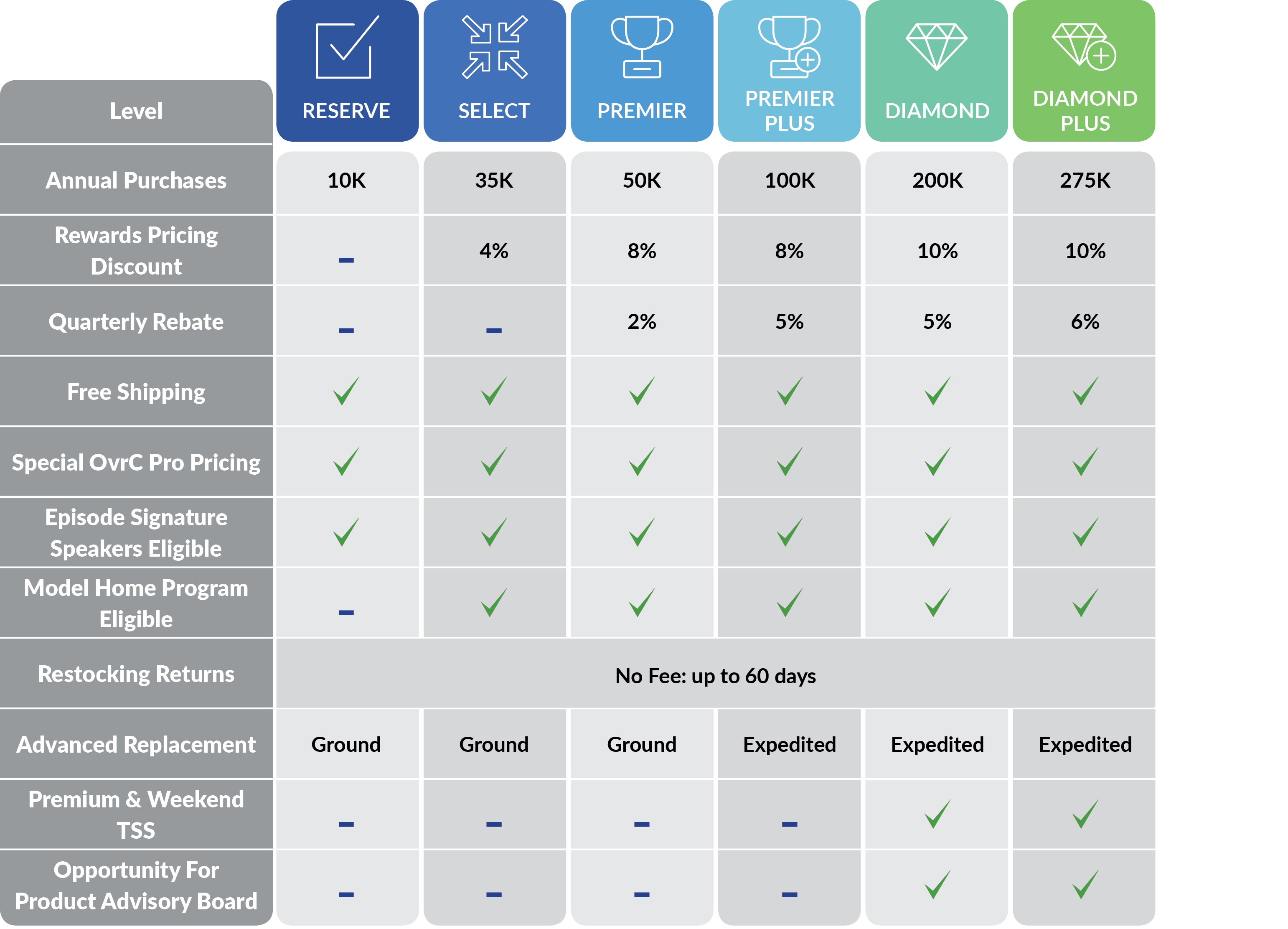 OvrC Pro Pricing
Special OvrC Pro pricing for all Rewards members.

Advanced Replacement
Ground shipping for advanced replacements (expedited at PREMIER PLUS level and above.)

Signature Speakers
Exclusive access to Episode Signature speakers.

Restocking Returns
No restocking fees on returns for 60 days.


Premium & Weekend Tech Support
Skip to the front of the queue and get help fast from a senior tech support agent.
Need help on the weekends? Our on-call agents will be happy to assist!

Product Advisory Board Opportunity
Help us make decisions and give feedback on products.
How do I join the Partner Rewards program?
No signup is required. You are automatically enrolled in the program at the Reserve level by spending $10,000 during the program year on SnapAV-eligible products.
---
QUESTIONS? CALL US FOR MORE INFORMATION: 866.424.4489
*Rewards level determined based on qualifying program year spend (July-June). Wirepath Bulk Wire excluded from Rewards pricing. Rebate applies only to sales made after Partner Rewards spend threshold met, not retroactively applied. Rebate amount on dashboard may not reflect any applicable bonus rebates. SunBriteTV, Ovrc Pro, One-Stop™, affiliate products, and Allnet products not carried at SnapAV do not earn a rebate. Rebate will be issued in the form of a check mailed to dealers billing address. Dealers in Hawaii, Alaska, and outside of the U.S. do not qualify for Free Shipping. Distributors and select identified dealers are not eligible to participate in the program. SnapAV reserves the right to revise or cancel this program at any time.