Want to save more on the items you buy every day? SnapAV's Partner Rewards program rewards our dealers for their business everyday by offering free shipping, rewards pricing, and quarterly rebates–plus exclusive benefits like special product discounts, advanced replacements, and more.
A New Program Designed By You
On July 2nd, we're implementing a brand-new Rewards Program that recognizes your loyalty to SnapAV. Over time, you've told us exactly what you wanted in a program – so we listened! Our new program is more convenient for your business and better than ever.
Take a look at some of the new enhancements:

IT'S ANNUAL. Your business doesn't run on a quarterly schedule, so your rewards program shouldn't either.

UP TO 10% IN UPFRONT DISCOUNTS. 65% of dealers told us they prefer not to wait for rewards. We can't argue with that! Instant savings helps your bottom line.

MORE BENEFITS. Enjoy no restocking fees, advanced replacement, free OvrC Pro licenses for all partners, and additional Partner-only promotions.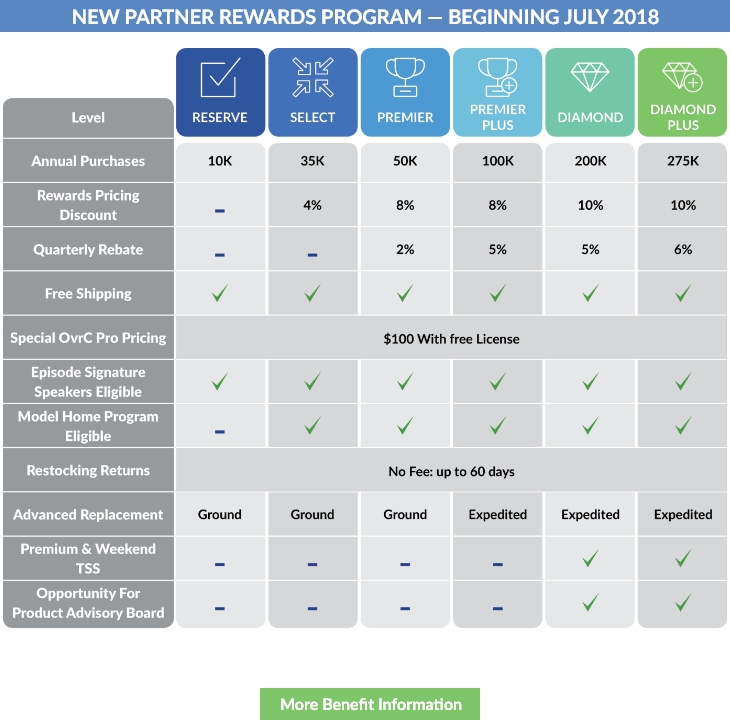 OvrC Pro Pricing
Special OvrC Pro pricing for all Rewards members.

Advanced Replacement
Ground shipping for advanced replacements (expedited at PREMIER PLUS level and above.)

Signature Speakers
Exclusive access to Episode Signature speakers.

Restocking Returns
No restocking fees on returns for 60 days.


Premium & Weekend Tech Support
Skip to the front of the queue and get help fast from a senior tech support agent.
Need help on the weekends? Our on-call agents will be happy to assist!

Product Advisory Board Opportunity
Help us make decisions and give feedback on products.

How will I know what level I qualify for?
Your purchases from July 2017 through June 2018 will determine your level in the new program. This quarter counts!
We'll keep you updated via email, so you know what level you're trending towards, and be sure to check the homepage dashboard as well for more information.
---
QUESTIONS? CALL US FOR MORE INFORMATION: 866.424.4489
*Rewards level determined based on qualifying annual spend. SunBriteTV, One-Stop, and Affiliate Product purchases do not earn rebate payments. Rebate will be issues in the form of a SnapAV product credit if amount is equal or less than $100. Dealers in Hawaii, Alaska, and outside of the U.S. do not qualify for Free Shipping.