D-Tools
---

Take control of your business process with D-Tools Cloud
We have joined forces with D-Tools Cloud to help integrators solve common business challenges: improve your sales process, boost drawing documentation, and streamline the ordering of your equipment.
This exclusive partnership is a great benefit to our dealers. Not only does D-Tools offer integrated pricing for all our products, they are also extending you an exclusive free 45-day trial.
Sign up
---
What is D-Tools Cloud?
D-Tools Cloud is an easy-to-deploy web-based SaaS application designed to help you make the most out of every sales opportunity and quickly close business with interactive multimedia proposals and browser-based drawings, accessible from any web-enabled Mac, PC or tablet.

Pre-populated Pricing

Integrated Product Library

Sales Opportunity Management

Workflow & Collaboration

Proposals

Ordering & Reporting

In-App Best Practice Guidance

Browser-Based Drawings
What can D-Tools do for you?
D-Tools Cloud can be set up in just 30 minutes and allows you to work smarter and faster, so you can improve and organize your business. As a dealer, you'll get a customized D-Tools Cloud experience that allows you to start working immediately. D-Tools comes loaded with a pre-populated catalog of curated our products, including specific pricing.
Setup and Go
Get on-board and working in minutes.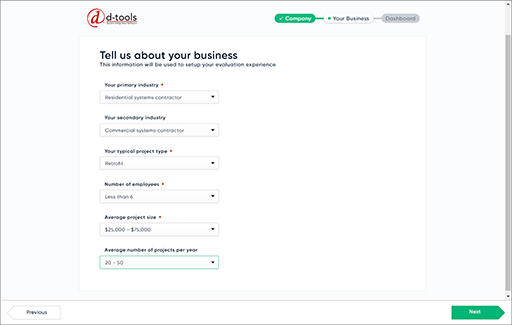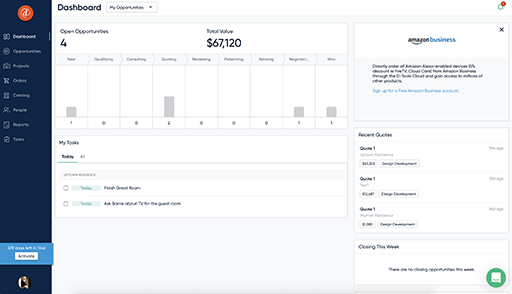 CRM
Take full control of your sales process from any web-enabled device.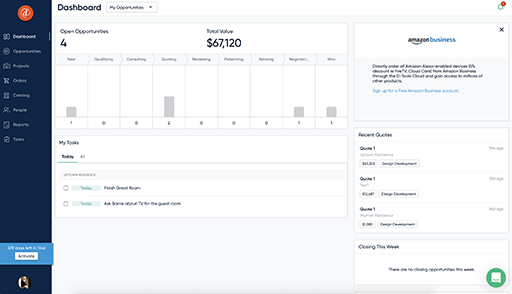 In-app Workflow & Collaboration
Best practice guidance and tools help better communicate with teams and clients.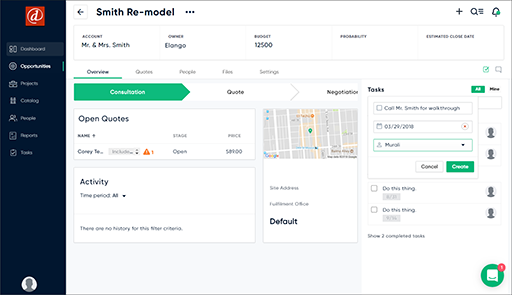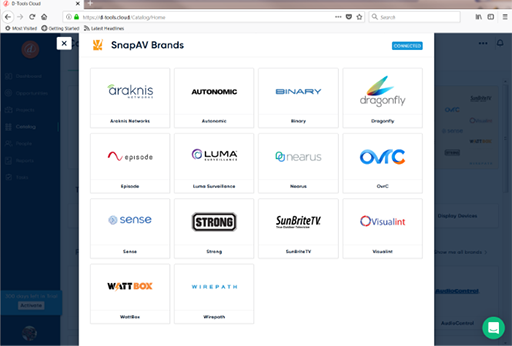 Comprehensive Product Library
Add products to your quotes from D-Tools' Product Library of 1000s of manufacturers, including dealer pricing for hundreds of brands and counting.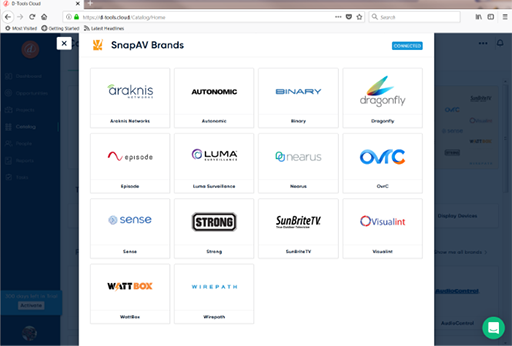 Live Proposals & Intelligent Quoting
Go beyond the document to present full multi-media presentations that bring your projects to life.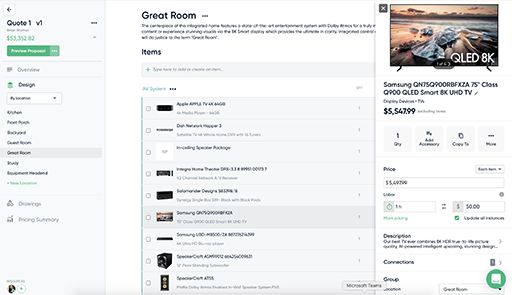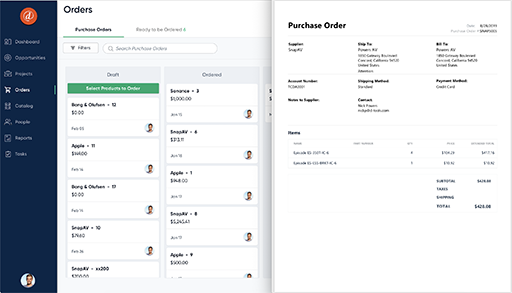 Purchase Orders
Generate POs for your projects and send to your suppliers.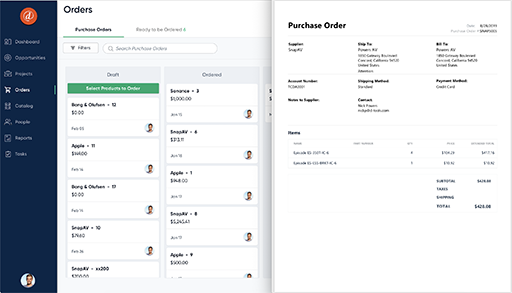 Intelligent, Browser-based Drawings
Take system design to the next level and enhance client communication (plan views).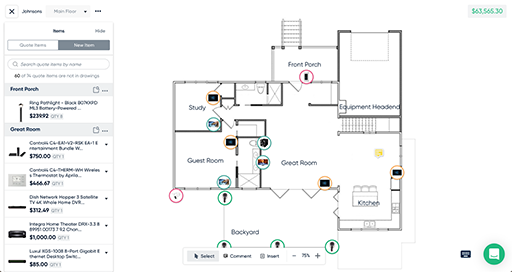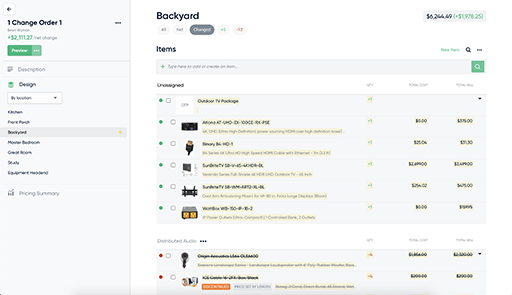 Change Orders
Easily make changes to accepted proposals, create multiple persistent change orders.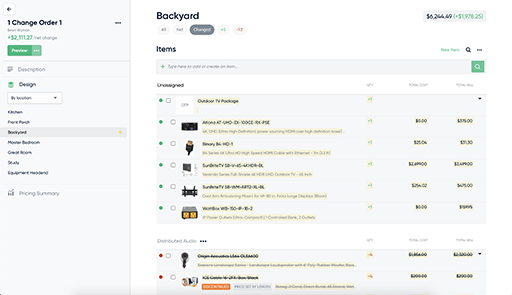 Business Intelligence
Updated and enhanced visual reports and analytics help you make better business decisions.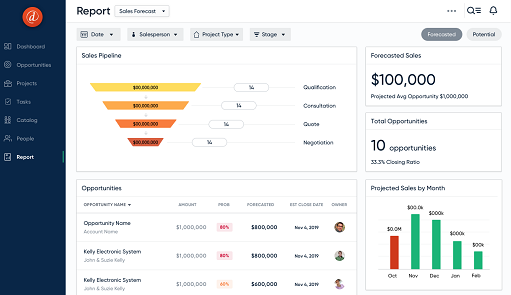 Take Advantage of Pre-populated Pricing
When you enter your account number and zip code into D-Tools Cloud, you gain immediate access to a curated library of our products - complete with dealer-specific pricing - so you can start generating quotes quickly and with the most up-to-date product information.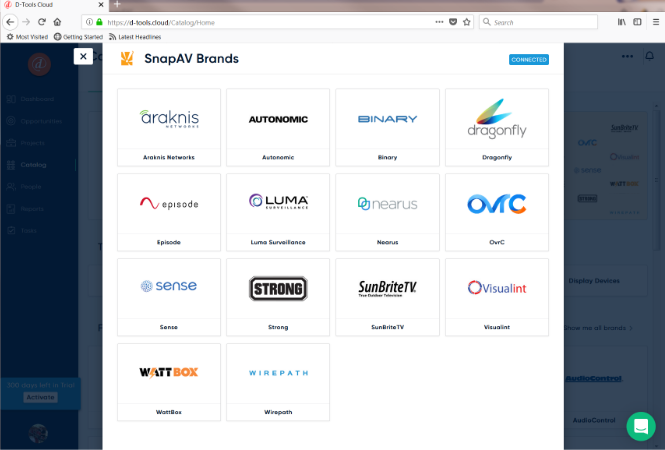 How do I start my free trial?
Clicking the link below will take you to the D-Tools website, where you'll set up your billing zip code to ensure you get your exclusive extended free trial.
Sign up