Atlona® Conferencing Ethernet-Enabled HDBaseT Scaler with HDMI and Analog Audio Outputs
AT-HDVS-200-RX-A
Description
Specs
Support
Description
Description
The Atlona AT-HDVS-200-RX is an HDBaseT receiver and HD scaler for video signals up to 1080p, plus embedded audio, control, and Ethernet over distances up to 330 feet (100 meters).
Atlona® Conferencing Ethernet-Enabled HDBaseT Scaler with HDMI and Analog Audio Outputs
The Atlona AT-HDVS-200-RX is an HDBaseT receiver and HD scaler for video signals up to 1080p, plus embedded audio, control, and Ethernet over distances up to 330 feet (100 meters). It's designed for use with the HDVS-200-TX switching transmitters, but can also be used with Atlona switchers, matrix switchers, and distribution amplifiers with HDBaseT outputs. Together, the HDVS-200-TX and HDVS-200-RX serve as a compact, fully automated AV system with the convenience of automatic input selection, display control, and HD scaling. The HDVS-200-RX remotely powers the HDVS-200-TX through Power over Ethernet (PoE).
The HDVS-200-RX offers advanced scaling capabilities including image adjustment capability, and a feature for automatically matching incoming signals to the display's native resolution. Integrated scaling and video processing help optimize image quality and switching performance. This receiver also features audio de-embedding, and third-party TCP/IP and RS-232 control of the scaler and display. Additionally, the HDVS-200-RX includes contact closure ports for controlling a motorized screen or display lift.
Important Notice - Atlona does not guarantee the function of CEC with all televisions. We can confirm proper operation with many current Samsung, Panasonic, and Sony TVs. Many manufacturers do not support the CEC "off" command when sent from a source and older TVs use proprietary commands. Atlona only supports those TVs that follow CEC command structure from HDMI 1.2a and support the "off" command when issued by a source. We encourage any dealer to get a product evaluation prior to designing a system around this control technology or be prepared to use other control methods if CEC is not compatible with their installed displays.
Compact Scaler and Extender
The HDVS-200-RX combines the benefits of HD scaling and integrated display control, and the advantages of HDBaseT signal extension. It incorporates many popular integration convenience features while delivering excellent value for classrooms, huddle rooms, and meeting spaces. Surface mounting brackets are provided with the HDVS-200-RX for easy installation behind a display or above a projector.
Audio De-Embedding
Providing two channel, analog audio signal on balanced captive screw connectors, this receiver improves AV system audio with the use of an external amplifier, such as the Atlona AT-PA100-G2.
Extended Distance HDMI Extension
Using a CAT6a/7 cable, this device receives 4K UHD up to 330 feet (100 meters). Use it with a CAT5/6 to receive AV, control, and Ethernet signals @ 1080p up to that same distance. Atlona provides low-cost, reliable system installation using these easy-to-integrate category cables.
HD Video Scaler with HDMI Output & Input Resolution Control
This receiver scales video signals up to 1080p @60Hz and at a 1920×1200 resolution. For a PC source, you can easily set desired input resolution from 800×600 to 1920×1200. Incoming signals can also be automatically scaled to the display's native resolution.
Automatic Display Control
When used in conjunction with an HDVS-200-TX transmitter (or compatible Atlona switcher), the HDVS-200-RX can provide control to a display through TCP/IP, RS-232, or CEC*, without the need for a separate control system. This simplifies system design and integration while reducing costs. With automatic display control, the HDVS-200-RX can trigger a display to power on automatically whenever a laptop or other device is connected to the HDVS-200-TX. At the end of the presentation, when the presenter disconnects the laptop, the HDVS-200-RX forces the display to power off. Ease of presenter interaction with the system, and the savings incurred by automatic display shutdown provide a significant return on investment. The HDVS-200-RX display control capability can also be triggered by an external control system. Front panel volume controls are also available to control the display's internal audio, or another device with volume control, such as a DSP or another switcher.
EDID Management
Integrators can now set or match a PC's graphics resolution by using this receiver between a source device and a display. Please note that when using this receiver with an AT-HDVS-200-TX, EDID management is required from the transmitter instead of the receiver.
Features Power over Ethernet
This receiver provides POE power when paired with the AT-HDVS-200-TX switcher, saving you time and integration costs by supplying power to the transmitter over HDBaseT. No local AC outlet is required for the AT-HDVS-200-TX. It operates at the industry standard IEEE 802.3af PoE.
---
Conference Gear That Works
We offer a wide range of communication equipment—including switchers, receivers, transmitters, converters, and more—that work together to create fully-integrated commercial conferencing solutions.
Learn More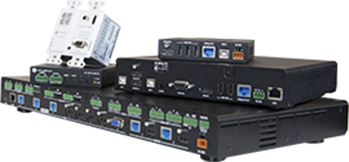 Specs
Specifications
AT-HDVS-200-RX
1.4
CAT5e/6 @ 1080p: up to 330 feet
HDMI IN/OUT @ 1080p: up to 30 feet
Unit: CE, FCC
5" x 1.5" x 4.02"
20 to 90% non-condensing
32°F to 122°F
-4°F to 140°F
6.75 Gbps
HDCP Compliance
Transmission Distance
Certifications
Dimensions (W x H x D)
Operating Humidity
Operating Temperature
Storage Temperature
Bandwidth
Support
Manuals and Guides

Sales Resources

Affiliate Warranty
We want to make our Affiliate program as easy as possible. That's why we process all claims directly, without any third party telephone tag. Specific warranty terms and details from the manufacturer are below. View the full Atlona® Warranty.