Araknis Networks® Gigabit PoE+ Injector
AN-ACC-INJ-POE
Description
Specs
Support
Description
Description
This Araknis Networks™ Gigabit PoE+ Injector is the perfect accessory for connecting a PoE device to a non-PoE switch.
Araknis Networks® Gigabit PoE+ Injector
This Araknis Networks™ Gigabit PoE+ Injector is the perfect accessory for connecting a PoE device to a non-PoE switch. IP cameras, control touch pads, and more can be installed with ease thanks to a 30W power output that goes up to 330 feet with a whopping 1Gbps of throughput. Plus, this device features silent operation and built-in mounting ears that allow for maximum placement options.
---

Fanless

Gigabit

Compact Design

Plug-n-Play

PoE/PoE+
The Speed and Support You Need
When it comes to large bandwidth and high-speed Ethernet, this PoE+ injector has you covered, thanks to 1Gbps throughput and a 30W power output up to 330 ft. It allows you to stream HD and support PoE devices (like surveillance cameras) with minimal latency and maximum performance.
Silent Operation
Thanks to a completely fanless design, this PoE+ injector provides silent operation you and your customers are sure to love.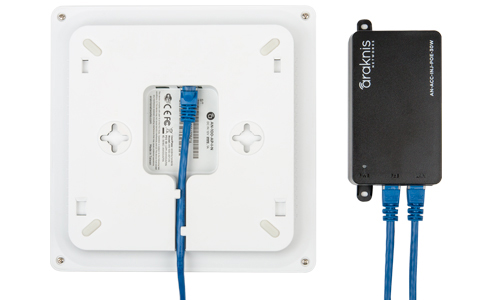 One-Wire Solution
This injector is the perfect bolt-on solution to add a PoE device to a non-PoE network switch. By combining an Ethernet input with its 54V supply, it creates a simple one-wire solution that delivers 30W of power and 1Gbps data to your PoE-enabled device at the other end, such as an IP camera or control system equipment.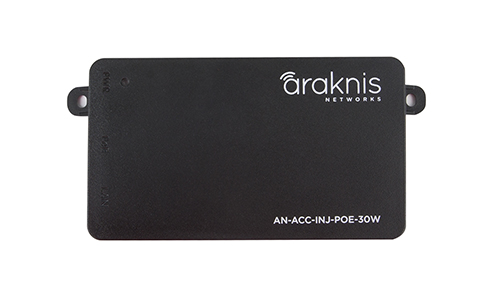 Small but Mighty
The palm-sized design is even smaller than its predecessor, and built-in mounting ears allow this injector to go just about anywhere - on the back of a rack, mounted to the wall, or above a dropped ceiling. Its compact and light form factor fits inside our Strong VersaBox, providing a solution that stays cleanly out of sight.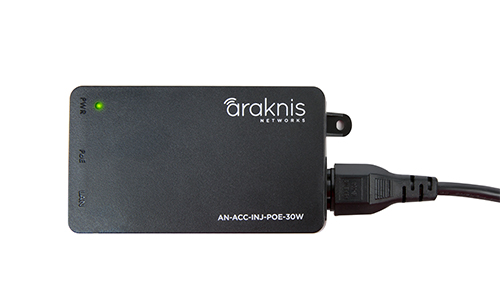 AC > DC
This injector incorporates an AC inlet instead of a DC power supply, which means there's no need to convert power via wall wart. This handy feature allows for easy access to all ports and a quicker install.
Specs
Specifications
AN-ACC-INJ-POE-30W
Ethernet-IN Port: 1 (data)
PoE-OUT Port: 1 (data+power)
PoE Line OUT: 54V DC (max 30W out)
100-240 VAC (0.8A max)
IEEE 802.3af; IEEE 802.3at; IEEE 802.3 10BaseT; IEEE 802.3u 100BaseTX; IEEE 802.3ab 1000BaseT
FCC
CE
cUL US
PWR LED
Surge Protection
Short-Circuit Protection
Built-In Mounting Ears
5-90%
-4-122°F
2.27" x 1.3" x 3.9"
Ethernet Ports
POE Ports
Line Voltage
Supported IEEE
Certifications
Features
Operating Humidity
Operating Temperature
Dimensions (W x H x D)
Support
Manuals and Guides

2-Year Limited Warranty
Araknis Networks® products have a 2-Year Limited Warranty. This warranty includes parts and labor repairs on all components found to be defective in material or workmanship under normal conditions of use. This warranty shall not apply to products which have been abused, modified, or disassembled. Products to be repaired under this warranty must be returned to Snap One or a designated service center with prior notification and an assigned return authorization number (RA).
Keycap engravings
This feature is not currently optimized for mobile devices. We apologize for any inconvenience this may have caused. Please access Keycap engravings from a tablet or desktop computer.