Parasound Z Custom Series ZDAC V.2 Digital to Analog Converter
PARA-ZDAC-V2-A
Description
Specs
Support
Description
Description
Z Custom is Parasound's line of ultra-compact components for high-end audio where space is tight. Equally comfortable on a desk or in a rack, Z Custom products are at home wherever good sound is important.
Parasound Z Custom Series ZDAC V.2 Digital to Analog Converter
Z Custom is Parasound's line of ultra-compact components for high-end audio where space is tight. Equally comfortable on a desk or in a rack, Z Custom products are at home wherever good sound is important. In a market filled with DACs, Parasound has set a new standard for performance and value with the help of acclaimed Danish digital experts Holm Acoustics. The ZDAC V.2 sounds more natural and less "digital" than DACs selling for far more because of its innovative design and high quality parts. Its unique re-clocking system preserves the original source audio data by eliminating jitter contamination that is picked up along the digital signal chain. To further improve sound quality the signal is up-sampled to 422kHz. The ZDAC v.2 is equipped with a dedicated high quality current-feedback headphone amplifier based on the top grade Texas Instruments TPA6120. This superior design allows for an extremely high slew rate preventing odd order distortions which are responsible for listening fatigue. The headphone amp circuit was also designed with a low 10 ohms output impedance and high gain to drive headphones rated up to 600 ohms. We are confident you will be thrilled with what you hear when the Zdac v.2 is mated with any of your preferred cans.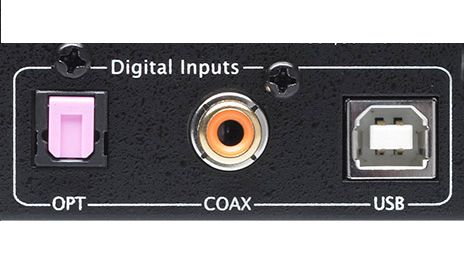 Digital Inputs
The ZDAC V.2 uses a Premium Analog Devices AD1853 24-bit/192 kHz Digital to Analog Converter IC which accepts Optical COAX signals up to 24-bit /192 kHz and USB signals up to 24-bit/96 kHz. Connect to your Mac or PC via USB to your ZDAC V.2 without the need for drivers.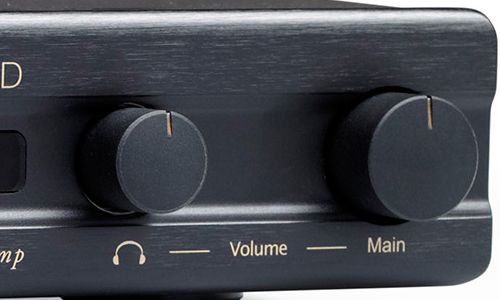 Volume Control
Choose between a fixed or variable output. Use the Front panel Main volume control and its variable analog RCA and Balanced XLR outputs to connect the ZDAC V.2 directly to a power amplifier. This eliminates the need for a separate preamplifier.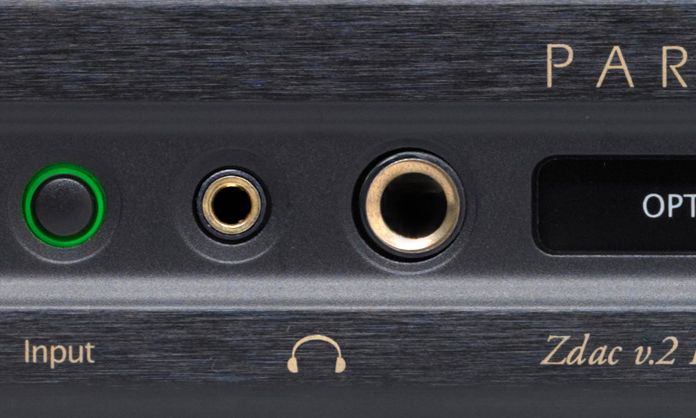 Headphone Jacks
This High current headphone output with volume control can drive any headphones from 32 to 600 ohms. It will accept both 1/8" (3.5 mm) and 1/4" (6.3mm) stereo plugs.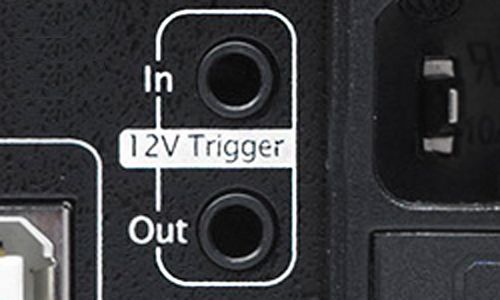 12V Triggers
12V trigger input and output.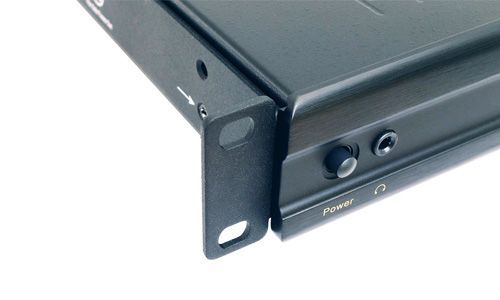 Optional ZRK Rack Mounting Kit
Unique half-rack width chassis (1 rack space high). Optional rack mount kit (ZRK) allows a single unit or two units to be rack mount side by side. Fits in a standard 19" equipment rack (1U). The ZRK rack mount kit must be purchased separately.
Specs
Specifications
PARA-ZDAC-V2
110-130 VAC 60 Hz or 220-240 VAC 50 Hz (voltage is selected on the chassis bottom)
Operating: 10W
Standby: < 1W
Digital Word Lengths: 16 or 24 bit
Upsampling: 422kHz / 24 bit (all inputs)
Opt & Coax: 8kHz, 11.025kHz, 16kHz, 32kHz, 44.1kHz, 48kHz, 88.2kHz, 96kHz, 176.4kHz, 192kHz
USB: 44.1 kHz, 48 kHz, 88.2 kHz and 96 kHz
USB Streaming Controller: Texas Instruments TAS1020B
Sample Rate Converter: Analog Devices AD1895
Headphone Amplifier: Texas Instruments TPA6120
Channel Balance: < 0.05 dB, 20 Hz - 20 kHz
20 Hz to 20 kHz ±0.2 dB
> 95 dB, 20 Hz - 20 kHz
110 dB, A-weighted
Unbalanced Variable: 2.4V
Balanced Variable: 4.8V
Unbalanced Fixed: 2.2V
Balanced Fixed: 4.4V
12Vdc, 50mA
Line out: 160 ohms, unbalanced or balanced
Headphone out: 10 ohms
8.5" x 1.75" x 10" (220 x 45 x 254mm) (without feet)
8.5" x 2" x 10" (220 x 51 x 254mm) (with feet)
Net: 5 lbs (2.3kg)
Shipping: 8 lbs (3.7kg)
Power Consumption
Length
Frequencies
Supported Sample Rates
Features
Frequency Response
Stereo Channel Separation
Signal to Noise Ratio
Audio Output Level
External Trigger Voltage
Impedance Output
Dimensions (W x H x D)
Weight
Distributed Brand Warranty
We want to make our Affiliate program as easy as possible. That's why we process all claims directly, without any third party telephone tag. Specific warranty terms and details from the manufacturer are below. View the full Parasound Warranty.
Keycap engravings
This feature is not currently optimized for mobile devices. We apologize for any inconvenience this may have caused. Please access Keycap engravings from a tablet or desktop computer.