Professional Certified Network Administrator
How It Works
---

Register Technicians
PCNA is now available to all SnapAV Pros. Fill out the contact form at the bottom of this page to get started and we'll make sure you get access to the curriculum and tell you how to start the registration process.

Choose a Kit
PCNA can be taken with an Araknis or Pakedge Kit. The curriculum is the same no matter which you choose. We simply wanted to give you more choice when it comes to your hands-on learning experience.

Cost and Rebate
The final cost for the certification after the rebate is $650. The initial cost for the certification is $1250, but we offer a $600 rebate if your technician completes and passes their exam within 60 days of registering. The cost covers:
The expertly-developed curriculum
The kit with all the equipment the tech will need (theirs to keep)
Access to Q&A with our Education team
A free OvrC account
The cost of the exam (first attempt)

Getting Started
Not long after registering, the kit will be sent to the shipping address on file. Your technician can take home the kit and will use it to complete the PCNA courses. The kit is theirs to keep, so they can keep practicing even after they've been certified. Instructions will be emailed to the technician and will also be included in the kit.

The Six Courses
When your tech is ready to get started, they should log into the dealer portal and follow the instructions they've been given to get started. They then can work their way through the six courses at their own pace.
Course 1: Essentials - Build Your Network
Course 2: Switches
Course 3: Routers
Course 4: Wireless Access Points
Course 5: Remote Monitoring and Management
Course 6: Network Design
There's even a Q&A feature so the technicians can ask questions and for clarification directly from our Education Team. Once the technician has completed all six courses, they should review the study guide to prepare for the exam.

Examination
Once the technician is ready to take the exam, they can schedule an appointment with the proctor, an independent party that will oversee the exam. The exam can be scheduled within a few days. If for some reason your technician does not pass the exam, they can retake it. See the FAQ

Celebrate
Every success deserves a little celebration, that's why every certified PCNA is sent a gift upon certification. The gift will be sent to the business shipping address on file, keep a look out for the PCNA gift and make sure your technician gets it.
---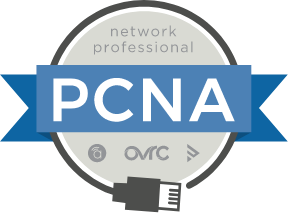 Become a Professional Network Administrator
The PCNA that Control4 and Pakedge pros know and love is now available to all our SnapAV dealers. Want to get started ASAP? Fill out this contact form to get started and we'll make sure you get access to the curriculum and tell you how to start the registration process.