Dragonfly™ Ultra Black Motorized ALR Projection Screen
DFM-NTT-ALR-A
Description
Specs
Support
Description
Description
We've engineered the industry's first true rollable ALR projection screen so your customers can enjoy dynamic, colorful media without losing valuable wall space.
Dragonfly™ Ultra Black Motorized ALR Projection Screen
We've engineered the industry's first true rollable ALR projection screen so your customers can enjoy dynamic, colorful media without losing valuable wall space. Standard Ambient Light Rejecting material absorbs and rejects all excess natural light in a room. But Dragonfly uses Black Lenticular Lens Technology to focus and direct light, offering ideal image quality and enhanced contrast in any application. Use this screen in any home theater, commercial space, or multi-purpose area where you'd like to offer an out-of-this-world viewing experience.
Limited Warehouse Locations
-
Please note that our screens are only stocked at certain warehouses, which may result in items shipping from a location other than your primary warehouse. Click here for more details.
Special Handling - To ensure damage-free shipping, this product is packaged in a wooden crate that requires extra care when opening.
Accept No Substitutes
Dragonfly offers the only true motorized ALR on the market. Our teams engineered the first rollable ambient light rejecting screen, combining our popular motorized form factor with microscopic Black Lenticular Lens Technology to ensure your customers get the best image contrast possible. These screens reject up to 95% of ambient light in a room. Can your standby ambient screen do that?
Better Than The Rest
Don't be fooled by the competition. Dragonfly's ambient light rejecting material was designed to be premium-grade: it delivers stunning performance and a sharper color contrast all at one competitive price. Not only does this unique material add a sleek, professional look to any install, it also absorbs and rejects excess light in a variety of versatile use cases. The difference is clear!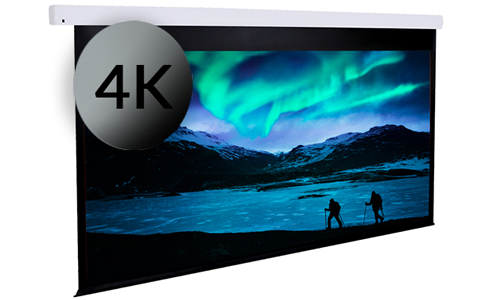 Delivers True 4K
Optimized for full 4K Ultra HD at over 8 million pixels, this Ultra Black ALR filmscreen is so versatile it offers amazing image quality for both 4K and high-resolution 1080p systems.
Light Rejection Equals Better Picture
You've never seen a projection screen like this. Our Ultra Black Ambient Light Rejection screen material has a smooth texture that reflects unwanted light and keeps it from affecting picture quality. These screens can now be used in applications that would normally need a TV to deliver the best quality picture. No more washed-out images!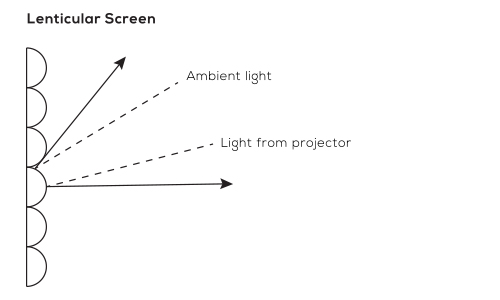 Black Lenticular Lens Technology
At a microscopic level, Dragonfly's unique Black Lenticular Lens structures the way an ALR screen focuses and reflects light. Tiny half cylinders lined in a row help focus the projector light into horizontal beams, allowing less light to be released above and below the cylinder. This enables the cylinders to absorb light coming in from steep angles, making the image appear brighter and enhancing overall contrast.
Seven Strong Layers
A total of seven whisper-thin layers make this material tough enough to withstand the brightest lights. Using an optical lens layer that enhances ambient light rejection and image contrast; a reflection layer to increase half-gain angles; a black color layer for reproduction and contrast help; and a surface coating to make the material scratch-resistant, this screen rejects the most amount of light.
No Shimmer or Hotspots
Ever catch a glimmer of static or a weird blip of noise in the background of a projected image? Never let shimmer or hot spots ruin a customer's viewing experience. Our smooth Dragonfly material is precision-engineered to provide crisp images free of all picture quality interference, no matter what projector you're using.

Wide Viewing Angle
For customers who need more viewing space in multi-purpose rooms, home theaters, or any other versatile set ups, this filmscreen supports a wider spectrum of off-axis viewing, preventing image darkening and distortion at up to 160°.

Gain Confidence
This unique projection screen features a highly-efficient gain of 0.8, so it not only absorbs unwanted ambient light, but enhances color contrast—it makes deep blacks even blacker and all colors richer.

Same Day Shipping
We keep screens in stock so you don't have to. Enjoy same-day shipping from a central location to get your order processed as efficiently as possible. Select Partner Rewards levels also enjoy free shipping on filmscreens. Learn more about Partner Rewards >>

Quick & Quiet Motor
Dragonfly motorized screens feature a whisper-quiet tubular motor with enhanced efficiency and nearly silent operation. Plus, it has an average drop time of 18 seconds.
---
Flexible Control
We've taken the guesswork out of specifying and controlling your Dragonfly motorized screen. Each model comes standard with the most popular control types: RS-232, IR,12V trigger, wall switch and contact input. Plus, we include a mounting bracket for the remote – so the customer never has to search to find it.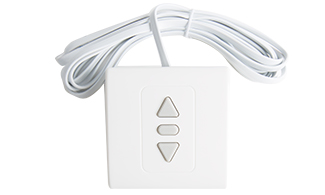 Wall Switch
Use the included wall switch and cable for quick and easy screen operation, meaning the customer always has a way to quickly raise and lower the screen.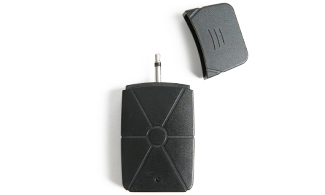 12V Trigger
If you're using a projector or AV receiver with a 12V output, use the included 30' cable to easily have the screen raise and lower when that device is turned on.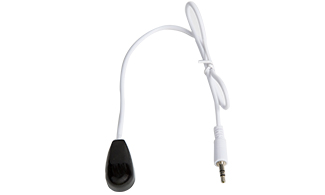 IR
The included case-mounted IR receiver means you can mount the screen and start controlling it right out of the box with the included IR remote control.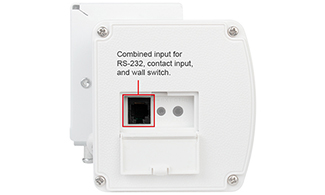 RS-232
The included RS-232 connection is perfect for integrating the screen into popular control systems.
Contact Input
An included dry contact closure input provides a simple way to raise and lower the screen.
Specs
Specifications
| DFM-NTT-100-ALR | DFM-NTT-110-ALR | DFM-NTT-120-ALR |
| --- | --- | --- |
| 4.1" | 4.1" | 4.1" |
| 4.5" | 4.5" | 4.5" |
| Aluminum Alloy | Aluminum Alloy | Aluminum Alloy |
| 47.1 lbs | 50.7 lbs | 55.9 lbs |
| 100.67" | 109.37" | 116.34" |
| 16:9 | 16:9 | 16:9 |
| 100" | 110" | 120" |
| 0.8 | 0.8 | 0.8 |
| Ambient Light Rejecting | Ambient Light Rejecting | Ambient Light Rejecting |
| 49.02" | 53.93" | 57.83" |
| 87.17" | 95.87" | 102.83" |
| Wall Motorized, Non-Tab Tension | Wall Motorized, Non-Tab Tension | Wall Motorized, Non-Tab Tension |
| 85° | 85° | 85° |
| 95% | 95% | 95% |
| 15.75" | 15.75" | 15.75" |
Depth
Height
Construction
Weight
Width
Aspect Ratio
Screen Size
Gain
Screen Material
Viewing Area Height
Viewing Area Width
Screen System
Half Gain Angle
Light Rejection
Maximum Screen Drop Distance
Support
Manuals and Guides

Control Protocols and Drivers
2-Year Limited Warranty
Dragonfly™ Motorized and Tab-Tension Motorized Projection Screens have a 2-Year Limited Warranty. This warranty includes parts and labor repairs on all components found to be defective in material or workmanship under normal conditions of use. This warranty shall not apply to products which have been abused, modified or disassembled. Products to be repaired under this warranty must be returned to Snap One or a designated service center with prior notification and an assigned return authorization number (RA).
Keycap engravings
This feature is not currently optimized for mobile devices. We apologize for any inconvenience this may have caused. Please access Keycap engravings from a tablet or desktop computer.