BenQ HT8050 DLP 4K Ultra HD 2,200 Lumen THX Certified Projector
BENQ-HT8050-A
Description
Specs
Support
FAQs
Description
Description
Introducing the world's one and only DLP 4K UHD home cinema projector. Offering 8.3 million distinct pixels, BenQ's HT8050 is THX-certified for DLP 4K UHD resolution; it delivers dazzling clarity without panel-related artifacts and its picture quality rivals any commercial digital theater.
BenQ HT8050 DLP 4K Ultra HD 2,200 Lumen THX Certified Projector
Introducing the world's one and only DLP 4K UHD home cinema projector. Offering 8.3 million distinct pixels, BenQ's HT8050 is THX-certified DLP 4K UHD resolution; it delivers dazzling clarity without panel-related artifacts and its picture quality rivals any commercial digital theater. Using Rec. 709 color accuracy, intelligent functionality, and installation flexibility, this projector is ready to integrate seamlessly into any upscale home cinema.

8.3 Million Pixels of True 4K Ultra HD
This 4K projector achieves the Consumer Technology Association's 4K Ultra HD specification at a resolution of 2716 x 1528 (4.15 million) micromirrors. Via a dual-position optual actuator, it also uses XPR fast-switching technology with state-of-the-art image processing to double the resolution to 8.3 million distinct pixels per frame—which is four times the resolution of full 1080p HD. It also reduces the blur between pixels for supreme clarity and crisp image details.

THX Certified
In order to become certified, THX tests projectors in hundreds of ways to examine how they perform in three key areas: motion processing, color accuracy, and uniform image sharpness (sometimes called light engine.) By becoming certified, each projector faithfully reproduces content in the striking, cinematic way the film's creators intended, using Rec. 709 cinematic color and state of the art video processing.

Rec. 709 Delivers Cinematic Color
Show your customers movies using the exact cinematic colors the studios intended. Rec. 709 color is the international High Definition standard that enables the projector to reproduce the exact color palette used by Hollywood TV and film studios. Using the latest 6X speed RGBRGB color wheel with custom segment angles and coatings, this projector delivers vivid and precise cinematic color, right out of the box.

Deeper Native Contrast
Native ANSI measures the ability of projectors to produce extreme levels of brightness and darkness by measuring black and white levels on a checkerboard pattern. With industry-leading levels of high native ANSI contrast ratio performance, the HT8050 generates deep, true blacks and resolves subtle layers of fine details in both dark and bright scenes without washout.

Accurate Skin Tone Pigmentation
BenQ's complex color algorithms flawlessly render saturated colors, fine gradients, intermediate hues and subtle pigments, while its Flesh Tone feature prevents skin tone discoloration caused by the projection beam light, so every shade can be portrayed as beautifully and accurately as possible.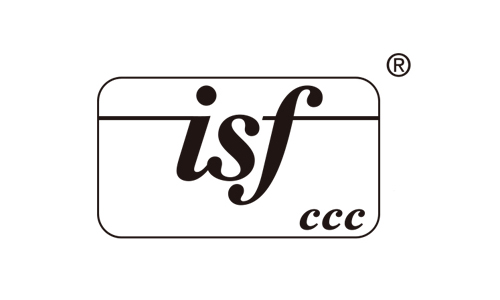 ISFccc® Certification
Offering built-in ISFccc® calibration from the highly-reputed Imaging Science Foundation, the HT8050's image and color performance can be customized for any space, along with preset light balance modes for day and night. Deliver professionally calibrated visual entertainment to any customer with confidence.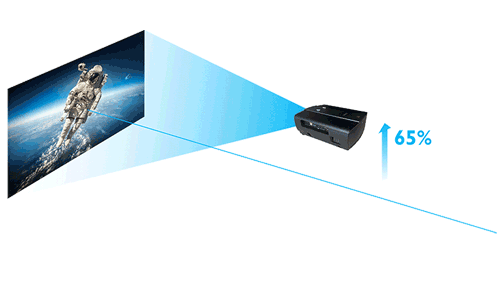 The Ultimate Install Flexibility
Manual lens shift allows you to optically move the image vertically or horizontally on the screen to overcome minor installation miscalculations, ensuring the projected image will always land precisely over the area you need.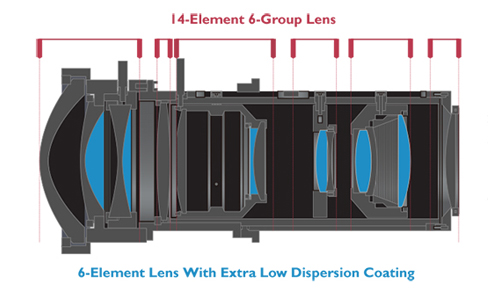 High-Precision 14-Element 6-Group Lens Array
A super-high resolution 14-element lens array is structured into six groups of metal barrel and cell framework. This lens array far outshines 1080p projection systems by delivering long-lasting 4K performance through greater light penetration, clarity, and sharpness across the entire screen.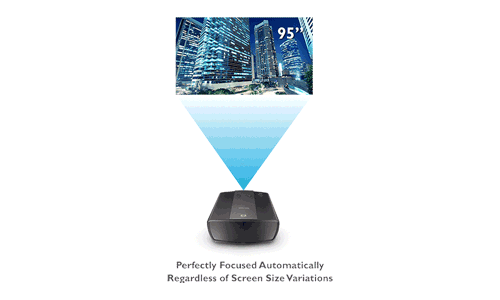 Synchronized True Zoom and Focus System
BenQ's True Zoom function automatically makes focus adjustments and optimizes the zoom ratio to deliver visually perfect focus without blemishes. Three focusing lens groups adjust simultaneously with the zoom lens group to negate any curved field for immaculate cinematic performance and high-precision clarity at every corner of the image.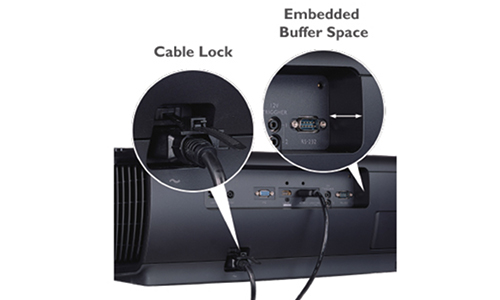 Advanced Interface Design
The HT8050's unobstructed port layout separates the power and video signal to eliminate interference without visible clutter, with enough buffer space clearance to accommodate thick high-quality cables and HDMI / power cable locks to hold them securely in place.
Specs
Specifications
BENQ-HT8050
3840x2160
2200 ANSI Lumens
Type: Lamp
Life: 3000/4000/6000 hours
1.36~2.03
50000:1
16:9
1.5:1
Horiz + Vertical
300"
D-Sub x1
HDMI x2
x2
RJ45 x1
USB Type A x1
USB Type B x1
RS232 x1
32.6 lb
18.53" x 8.85" x 22.23"
Supported Resolutions
Lumens
Lightsource
Throw Ratio
Contrast Ratio
Aspect Ratio
Zoom Ratio
Lens Shift
Maximum Image Size
Inputs
12V Trigger
Connectors
Weight
Dimensions (W x H x D)
Support
Manuals and Guides

Sales Resources

Support Documents
Software and Firmware


FAQs
FAQ
General
Does this projector support HDR?

This projector does not support HDR10. That being said, there are very few TVs let alone projectors that can correctly display HDR10 content.

HDR10 currently specifies a 1,000 nit peak brightness target, 10-bit color depth and the full Rec.2020 color space. Currently high end consumer displays are only capable of producing 1000 nits in local areas for limited periods of time by overdriving portions of the backlight array. These same displays are also only capable of reproducing 60-70% of the Rec.2020 color space. This means that any HDR content requires some amount of conversion before being displayed.

The story for projectors is even worse. In order to generate 1000 nits of luminance with a 12' throw on a 100" screen you would need approximately 10,000 Lumens. In addition, while some higher end projectors can achieve color gamuts wider than Rec. 709 they are still only producing about 70% of the colors contained in the Rec. 2020 specification. Based on these limitations we are not aware of any projector that can produce the color gamut and peak brightness needed to properly display HDR10 content. In fact many of the projectors that claim compatibility with HDR content are forced to make such large conversions that the HDR content ends up looking worse than non-HDR signals that are handled correctly.

While some projectors are capable of reading HDR10 metadata they are still a long way off from properly reproducing the image. BenQ is known for their cinematic picture quality and best in class color reproduction. They are working toward projectors that can properly handle HDR, but will not sacrifice the quality of their current models to push a feature that cannot be correctly implemented.

Does this projector have Native 4K, 8.3 million pixels?

The quick answer is yes, it meets the CTA standard for 4K displays. For a projector to be considered Native 4K it is required to display a 1:1 pixel map from the source containing 8.3 million discrete pixels per frame. This projector uses an array of 4 million mirrors to create 8.3 million discrete pixels per frame utilizing the latest Texas Instruments DLP chipset.

For a more in-depth explanation we encourage you to read a very thorough article on Projector Central found

here.
BenQ 8050 Limited Warranty
We want to make our Affiliate program as easy as possible. That's why we process all claims directly, without any third party telephone tag. Click here for specific warranty terms and details from the manufacturer.