Yamaha AVENTAGE AV Receiver | 7.2 Channel x 110W
YA-RX-A780-A
Description
Specs
Support
Description
Description
The AVENTAGE line of high-performance AV receivers is based on the audio design concept of providing a massive, full-bodied sound for movie sound effects and the accurate reproduction of music sources.
Yamaha AVENTAGE AV Receiver | 7.2 Channel x 110W
The AVENTAGE line of high-performance AV receivers is based on the audio design concept of providing a massive, full-bodied sound for movie sound effects and the accurate reproduction of music sources. By expertly harmonizing traditional and advanced technologies, every factor that affects sound quality, from materials and parts to construction, layout, vibration damping (unique foot) and "fine-tuning" the sound, is designed to achieve the best possible audio quality. As a result, every AVENTAGE model has the ability to reproduce the most subtle details of high-definition sound, so you can install a truly high-class sound studio experience for your clients.

AVENTAGE – Premium Audio
The Total Purity Concept, which Yamaha has been cultivating for many years, encompasses high drive amp technology, high purity preamplification, anti-vibration technology and independent pure power supplies. All models have fully discrete power amplifiers that help minimize distortion and are designed with high-quality parts needed to achieve the highest permorfming install possible. They also adopt pure independent power supplies, allowing dedicated power supplies for the analog and digital circuitry to prevent digital noise from affecting analog circuitry.

AVENTAGE – Advanced Design
The feet of the receiver feature a high-density structure which utilizes two different kinds of interior ribs to enhance strength and damping performance. Plus, the receiver includes the Anti-Resonance Technology Wedge, which is a fifth foot in the center of the unit. Installation stability is improved and chassis resonance is dispersed, effectively eliminating external vibration. The low-range response is enhanced, while resonance peaks in the mid- and high-range are reduced, providing dynamic sound and accurate. Plus, AVENTAGE components feature the same sleek, clean design, with an elegant aluminum front panel and silky touch volume/selector knobs for a truly beautiful and functional install.

Seamless Integration
Designed with the custom-install space in mind, Yamaha offers custom drivers for Control4 and other leading control systems for most of their product lineup. Plus, SnapAV will soon deliver the deepest third-party OvrC Pro integration to date, with enhanced diagnostic data on Yamaha products. And with Google Assistant and Alexa compatibility, integration has never been easier.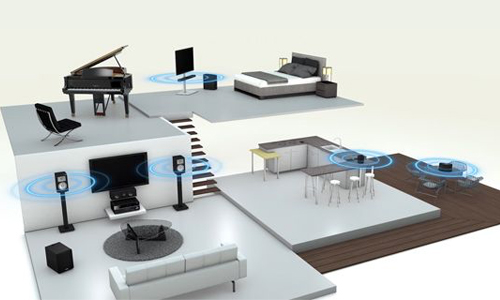 MusicCast
Start with this AV receiver in your client's home theater and expand to other rooms with MusicCast speakers, sound bars or Hi-Fi gear. Let your clients stream their music and TV sound everywhere using their existing Wi-Fi network. With MusicCast, the system grows with them, and there's no need to run wires through walls.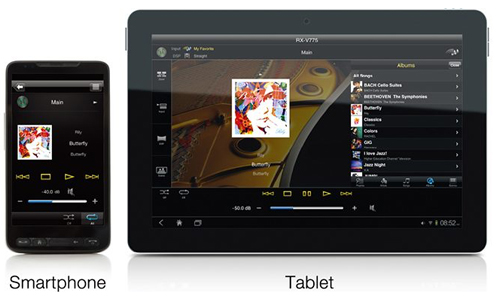 MusicCast App
The free MusicCast app puts control of the AV receiver in the palm of your client's hand. They can access their sources and streaming services, adjust volume and sound settings, and link with other MusicCast devices for simultaneous playback throughout their home.
4K Ultra HD HDMI Support
Providing complete compatibility with the latest HDMI standards, this AV receiver delivers transmission of 4K video at 60 frames/second pass-through. It also supports HDR (high dynamic range) video including Dolby Vision and Hybrid Log-Gamma. This provides incredible contrast, smooth tone and rich, bright colors—giving your client full, high-definition enjoyment with an exceptionally realistic and natural picture quality.
Dolby Atmos and DTS:X
Compatibility with these amazing sound technologies creates an extraordinary end-user experience. They deliver breathtakingly rich and realistic surround sound, positioning and moving individual sounds to any virtual point in your client's room, including objects moving overhead. Give your clients the overwhelming realistic movement and immersion in videos — right in their home.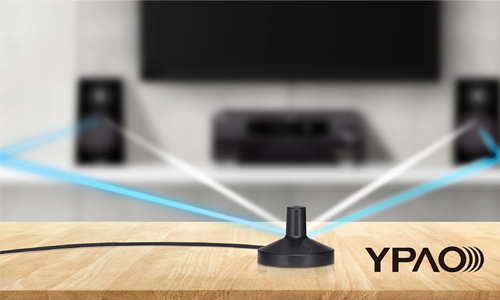 YPAO™ - R.S.C. (Reflected Sound Control)
Sound optimized. YPAO-R.S.C. analyzes room acoustics with the included YPAO microphone to tune the system for the best sound in your client's unique room. It employs R.S.C. (Reflected Sound Control) to correct early reflections to provide studio-quality surround sound. Additionally, DSP Effect Normalization adjusts the room acoustics according to the reflected sounds of each CINEMA DSP program.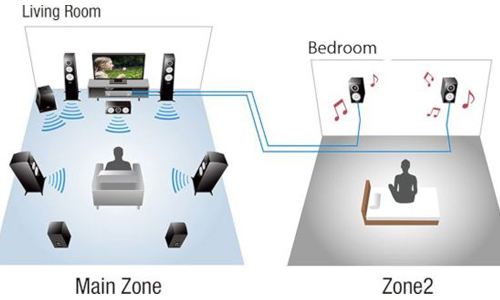 Zone 2
This feature, also known as Intelligent Amp Assign, allows users to enjoy stereo sound in a second room. When Zone 2 is turned on, the two surround back channels in a 7.1-channel system will be redirected to the two speakers in Zone 2, while giving the Main Zone 5.1 channels of power. Thanks to this feature, there's no need for your client to switch the speaker cables on the rear of the AV receiver.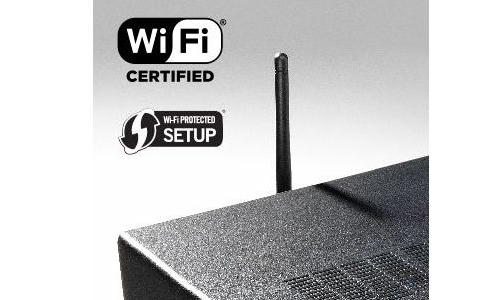 Wi-Fi, Bluetooth, and AirPlay Compatible
Built-in Wi-Fi allows for a connection to your client's wireless router, greatly simplifying system integration for music streaming or enjoying networked audio (PC/NAS). Bluetooth connectivity is also included, allowing your client to stream into their receiver or out from their receiver to another Bluetooth device such as a pair of headphones.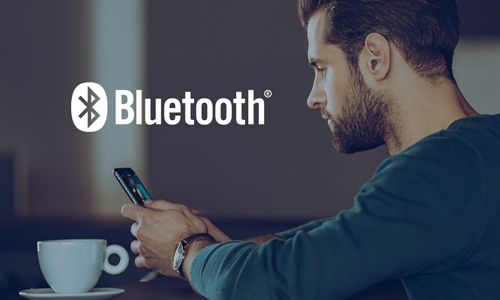 Bluetooth Output
The RX-A780 is equipped with Bluetooth technology, making wireless operation more convenient than ever for your client. They can stream music from the RX-A780 to Bluetooth headphones for private listening or to Bluetooth speakers. Bluetooth output has been improved, reducing lip sync delays from digital sources.
Wireless Surround Speakers
Combine this AV receiver with MusicCast 50 or MusicCast 20 wireless speakers and easily create a home theater for your client with wireless surround speakers in 5.1-ch. Install stunningly realistic sound with a clean, clutter-free setup and turn your client's current living room into an entertainment environment where they can fully enjoy movies and music.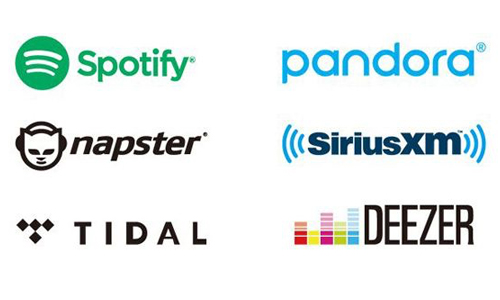 Streaming Services
Give your client a world of music with built-in music streaming services. Now they can sync their playlists and likes from their smart device to their receiver and discover new music even easier with their receiver.
Phono Input
Give your clients the ability to enjoy music from their vinyl collection through the phono input terminal.
Specs
Specifications
YA-RX-A780
110 W (8 ohms, 0.09% THD)
0.09%
No
HDCP 2.3
Yes
Yes
HDMI 2.0b
5 In / 2 out
Yes
Dolby TrueHD, Dolby Digital Plus, Dolby Digital, DTS-HD Master Audio, DTS-HD High Resolution, DTS Express, DTS, DSD 2-ch to 8-ch, PCM 2-ch to 8-ch
IEC detachable power cord
1 programmable, 0.1A
17-1/8 in. x 6-3/4 in. x 14-7/8 in.
AVENTAGE 7.2-Channel AV Receiver with MusicCast
AM Antenna, FM antenna, Remote Control, YPAO Microphone
1
1
6 Ft.
120V AC
Shelf only
0
1 Front Panel
23.4 lbs.
4U
110 dB
None
2 Wi-Fi, AM, FM
B.T.2020
12-bit
Yes
7.2-Channel
None
Wi-Fi, Bluetooth, AirPlay 2, Spotify Connect, Ethernet
Spotify, Pandora, Napster, TIDAL, Deezer, SiriusXM, Qobuz
YPAO with R.S.C. (Reflected Sound Control)
Up to Two Zones
MP3 / WMA / MPEG-4 AAC: up to 48 kHz / 16-bit, ALAC: up to 96 kHz / 24-bit, FLAC / WAV / AIFF: up to 192 kHz / 24-bit
Control4, RTI, URC, ELAN, Creston
Yes with MusicCast CONTROLLER app
Presets: 0
Voice Control:Alexa, Actions on Google, Siri, Josh.ai
Power Output @ 8 ohm
Total Harmonic Distortion (THD)
HDBaseT Connections
HDCP Compliance
3D Support
HDMI 4K Support
HDMI Compliance
HDMI Connections
HDMI Deep Color Support
Supported Formats
Power Connection Type
12V Trigger
Dimensions (W x H x D)
Features
Included Accessories
IR Inputs
IR Outputs
Power Cord Length
Line Voltage
Rack Mountable
RS-232 Ports
USB Ports
Weight
Rack Spacing
Signal to Noise Ratio
Alarm Features Desc.
Antennas
Colorspace
Color Depth
CEC
Channels
Controls
Connectivity
Streaming
Calibration Type
Zones
Supported Audio Formats
Supported Control Systems
MusicCast
Support
Manuals and Guides

Support Documents
Control Protocols and Drivers



Software and Firmware

Yamaha Limited Warranty
We want to make our Affiliate program as easy as possible. That's why we process all claims directly, without any third-party telephone tag. Click here for specific warranty terms and details from the manufacturer.
Keycap engravings
This feature is not currently optimized for mobile devices. We apologize for any inconvenience this may have caused. Please access Keycap engravings from a tablet or desktop computer.