OvrC-Enabled Lutron® RA2 Select Main Repeater
LUT-RR-SEL-REP25
Description
Specs
Support
Description
Description
OvrC Pro extends your visibility and access to the entire network of IP devices, including non-SnapAV products, all within the same OvrC platform you love. With OvrC Pro, you get access to enhanced troubleshooting capabilities and diagnostic data that makes remote support easy, eliminating unnecessary truck rolls and enabling you to provide world-class service to your clients.
OvrC-Enabled Lutron® RA2 Select Main Repeater
This SnapAV exclusive, OvrC-enabled RA2 Select main repeater acts as the brain of the smart lighting system, and enables seamless setup, wireless control, and monitoring of RA2 Select devices from a smartphone or tablet. Native OvrC integration provides unprecedented remote configuration and management of the RA2 Select system through a secure cloud-to-cloud connection. Clear Connect® RF technology reliably sends wireless commands from the repeater to all devices on an ultra-low-interference band. Plus, it integrates smoothly with popular third-party devices such as Amazon Alexa, Sonos, and more. The main repeater supports up to 100 wireless devices, including dimmers, switches, Pico controls, and wireless shades. Use it to create a custom lighting system your clients will rave about.
Control Systems - When using your RA2 Select main repeater with a control system, you will need to enable Telnet within the Lutron app. Once logged in, go to Settings > Advanced > Integration > then toggle the button to "on" next to Telnet Support.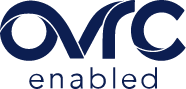 OvrC-Enabled
Flexible Lighting Solution

Trusted Technology
User-Friendly Interface

Intelligent Control
---
---
---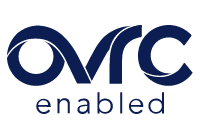 ---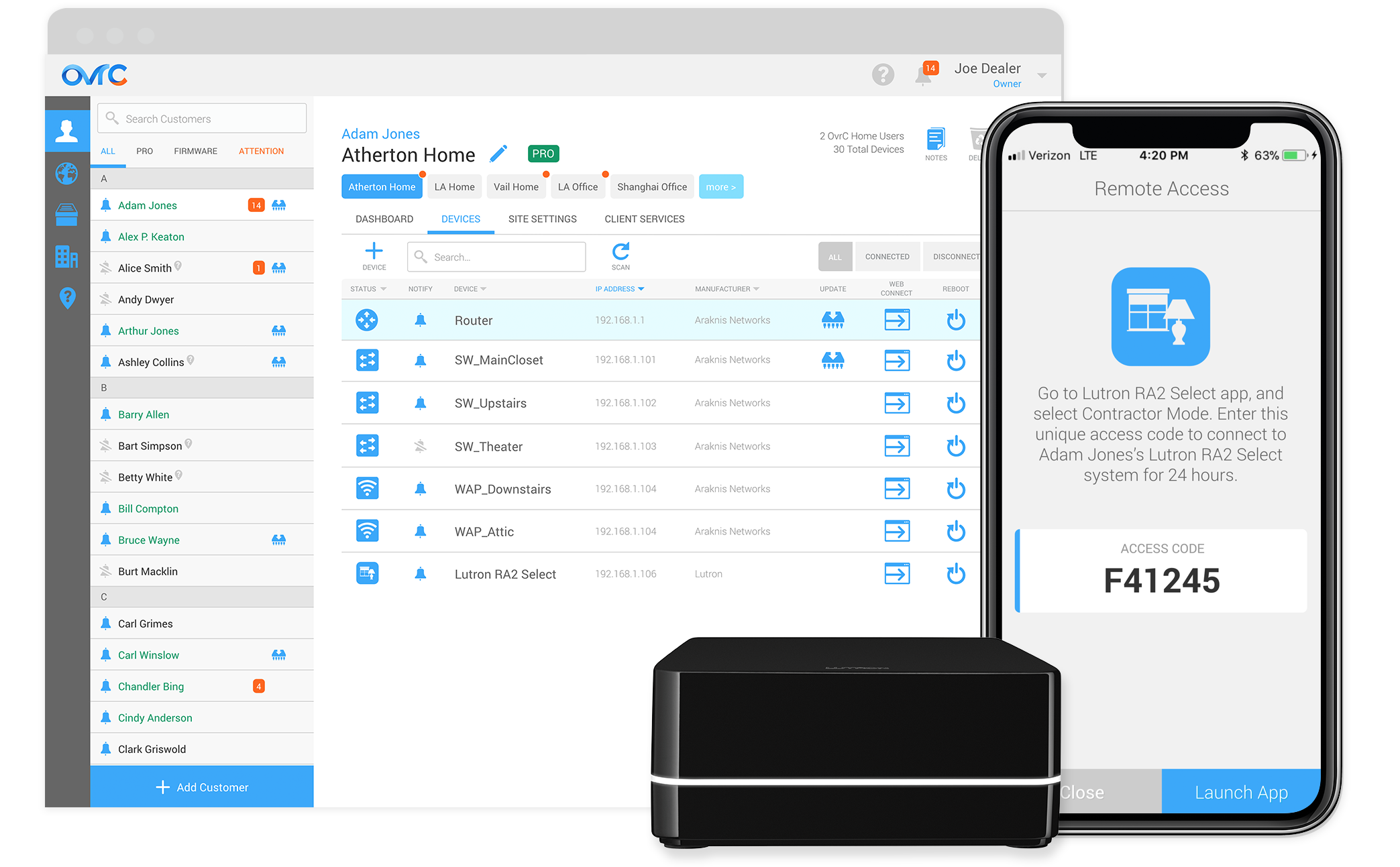 Access Location Remotely – By securely connecting OvrC to the Lutron app, you're able to make configurations, reboot the repeater, or troubleshoot as if you're back at the job, eliminating the need for extra truck rolls.
View Device Information – All OvrC-enabled RA2 Select products will show up on the device details page for your main repeater, so you can view names, locations, online/offline status, and basic network and product info for every Lutron device.
Firmware Status Update – On the Device Details page, you'll be able to see which firmware version your RA2 Select repeater is running, view when it was last updated, and access the release notes right from the app screen. Your Lutron repeater will auto-update from the cloud, but through OvrC you can see its current status and retry the update process.
Troubleshooting Tips – Each individual device page offers you a general list of suggestions to utilize when addressing common problems. If any device in your system encounters an issue or stops responding, you're able to resolve common problems quickly and quietly.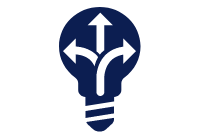 Flexible Lighting Solution
---
Scalable System – The OvrC-enabled RA2 Select repeater supports up to 100 wireless devices, including specific RadioRA 2 dimmers and switches, Pico wireless controls and keypads, and wireless shades.
Extend Wireless Range – For larger systems, up to 4 wireless repeaters can be used to extend the wireless range. Each repeater counts as a separate device within the system.
Local Device Operation – If internet connection is lost or if the main repeater is powered down, or not communicating, local device operation will continue to function as normal. You'll also receive an OvrC notification whenever an outage occurs.
Simple Setup – Enjoy intuitive app-based setup, control, and monitoring via Lutron's robust mobile experience—without a PC or an intensive training class.
Fast Configuration – Pico scene keypads automatically configure typical lighting scenes based on ideal applications and activities—no programming needed!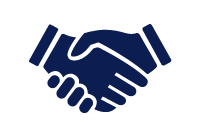 ---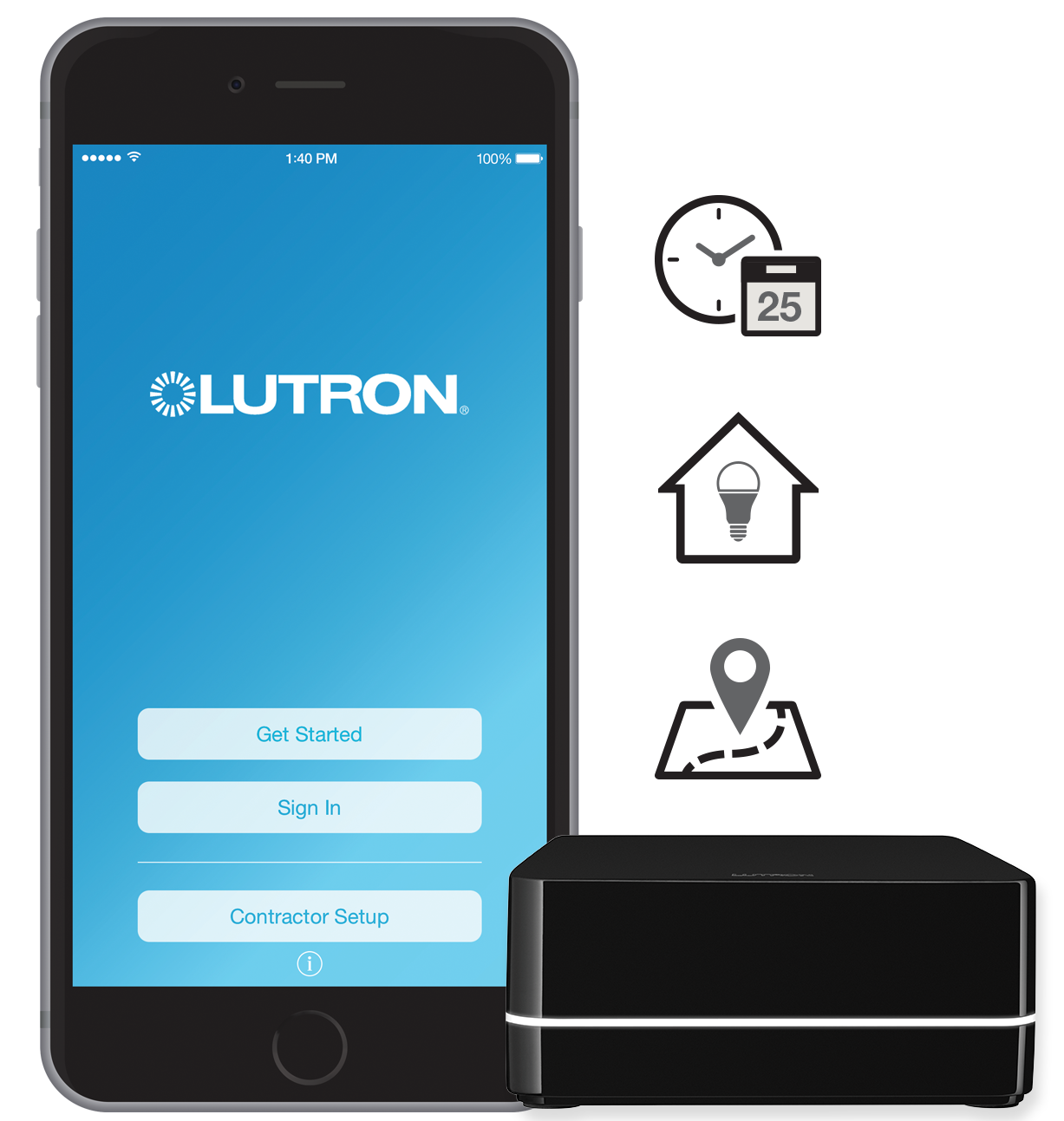 Clear Connect – Lutron's patented Clear Connect® RF technology sets the bar for reliability. Each system works with precision and accuracy, free from interference with other frequency bands, every time.
Scheduling – Depending on your client's schedule, you can program a recurring command for daily events, such as automatically adjusting lights or shades at sunrise, sunset, or other set times throughout the day or night.
Smart Away – Using the mobile app, customers can have their system randomly turn lights on and off in the evening, so it looks like they're home, even when they're away.
Geofencing – Control lights based on location. This feature can turn lights on for clients when they arrive home and notify them if lights are left on when they leave.
Ethernet – For increased reliability, the main repeater requires a hard-wired Ethernet connection while other repeaters used as extenders may be wireless only.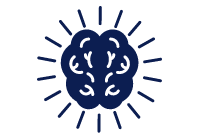 ---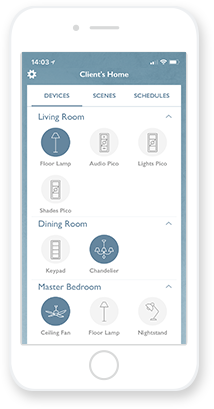 Lutron App
Easy To Use – Available for iOS® and Android™, Lutron's mobile app is straightforward and simple to use, even for end users. Clients can manage settings on their own instead of calling you.
Contractor Setup – Now, you can easily bypass the customer registration process and get straight to configuration. Using the Lutron App's unique contractor setup mode, quickly configure the system, then invite the homeowner to register when you're ready. They can even contact you straight from the app if they need additional support from a pro.
Worldwide Access – Each RA2 Select system comes with an easy-to-use end consumer app, so your clients can enjoy system access from anywhere in the world.
Remote Adjustments – By using OvrC to securely connect to the Lutron app, you can access and tweak scene configurations as if you're back on the job. No other lighting system is able to give you off-site access.
Power Of The Pico – The versatile Pico remote enables control of the lighting system from anywhere in the home. The sleek, sophisticated Pico is available as a keypad, for scene control, or as a remote, for individual light and shade control.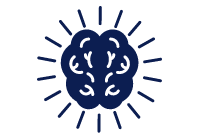 Intelligent Control
Expand any lighting system to work with other smart home brands such as Amazon® Alexa®, Google® Assistant, Nest®, Sonos®, Apple, and more. RA2 Select's main repeater also allows for integration with professional AV and control systems.
---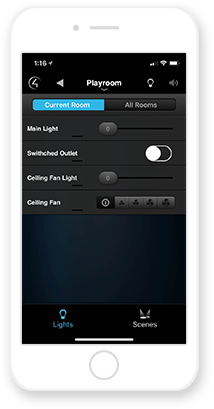 Smart Integration – Supports integration with Honeywell, Amazon® Alexa®, Google® Assistant, Nest®, Sonos®, and more.
iOS® Compatible – Can be controlled through Apple Watch.
Control Systems – Learn more about RA2 Select's integration capabilities, commands, scene triggers, and additional protocols—all broken up by control brand.
Compare Systems >>










Device Compatibility
RadioRA 2 dimmers*
RadioRA 2 switches*
RadioRA 2 fan controls*
RadioRA 2 plug-in dimmer/tabletop lamp dimmer
RadioRA 2 appliance module
Pico remotes and keypads
RA2 Select wireless repeaters (up to 4)
Sivoia QS Triathalon and Sivoia QS Wireless roller shades, drapery track, Kirbé, and Roman shade systems
*RadioRA 2 dimmers, switches, and fan controls purchased prior to January 2014 or with a date code of Y01 may not be compatible. For specific dates for each compatible model please see Lutron Application Note #668. Only designer opening RadioRA 2 dimmers are compatible with the RA2 Select main repeater. Read more about compatibility here.
Specs
Specifications
LUT-RR-SEL-REP2S-BL
RJ45 (Ethernet Connection)
2.75" x 1.19" x 2.75"
1.3W (typical)
431.0 - 437.0 MHz
5 Vdc, 550mA (included)
5 Vdc, 300mA
Connector Type
Dimensions (W x H x D)
Power Consumption
RF Frequency
External Power Supply
Power Input
Support
Manuals and Guides

Sales Resources

Lutron Limited Warranty
We want to make our Affiliate program as easy as possible. That's why we process all claims directly, without any third-party telephone tag. Click here for specific warranty terms and details from the manufacturer.
Keycap engravings
This feature is not currently optimized for mobile devices. We apologize for any inconvenience this may have caused. Please access Keycap engravings from a tablet or desktop computer.