WattBox® 800 Series IP Power Conditioner | 12 Individually Controlled & Metered Outlets
WB-800-IPVM-12-A
Description
Specs
Support
Description
Description
The WattBox 800 Series 12-Outlet IP Power conditioner delivers individual outlet metering, smart outlet placement, and flexible mounting options. Individually controlled and metered outlets and the power of OvrC remote management allow you to solve issues without the hassle of a service call.
WattBox® 800 Series IP Power Conditioner | 12 Individually Controlled & Metered Outlets
The WattBox 800 Series 12-Outlet IP Power conditioner delivers individual outlet metering, smart outlet placement, and flexible mounting options. Individually controlled and metered outlets and the power of OvrC remote management allow you to solve issues without the hassle of a service call. Thanks to a unique design and strategically placed outlets, you can install the WB-800-IPVM-12 at virtually any angle to maximize outlet space and create an aesthetic, organized rack. For the ultimate in troubleshooting and control, you can even reboot individual outlets and create schedules – all from the OvrC mobile app. With a professional-grade aluminum build and built in surge protection and power conditioning, the WattBox 800 will power and protect your gear for years to come.
Important Note
-
This WattBox model is not compatible with the WattBox Rack Mountable Modular Faceplate Display (WB-FB-600) or the WattBox™ Momentary Trigger WB-ACC-TRIGGER.
12 Controllable Outlets

Metered Outlets

OvrC Home

OvrC

Surge Protection
Self-Healing & Auto Reboot
Mounting Flexibility
---
---

Individual Outlet Metering
WattBox is synonymous with individual outlet control. The 800 Series lets you monitor the current and voltage at each outlet, while individual outlet metering allows you to detect devices that are operating irregularly or solve simple issues.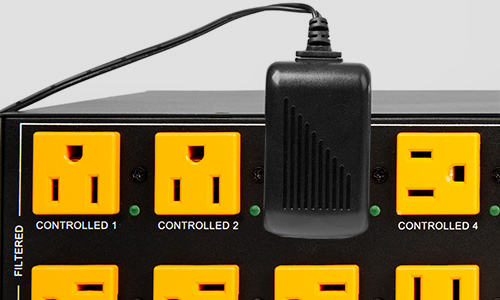 Smart Outlet Design
Bulky power supplies can get in the way and create install headaches. To help alleviate that inconvenience, WattBox outlets are strategically spaced and feature various orientations to maximize outlet use and provide greater flexibility for any job. We even include tie-down straps and a locking IEC cord to keep everything in place.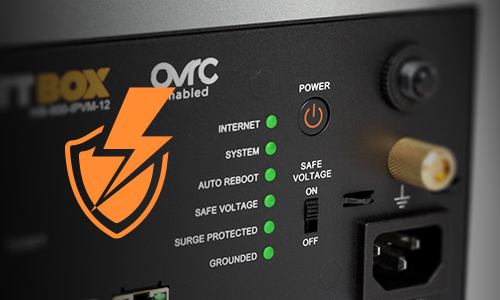 Surge Protection & Power Conditioning
This professional-grade WattBox is engineered to protect critical equipment on the job. Safe Voltage protects gear by automatically disconnecting it during unsafe voltage conditions, while MOVs with UL94 V-0 rating provides critical surge protection. Additionally, isolated filter banks ensure that critical audio and video components perform optimally with reduced EMI/RF interference. You can even use OvrC to set threshold ranges for voltage, power, and current, and receive helpful notifications when they fall out of range.
Flexible Mounting Options
Stop struggling to reach outlets. Whether you need it up, down, angled, or recessed, this WattBox provides almost limitless options. Turn the included bracket around to easily mount it in the back of a rack, cabinet, or on a wall. Or face the bracket down, apply the included feet, and you can quickly secure it to a shelf or the top of the cabinet.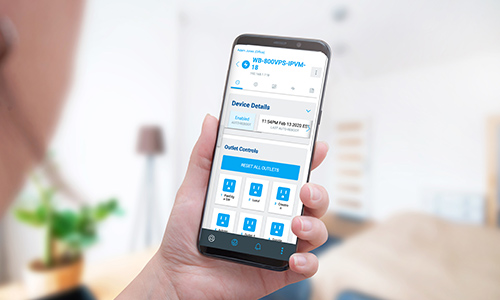 Remote Management On-the-Go
With the easy-to-use OvrC mobile app, you'll receive real-time alerts to address any issues quickly and view critical information for all devices, even those that have fallen offline. You can also easily create schedules and automatically reboot individual outlets all from the app, giving you more control from wherever you are.
Optional UPS Battery Pack Add-On
Pairing an IP WattBox with a WattBox OvrC UPS Battery Pack safely backs up all of your equipment in case of power failure. This add-on lets you manage your system proactively by unlocking additional OvrC features including smart load shedding, remote alarm silencing, and critical battery health alerts. See our WattBox IP UPS Kits to learn more.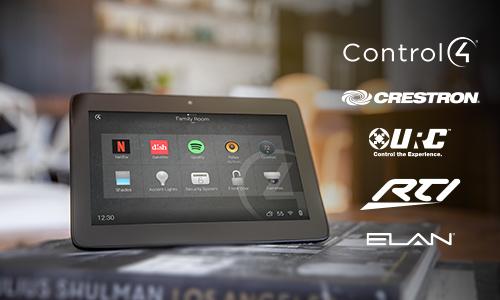 Control System Integration & IP WattBox API
WattBox is compatible with the industry's most popular control systems, including Control4, Crestron, Elan, RTI, and URC. We've even added a next-generation Telnet API that lets you program unique features into your system or create custom solutions to deploy and monitor WattBox products across thousands of sites. With Telnet API, you can integrate with any third-party control system, monitoring platform, or other proprietary solutions.
Three Ways to Prevent Service Calls & Truck Rolls
This WattBox provides three lines of defense to fix problems and reduce service calls. Combine WattBox's scheduling and auto-reboot feature with OvrC remote management and a client-facing mobile app, and you have an iron-clad solution built for pros. Simply put, no other remote management system comes close to what WattBox and OvrC can do.
Self-Healing Auto Reboot
WattBox power products are uniquely designed to fix themselves without any outside intervention, helping to prevent service calls and dealer troubleshooting. The unit continuously monitors connectivity and when the connection is lost, it automatically reboots the troubled device as programmed. You can even schedule regular reboots through the local UI or OvrC platform.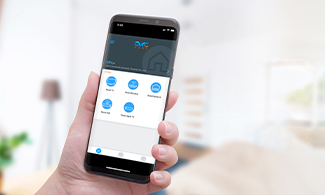 Client-Facing App
OvrC Home is a free client-facing mobile app included with all WattBox IP products that allows your customer to fix small problems on their own. Through this intuitive app, they'll be able to reset any device connected to individual WattBox outlets and use macros to execute a series of commands that you define. If for some reason customers still need to reach you, your company logo and contact information are easily accessible within the app.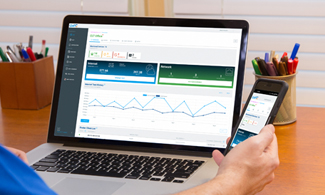 OvrC Remote Management
Through an easy-to-use desktop or mobile app, you can reboot devices, modify configurations, update firmware and more – all from anywhere in the world. Plus, if a WattBox falls offline, OvrC provides you with a detailed notification so you can address the issue before your customer even notices. Upgrade to OvrC Pro, and you'll get access to even greater diagnostics and troubleshooting tools across all OvrC-enabled products.
Specs
Specifications
WB-800-IPVM-12
Filtered Oulets per Bank: 2
Filtration (per bank): 6
Type: NEMA 5-15
Number of Outlets: 12
90,000A
Yes (90V ~ 136V)
UL 62368-1, UL 1449, UL 1283, FCC 47 CFR Part 15 Subpart B-Class B
17.32" x 3.46" x 3.46"
Protection Modes: L-N, L-G, N-G
Locking and Detachable Power Cord
AC Input Connection: IEC C-14
14°F - 104°F
6 Ft.
120V, 50/60 Hz
Circuit Breaker Rating: 15A
UL Current Rating: 12A
UL Power Rating: 1440W
Voltage Protection Rating: L-N 600V, L-G 600V, N-G 600V
Joule Rating: 3240J
2U
Thermal Fuse
IP Controlled Outlets: 12
Telnet
API: Yes
Individual Outlets: Yes
Device: Yes
Yes, MOV Type with AC Disconnect Thermal Fuse
EMI/RF Filtration
Outlets
Peak Impulse Current
Safe Voltage
Certifications
Dimensions (W x H x D)
Features
Inputs
Operating Temperature
Power Cord Length
Line Voltage
Ratings
Rack Spacing
Fuse Type
IP Control
Power Metering
Surge Protection
Support
Manuals and Guides

Sales Resources


Support Documents


Control Protocols and Drivers
Software and Firmware


3-Year Limited Warranty & Replacement Policy
This WattBox® product has a 3-Year Limited Product Warranty and a 3-Year Network Connectivity Warranty. The warranty's applicable terms and conditions can be found here.
3-Year Replacement Policy
Valid only in the United States and Canada. If your WattBox surge protector becomes damaged while protecting your connected equipment, you may request an equivalent replacement to the latest technology of that product category. Keep a copy of the original invoice to verify the date of purchase the by the original buyer.
Connected Equipment Guarantee Amount
$50,000
Keycap engravings
This feature is not currently optimized for mobile devices. We apologize for any inconvenience this may have caused. Please access Keycap engravings from a tablet or desktop computer.