Araknis Networks® 310-Series Gigabit VPN Router
AN-310-RT-4L2W-A
Description
Specs
Support
Description
Description
For high-traffic networks with up to 500 devices, choose the Araknis Networks® 310-series router. It features 3 Gigabit LAN interfaces with full Gigabit LAN-LAN speed, as well as 2 Gigabit WAN interfaces that can be configured in load-balancing or link failover modes.
Araknis Networks® 310-Series Gigabit VPN Router
For high-traffic networks with up to 500 devices, choose the Araknis Networks® 310-series router. It features four Gigabit LAN interfaces with full Gigabit LAN-LAN speed, as well as a Gigabit WAN interface. An embedded firewall helps keep your network secure, while support of numerous VPN technologies allow remote access to your client's network. Plus, every Araknis router is fully embedded with OvrC Pro, giving you full network visibility and intuitive troubleshooting tools.
Speed Test Results - Speed test results through OvrC will max out at around 300Mbps, even though the router can support up to Gigabit Internet download speeds. If your site has an Control4 EA Controller or OvrC Pro Hub, go to Site Settings under "Internet Test Frequency" to select one of these devices to see full bandwidth during speed test.
Wi-Fi Calling - For security reasons, IPSec Passthrough is turned-off by default on the router. If Wi-Fi Calling services are present in your network, please enable IPSec Passthrough on your router.



Gigabit
10/100/1000Mbps link speed to ensure full performance

OvrC Pro
Cloud-based customer management service engineered by SnapAV

Firewall
SPI, DoS prevention, WAN Request Blocking, and content filtering

Open VPN
Router supports PPTP and OpenVPN for remote access

Dual-WAN
Connect the network to two different ISPs or configure your WAN links to load-balancing or link failover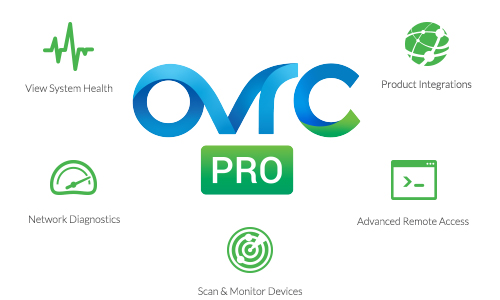 OvrC Pro Embedded
As a professional integrator, you're expected to own and support the entire network. That means having the advanced remote management capabilities of OvrC Pro on the job are a requirement. This is why we embedded the capabilities of OvrC Pro into every router at no additional cost, so you're equipped with the tools to be successful.
Learn More >>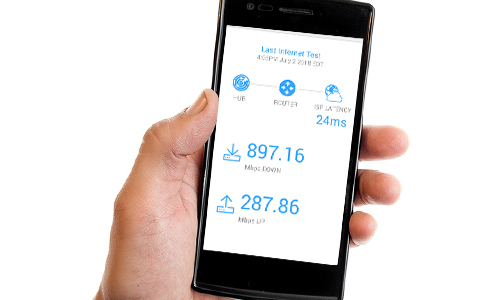 Gigabit Internet
With the rapid rise of IoT, AV over IT, and streaming services, the throughput performance for a high bandwidth network is critical. For that reason, we designed the new line of Araknis routers to support Gigabit WAN-LAN and LAN-LAN speeds across all models, so your customer always gets the performance they expect from a modern, custom install.

Ultimate Flexibility & Security
Dual WAN allows you to connect the client network to two different ISPs (for example: TWC and Comcast) and have the WAN links configured either as session-based load-balancing (i.e. active/active) or link failover (i.e. active/standby). Plus, IPSec and Access Control List (ACL) functionality allows for greater network security.
Learn more about load balancing >>
Four Gigabit LAN Ports
Use the four available Gigabit LAN ports to connect the router to multiple switches in the network, or connect other devices to the router directly. The LAN side supports full LAN-LAN Gigabit speed with Jumbo Frame support for better video streaming.
*Please note: If you plan to use more than one LAN port, click here for installation best practices and limitations.
Content Filtering
Araknis and OvrC allow your customers to filter and customize their location's network content. Multiple filter levels range from basic malware protection to advanced content filtering, so customers can choose one that best fits their family.
Learn more about content filtering >>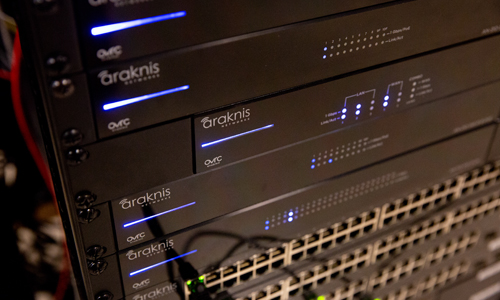 Rack-Mountable Design
A 1U height and included rack ears allows for multiple mounting options. Stylish blue LED indicators give you important metrics needed to quickly diagnose issues, while the rear port layout makes rack integration simple.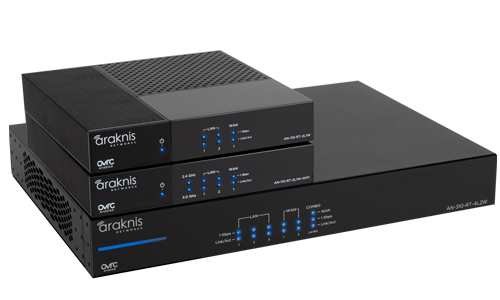 Part of the Araknis Family of Routers
This router is ideal for large networks with up to 500 devices. To learn more about the full suite of Araknis routers and which one will work best for your install, click here.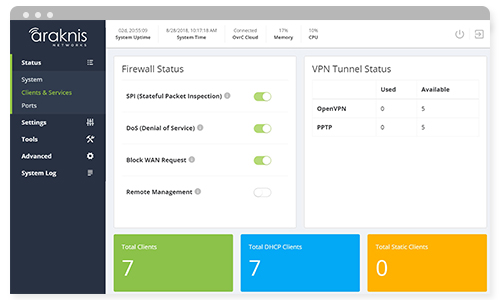 Intuitive GUI
Our router's intuitive GUI follows the standard Araknis design. This simple platform is user friendly and easily explains the depth of features this product supports.
Professional-Grade Features
If you're a professional installer looking for a professional-grade solution, then the 310 series is for you. It has everything you could want in a powerful, 1U rack-mountable router, including an AC power supply, modern faceplate, SFP LAN/WAN interface, and fanless design.
VPN Support
If you need to remotely access the client network via VPN, the router supports PPTP and OpenVPN technologies. OpenVPN is an easy, secure option that is backed up by the open source community. Plus, IPSec Gateway to Gateway VPN provides a secure and reliable connection.
Embedded Firewall
An embedded firewall supports Stateful Packet Inspection (SPI), Denial of Service (DoS) prevention, WAN Request Blocking, and content filtering. These layers of network security provide a secure platform to prevent common attacks and provide a baseline level of security for your customer's network.
Port Forwarding
Setting up port forwarding couldn't be easier with Araknis' simplified GUI. Set up a range of external ports with a single command.
---
---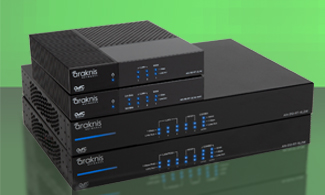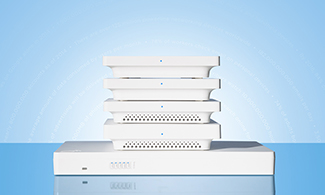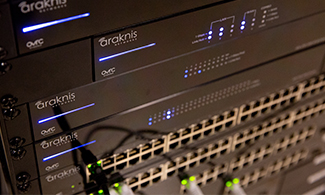 Specs
Specifications
AN-310-RT-4L2W
Max: 14.49W
Device: 6.34W
1U
WAN RJ-45: 10/100/1000 Base-T: x1
LAN RJ-45: 10/100/1000 Base-T: x3
LAN/WAN - Combo RJ45/SFP 10/100/1000Base-T: x1
USB:x1 (USB 3.0)
LAN - LAN Throughput: 1Gbps
WAN - LAN Throughput: Unidirectional: 1 Gbps
Static Routing
Inter-VLAN Routing
DDNS
1:1 NAT
PAT(Port Address Translation)
Port Trigger
DMZ Host
IPv6
VLANs: 802.1Q
RJ45 Auto-Sensing
RJ45 Auto-negotiation
Stateful Firewall
Stateful Packet Inspection
DoS Prevention
Ping of Death
SYN Flood
IP Spoofing
Port Forwarding
Content Filtering (URL and Keyword)
UPnP
Bonjour Client
Gateway to Gateway IPSec
PPTP Server
PPPoE
OpenVPN
OvrC Cloud Management
OvrC Pro Embedded
Web Management
SNMP v1, 2c, 3
Download/Upload Config File
System Log
HTTP and HTTPs
System Time: NTP/Manually
12.99" x 1.73" x 9.05"
Internal
512 (Max)
Operating: 0ºC to 40ºC (32ºF to 104ºF)
Storage: 0ºC to 70ºC (32ºF to 158ºF)
Operating Humidity: 10% to 85% Non-Condensing
Storage Humidity: 5% to 90% Non-Condensing
CE, FCC, UL, UPnP
Power Consumption
Rack Spacing
Interfaces
Port Desc.
L3 Features
L2 Features
Security Features
VPN Features
Management Features
Dimensions (W x H x D)
External Power Supply
DHCP
Operating Temperature
Operating Humidity
Certifications
Support
Manuals and Guides
Sales Resources


Support Documents
Software and Firmware
2-Year Limited Warranty
Araknis Networks® products have a 2-Year Limited Warranty. This warranty includes parts and labor repairs on all components found to be defective in material or workmanship under normal conditions of use. This warranty shall not apply to products which have been abused, modified, or disassembled. Products to be repaired under this warranty must be returned to Snap One or a designated service center with prior notification and an assigned return authorization number (RA).
Keycap engravings
This feature is not currently optimized for mobile devices. We apologize for any inconvenience this may have caused. Please access Keycap engravings from a tablet or desktop computer.