---

No More Blind Spots
Araknis works with OvrC to deliver information at the touch of a button to help you configure and support your customer's network from anywhere in the world. Reboot devices, update firmware, and modify configurations, all from your mobile or desktop app. Plus, a client-facing mobile app lets your customer fix common issues, limiting calls to you. And since every single Araknis product is OvrC-enabled, you have visibility to the entire network – even devices that have fallen offline.
Learn more about OvrC >>
Real-Time Notifications
Remote Reboots
Modify Configurations
Firmware Updates
Remote Access
Client-Facing Mobile App
Your clients can benefit from unique remote features too.
Through the OvrC portal, you can customize the client-facing app, give it to your clients, and empowering them to fix common issues on their own.
Explore OvrC Home
Access Points
---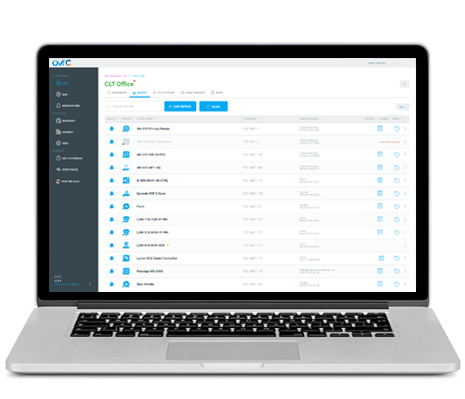 Monitor Wi-Fi Environment
See which clients are connected, monitor throughput, get details into devices that have fallen offline, and view upload and download history. Save your customers from diagnostic frustration and save yourself from the hassle of a long troubleshooting call.
Fast Network Setup
With Wi-Fi Management, setting up networks with multiple access points is a breeze. Using the OvrC mobile or web app, you can discover and configure all connected APs from a single dashboard and push SSID, roaming, and radio settings simultaneously to eliminate hours of manual setup time.
---
Routers
---
Content Filtering
Araknis and OvrC allow your customers to filter and customize their location's network content. Multiple filter levels range from basic malware protection to advanced content filtering, so customers can choose one that best fits their family.
Learn more about content filtering >>
Configure the Network
Easily set up and modify DNS, static IP, DHCP reservations, port forwarding, and other settings on the router. There's no more need for a manual!
Knowledge at Your Fingertips
Access detailed information about the health of a network, WAN/LAN ports, connected clients, offline devices, IP addresses, network configurations, and more.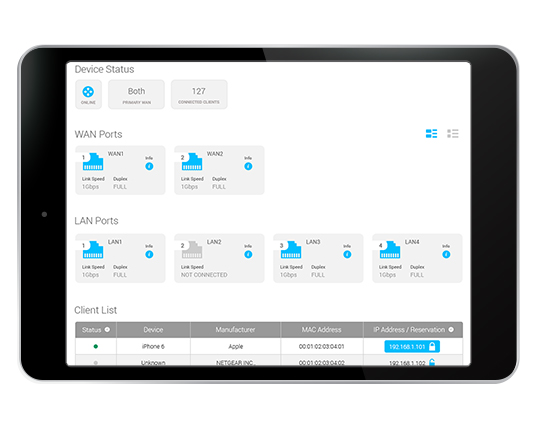 ---
Switches
---
Reboot Without a Truck Roll
Cycle the power on your PoE devices from anywhere, anytime. OvrC allows you to name, configure, and control each individual port on a PoE-capable switch for precise control.
Check the Network's Statistics
Know what's going on in real time! Get detailed stats per port, including switch connection status, link speed, power consumption, and data sent and received. More information means speedy remote troubleshooting.
---
Claiming Devices is Simple
Make the most of remote management by claiming your Araknis device through OvrC. 1. Log in to your OvrC Account 2. Select customer location 3. Add your Araknis devices
Get Started
A Connected Ecosystem
OvrC works with an ever-expanding list of devices, including hundreds of popular products. Using multiple OvrC-enabled products in a job makes it easy to configure and manage your entire project in a single, easy-to-use platform. Learn more about the OvrC Ecosystem >>

Upgrade to OvrC Pro
Upgrade to OvrC Pro, and you'll get full visibility of all connected devices and premium network transparency, so you can tackle common network issues quickly and discreetly, without rolling a truck.
Learn More