---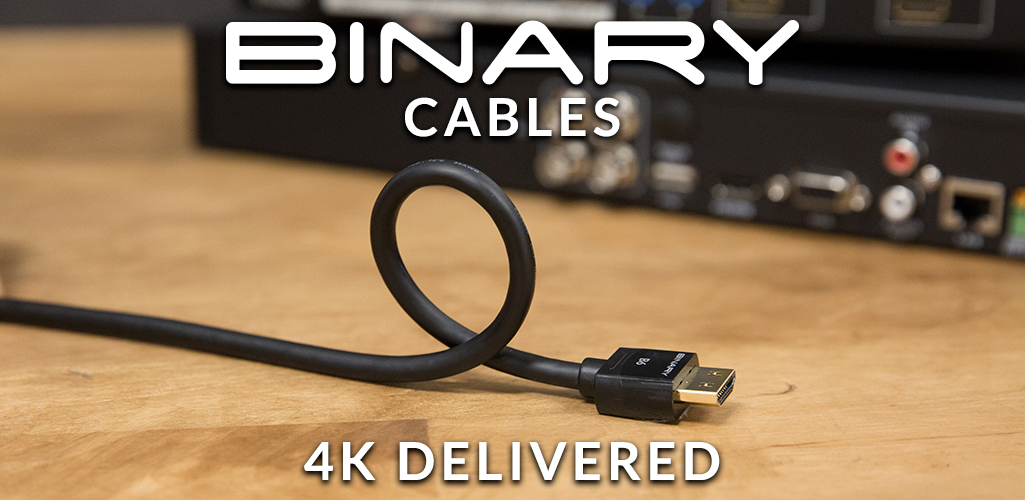 Seamless Data Transmission
Binary™ HDMI cables are designed with a simple goal in mind: delivering the highest quality video resolution with flexible and reliable cables. Whether you're working in residential, IT, or commercial spaces, Binary offers a custom media distribution solution you can trust.
Compare cables
B4
Enjoy an affordable 4K solution for any job that needs 10.2 Gbps. A low profile connector head and flexible jacket means it can fit almost anywhere.
Shop now
B6
Ready for the next level? Step up to the HDMI Premium Certified B6 Series for lightning-fast 18Gbps, HDR, and GripTek™ technology.
Shop now
B8
For uncompressed 4K with HDR at the longest distances, there's no substitute for fiber optics. Send the highest quality video, audio, and data up to 50m.
Shop now






Uncompressed 4K Ultra HD
Binary cables support 18Gbps connection speeds and full 4K Ultra HD @ 60Hz, meaning they can transmit an uncompressed, true 4K signal.
Supports Multiple High-Resolution Formats
This HDMI cable also supports other high-resolution audio and video formats, including Dolby® ATMOS, Dolby® True HD, Dolby® Digital Plus, DTX™ -X, DTS™-HD Master, three types of Deep Color (a/10/12bit), and HDMI® 3D.
GripTek™
Prevent cables from accidentally being unplugged thanks to GripTek™, Binary's exclusive gripping HDMI connector. Small bumps on the connector head create a strong hold, requiring 8lbs of pulling force to remove – that's 40% more force than a traditional HDMI connector!
Short & Sleek Connector
Our first low-profile connector helped you fit HDMI cables into tight spaces. Now narrower and sleeker, this unique connector head still fits easily into the space behind flat panels and is perfect to use when pulling wires for conduit work.
Bendy, Flexible Jackets
All HDMI cables feature an ultra-pliable jacket that makes them as flexible as the installs you put them through. Plus, a tighter bend radius saves up to 1" behind equipment.
Audio Return Channel
ARC technology saves you time and money by streamlining system design and eliminating hassles. Integrating local sources like a Roku, Apple TV, or Blu-ray player into a system is easier than ever.
Active Technologies
High performance microelectronics are integrated into each Active cable connector head. These valuable chipsets automatically monitor and protect your signal to ensure reliable transmission – even for full 4K HDR content at 18Gbps.
Guaranteed Power for Full 4K
Some devices are unable to supply enough power through their HDMI ports. Our Binary active cables use external power to guarantee your 4K and 4K HDR sources and displays are receiving full 4K every time.
Browse the Binary Family
We don't just make HDMI cables. We've got a cable for every video, data, and audio job.