BenQ LH770 Laser 1080p 5,000 Lumen Projector
BENQ-LH770-A
Description
Specs
Support
Description
Description
Using industry-leading BlueCore laser technology, BenQ's XGA resolution LH770 corporate projector can project the best quality images during any meeting or corporate function.
BenQ LH770 Laser 1080p 5,000 Lumen Projector
Using industry-leading BlueCore laser technology, BenQ's XGA resolution LH770 corporate projector can project the best quality images during any meeting or corporate function. The LH770 features 95% Rec.709 color coverage, a high precision lens, and a certified IP5X dustproof mechanism to guarantee ultra-high image quality, all while reducing installation and maintenance costs. To meet demand for efficiency and convenience during corporate functions, the LH770 can also be paired up with optional wireless devices. When equipped with LAN control capability for increased convenience, the LH770 can further enhance device management for corporate IT managers.
Important Note - To avoid HDCP errors when running MoIP via point to point or over a network, set the MoIP receiver to 1080p/50Hz for optimal display.

Innovative Laser Power
As part of the full line of corporate BlueCore laser projectors, the LH770 offers professional presentations as well as significantly lower maintenance costs. A BlueCore laser source uses dual color wheels to significantly improve white balance and overall brightness. Guaranteed for 20,000 hours of maintenance-free operation, it also helps you save on lamp replacement and maintenance. Based on the average brightness of typical long-life lamps, the savings value of a Blue Core-powered projector is equivalent to about 10 lamp replacements in a lifetime.

Superior Dustproofing for Severe Conditions
BenQ's LH770 is designed with sealed laser modules and enclosed light engines to protect the DMD chip, color wheel sensor, laser bank, and other optical components. This lock-and-key design hermetically seals the engine from dust to prolong projector lifespan.

Authentic Rec. 709 Color Accuracy
Rec.709 is the international HDTV standard that guarantees users are shown cinematic colors as the director intended. Using BlueCore laser projection and the dual color wheel system, LH770 achieves a 95% Rec.709 coverage, guaranteeing Delta E performance less than 3 so it can reproduce the most authentic colors in Hollywood films. By increasing color ratios and the purity of RGBY color, LH770 dramatically enhances color saturation and ensures superior presentation quality.

Instant On/Off and Signal Power On
A BlueCore laser projector powers up in half the time of a lamp-based projector, reducing wait time and power consumption. The "signal power on" feature even turns your projector on automatically once input signal from VGA or HDMI is detected, for enhanced convenience.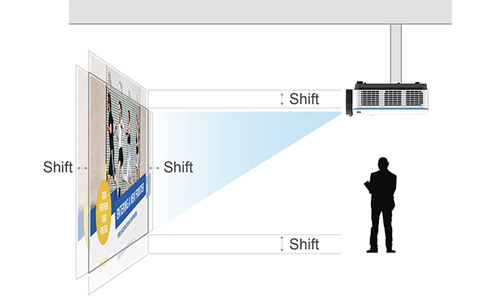 Wide Zoom, Focus, Lens Shift and Memory
This model's wide zoom range, focus, and horizontal/vertical lens shift systems can perfectly align images in any challenging venue. Lens shift can move projected images up and down by 60% of screen height or left and right by 25% of screen width without sacrificing image quality. The 1.5X Big Zoom feature offers a wide range of throw distances to significantly increase installation flexibility for diverse mounting options in various public display scenarios.
Multiple Lighting Modes
LH770 uses multiple lighting modes to optimize the projected image in a variety of ambient lighting situations. This feature guarantees enhancement of the overall visual experience in any environment by creating the ideal brightness level, while optimizing energy consumption and extending the projector's lifespan.
Projection From Any Angle
BlueCore laser technology guarantees reliable projection from any angle. Dynamic installation options such as 360° rotation and portrait applications enable seamless projection onto ceilings, walls, floors or angled signage.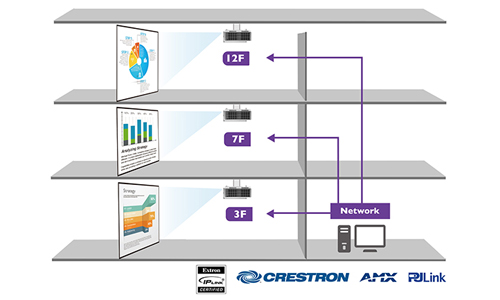 Network/Web Control
LH770 is compatible with leading control systems including Extron, Crestron, AMX and PJ-Link, which fulfills network control via LAN. This makes it simple to integrate the LH770 into corporate network infrastructures. When there is no LAN infrastructure, this model also supports RS-232 for reliable long-distance Installations up to 15 meters.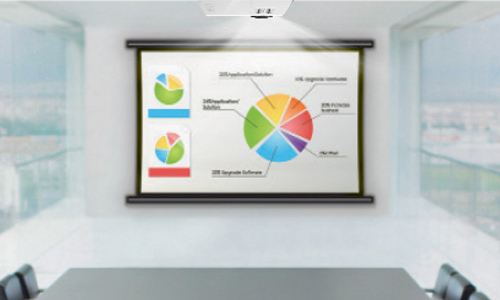 Advanced Imaging Modes
Clients in the modern enterprise can now master those infographic-heavy presentations. Infographic Mode showcases both text and graphics in pristine detail due to the LH770's high brightness and Rec.709-supported color gradation, ensuring more saturated and lively color performance. Additionally, Vivid Mode is designed for supreme color performance during video or image presentation.
Specs
Specifications
BENQ-LH770
1920x1080
5000
Blue Core Laser
1.82-2.80
20000:1
16:9
1.5x
Vertical
300
D-Sub
HDMIx2
Composite
S-Video
Mini Jack in x 1 / RCA Out
Mini Jack out x 1
Microphone in (Mini)
x1
RJ45 x1
USB Type A x1
USB Type B Mini x1
RS-232 x1
D-Sub
Keystone Correction: Vertical and Horizontal
21.2" x 7.24" x 15.75"
35.2 lb
Supported Resolutions
Lumens
Lightsource
Throw Ratio
Contrast Ratio
Aspect Ratio
Zoom Ratio
Lens Shift
Maximum Image Size
Inputs
Audio Inputs / Outputs
12V Trigger
Connectors
Outputs
Features
Dimensions (W x H x D)
Weight
Support
Manuals and Guides

Support Documents



Control Protocols and Drivers

BenQ Limited Warranty
We want to make our Affiliate program as easy as possible. That's why we process all claims directly, without any third party telephone tag. Click here for specific warranty terms and details from the manufacturer.