BenQ LK952 DLP 4K Ultra HD HDR 5000 Lumen Projector
BENQ-LK952-A
Description
Specs
Support
Description
Description
With the capability of generating intense BlueCore laser-powered brightness for 20,000 hours of maintenance-free operation, the BenQ LK952 harnesses enduring DLP picture quality and razor-sharp 4K resolution to deliver impactful visuals.
BenQ LK952 DLP 4K Ultra HD HDR 5000 Lumen Projector
With the capability of generating intense BlueCore laser-powered brightness for 20,000 hours of maintenance-free operation, the BenQ LK952 harnesses enduring DLP picture quality and razor-sharp 4K resolution to deliver impactful visuals. With HDMI Out for multiple screen applications and versatile installation flexibility with horizontal and vertical lens shift features, the LK952 is tailored for a diverse range of application scenarios. By leveraging the innovative HDR technology and industry leading BlueCore laser light source, the LK952 facilitates impactful and professional corporate presentations with accurate and detailed content display.

Revolutionary BlueCore Laser Technology
BenQ, the world's number one DLP brand, expands its full line of innovative BlueCore laser projectors with the LK952. This projector is ideal for fixed lens installation, enabling powerful visual communication in corporate meetings and public venues. Your customers will enjoy superior brightness with a precision-aligned, high-output laser source that boosts luminous flux into the light tunnel, improving efficacy. Dual synchronized BlueCore color wheels utilize an additive yellow segment, stimulating precise RGBY spectra for optimal chromatic performance.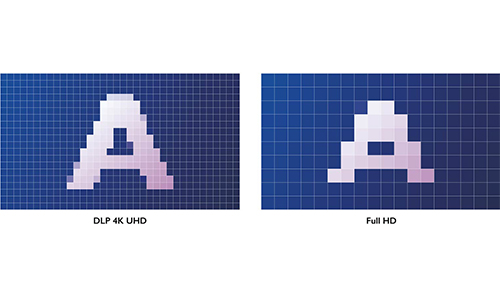 4K UHD Image Quality for Flawless Presentation with Subtle Details
The LK952 produces 4K UHD 3840 x 2160 resolution with 8.3 million distinct pixels for each frame to achieve CTA's standard, and it utilizes the revolutionary 0.47" single-DMD DLP technology to maximize the projector's sleek, compact profile that's made for a modern, corporate environment. With four times the resolution of Full HD 1080p, 4K UHD delivers awe-inspiring clarity and crisply defined details.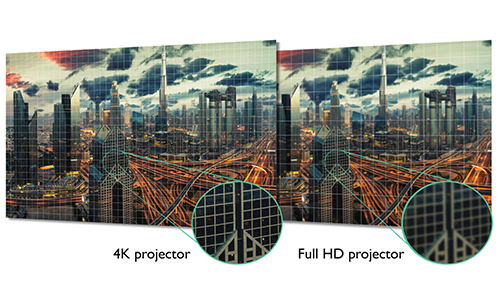 Superb Image Details and Color Integrity from DLP Technology
To avoid inherent alignment issues of multiple panels which can be more obvious when projecting 4K content, BenQ's LK952 4K Laser Projector preserves color and image integrity with the single DMD DLP technology. Generating razor-sharp images and pure colors, the LK952 eliminates problems such as blurriness, shadowing, and interference patterns to produce immaculate clarity.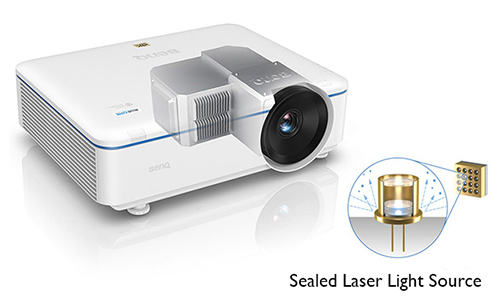 Sealed Engine
BenQ's LK952 laser projector is designed with sealed laser modules and enclosed light engines to protect the DMD chip, color wheel sensor, laser light source, and other optical components. It effectively eliminates color wheel sensor failure, visible spots on the image, and color decay to significantly reduce service costs and downtime. The design has also passed the dust chamber test standard for an international dustproof rating of IP5X.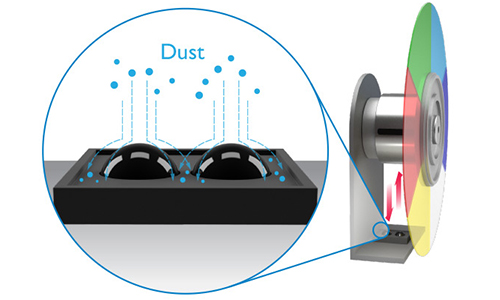 Anti-Dust Accumulation Sensor to Resist Dust Buildup
By incorporating an ingenious anti-dust buildup feature in the color wheel sensor, BenQ LK952 prolongs optimal performance by repelling dust that can accumulate on traditional sensors and block the IR signal, which can cause flickering, abnormal colors, or even shutdown.

Vivid Clarity in Bright Ambient Environments
LK952's 5000lm high brightness allows presenters and participants to deliver presentations in comfortably lit, medium-sized conference rooms for uncompromised debate, collaboration, note-taking, and interaction. The high luminance provides professional picture quality for installers to satisfy stringent corporate standards.

360° Rotation Projection
For large meeting rooms accommodating 50-80 participants, multiple projected screens can offer improved viewing experiences. * Conventional projectors provide an analog-signal VGA output, which can decay due to transmission distance. The BenQ LK952 delivers a perfect digital signal via HDMI output directly from projector to projector or other HDMI display devices with no signal degradation.
*Supports resolution up to 4K 30p.

Vivid Clarity in Bright Ambient Environments
BenQ's LK952 can be tilted vertically at any angle to allow projection onto ceilings, walls, floors, or angled signage, fulfilling any projection demand.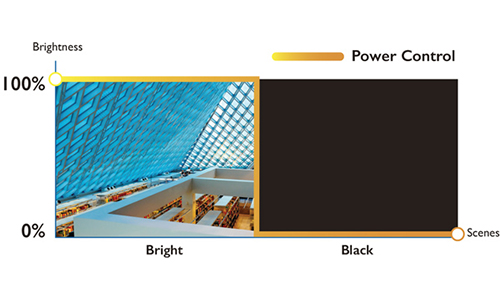 Laser-Powered Ultra-High Contrast
The LK952 laser projector creates strikingly clear images with a stratospherically high 3,000,000:1 contrast ratio for true deep blacks, vivid rich colors, and fine subtle details. The LK952 also features spontaneous response, requiring no wait to turn on or resume for flexible performance capability.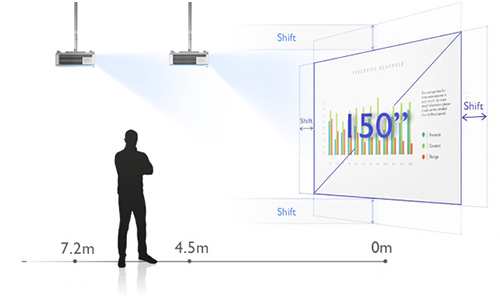 Big Zoom and Lens Shift for Flexible Installation
LK952's wide zoom range and horizontal/vertical lens shift systems can perfectly align images in any challenging venue, such as when lights or vents are located at the ceiling mount site. Lens shift can move projected images up and down by 60% of screen height or left and right by 23% of screen width. The 1.6x big zoom feature offers a wide range of throw distances to significantly increase installation flexibility for diverse mounting options.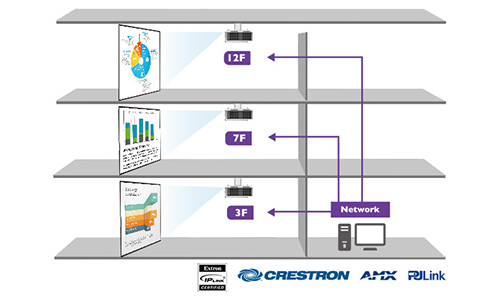 Comprehensive Control System Compatibility
The LK952 is widely compatible with leading projector control systems including Extron, Crestron, AMX, and PJ-Link for network control via LAN, making it simple to integrate into corporate network infrastructures. When there is no LAN infrastructure, LK952 also supports RS-232 for reliable long-distance installations up to 15 meters.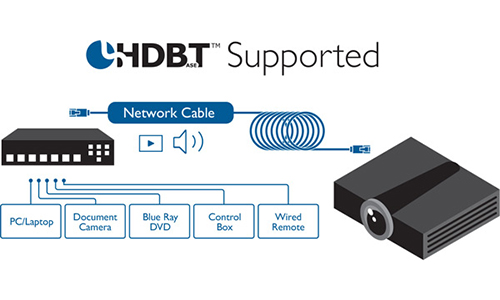 HDBaseT Compatibility
The leading-edge HDBaseT connectivity combines video, audio, and device control signals from multiple sources including PCs, laptops, document cameras, and Blu-rays onto a single CAT5 cable, ensuring seamless transmissions up to 100 meters.
Specs
Specifications
BENQ-LK952
Front/Rear
2
22.25 lb
Laser
3840x2160
5000
1.36 - 2.18
3000000:1
16:9
1.6x
Vertical: -60% - +60%
Horiztonal : -23% - +23%
30"- 300"
3;HDMI-1 (2.0/HDCP2.2);HDMI-2 (1.4b/HDCP1.4);HDMI-3 (1.4a/HDCP1.4)
x1
RJ45 x1
USB Type B mini x1
RS-232 Port x1
Speaker 10Wx1
19.29" x 6.26" x 14.96"
IR Receivers
IR Inputs
Weight
Lightsource
Supported Resolutions
Lumens
Throw Ratio
Contrast Ratio
Aspect Ratio
Zoom Ratio
Lens Shift
Maximum Image Size
Inputs
12V Trigger
Connectors
Features
Dimensions (W x H x D)
Support
Manuals and Guides


Control Protocols and Drivers

BenQ Limited Warranty
We want to make our Affiliate program as easy as possible. That's why we process all claims directly, without any third party telephone tag. Click here for specific warranty terms and details from the manufacturer.