Episode® 800 Commercial Series 70-Volt In-Ceiling 8" Subwoofer with Tile Bridge
ECS-800-ICSUB-A
Description
Specs
Support
Description
Description
Give your next commercial installation a boost of performance – from a discrete form factor – with the Episode® 800 Commercial Series 70-Volt In-Ceiling Subwoofer.
Episode® 800 Commercial Series 70-Volt In-Ceiling 8" Subwoofer with Tile Bridge
Give your next commercial installation a boost of performance – from a discrete form factor – with the Episode® 800 Commercial Series 70-Volt In-Ceiling Subwoofer. This sub is the perfect complement to our in-ceiling speakers, providing deeper bass, better bottom end, and improved low-frequency performance. Plus, it's a breeze to install, thanks to an innovative 3-piece tile bridge, front-mounted tap settings, and a removable screw terminal. And for the icing on the cake, everything you need for the install ships together. One subwoofer, one bridge – one box.

Premium Components
Equipped with top-of-the-line components, this in-ceiling subwoofer provides that deep, thumping bass and detailed sound customers crave. It features a mica-filled polypropylene woofer for added depth, and an oversized 1.5" copper voice coil. Outstanding driver voicing is combined with a 1st order crossover for sound clarity beyond expectations, while a low-turbulence tube port provides outstanding low-frequency response.
Fast, Easy Installation
Forget about having to play "hide the subwoofer" – this product installs cleanly into the ceiling, right alongside the speakers. A swing-out dog mounting system, security wire tabs, and clamping mounting cover make it simple to secure. Plus, its mounting cover can clamp a conduit and is held in place by captive screws – so you can loosen them without worrying that they'll fall out. Screw-down dog ears are reversible for double thickness sheetrock, and the intuitive box design doubles as an install shelf. A carry loop makes carrying this speaker up the ladder a breeze.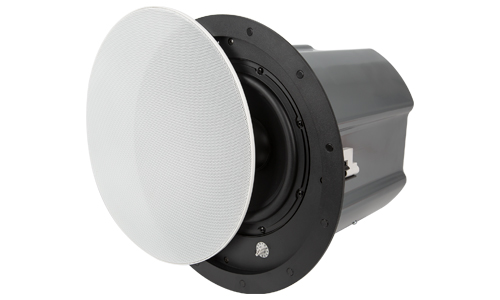 High-Strength, Thin-Bezel Grille
We include a white, thin-bezel, high-strength magnetic grille that's held in place with neo-magnets around the perimeter. Your clients will love the minimalist look of the thin-bezel, and you'll love how easy the high-strength magnet makes your install. We even include a tether for extra insurance that the grille won't fall. Black grilles are also available for purchase (not included).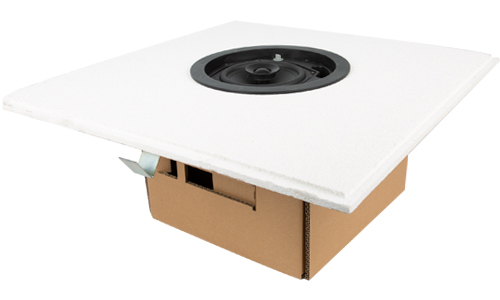 Innovative Tile Bridge – Ships in the Box
Say goodbye to that big, clunky tile bridge that ships in a huge box and is difficult to position in the ceiling. You can install this speaker tool-less or use the included security screw to key in on a dimple and support the ceiling tile while screwing down the dogs. And of course, we include it in the same box as the speaker…because that just makes sense.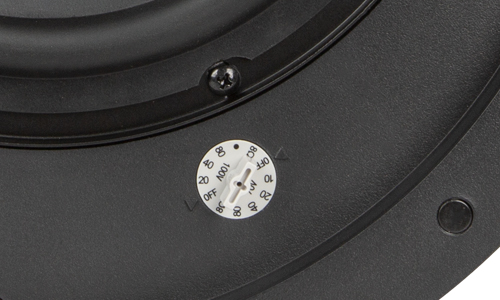 Front-Mounted, Tool-Free Tap Settings
Tired of fumbling with hard-to-use selector knobs every time you need to adjust a speaker's tap setting? This product solves the problem with convenient front-mounted 10w, 20w, 40w, and 80w taps, plus an option for 8-ohm bypass. Using a screwdriver works great for those hard-to-reach installs, but you can also turn the knob with your hand for fast and easy top-of-the-ladder adjustments.
UL Listed, Plenum Rated
This commercial speaker is UL listed, as well as plenum rated. It's approved for use above ceilings in air handling and plenum locations – and has passed the stringent standards needed to get the UL stamp of approval.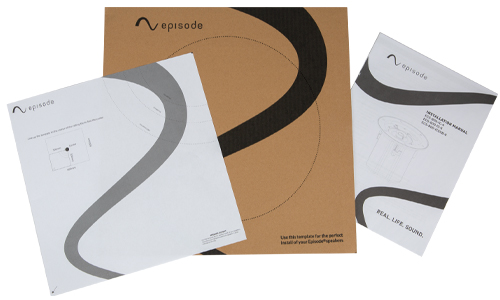 Smarter Packaging
Working on a commercial jobsite where EPS foam isn't allowed, or tired of cleaning up huge mounds of trash when the job is over? Our environmentally friendly cardboard packaging cuts down on waste – plus we ship everything you need for the install in one box.
Specs
Specifications
ECS-800-ICSUB-8
12.17"
8" Polypropylene
100 Watts RMS (@ 8 Ω)
8 Ohms
70V: 10w, 20w, 40w, 80w
100V: 20w, 40w, 80w
8 Ω Bypass
30Hz - 150Hz
86 dB
15.3 lb each
Perforated Steel Grille
11.4"
Each
Height
Woofer
Power Output
Nominal Impedance
Transformer Tap Settings
Frequency Response
Sensitivity
Weight
Speaker Grille
Cutout Diameter
Sold As
Support
Manuals and Guides

Sales Resources

Support Documents


Lifetime Limited Warranty
This Episode® product has a Lifetime Limited Warranty. This warranty includes parts and labor repairs on all components found to be defective in material or workmanship under normal conditions of use. This warranty shall not apply to products which have been abused, modified or disassembled. Products to be repaired under this warranty must be returned to Snap One or a designated service center with prior notification and an assigned return authorization number (RA).