Yamaha AVENTAGE Pre-Amp | 11.2 Channel
YA-CX-A5200-A
Description
Specs
Support
Description
Description
AVENTAGE Separates represent the ultimate in home entertainment integration and Yamaha establishes a new benchmark in performance and innovation with the CX-A5200 pre-amplifier and MX-A5200 power amplifier.
Yamaha Aventage Pre-Amp | 11.2 Channel
AVENTAGE Separates represent the ultimate in home entertainment integration and Yamaha establishes a new benchmark in performance and innovation with the CX-A5200 pre-amplifier and MX-A5200 power amplifier.

Seamless Integration
Designed with the custom-install space in mind, Yamaha offers custom drivers for Control4 and other leading control systems for most of their product lineup. Plus, SnapAV will soon deliver the deepest third-party OvrC Pro integration to date, with enhanced diagnostic data on Yamaha products. And with Google Assistant and Alexa compatibility, integration has never been easier.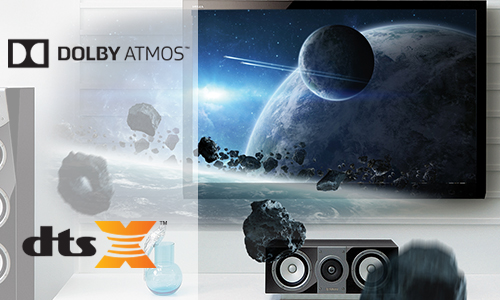 New Heights in Sound Integration. Dolby Atmos and DTS:X
Object-based audio brings a sense of immersion to breathtaking new heights through the use of overhead speakers and precise location of sounds not just around the listener, but on a 3D plane. Together with Dolby and DTS, Yamaha brings this latest development in cinema surround sound into the home with astonishing realism and unsurpassed performance.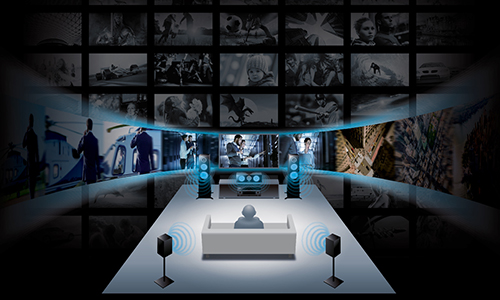 SURROUND:AI
Intelligent surround sound right out of the box. This AI technology built into the DSP analyzes each scene and creates an optimal surround effect to reproduce it with the greatest effect. In real time, this AI instantaneously analyzes scenes by focusing on distinct sound elements such as dialogue, background music, ambient sounds and sound effects, and automatically optimizes the surround effect. The result is a compelling sense of realism beyond conventional sound field effects, giving your client the best of every scene in an entertainment experience.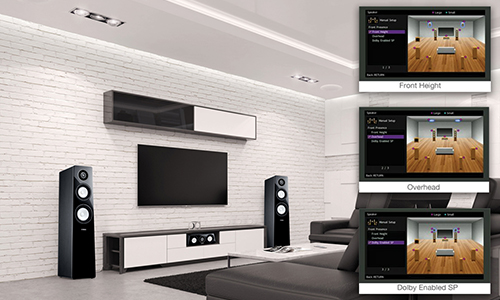 Designed for Dolby Atmos
Yamaha provides multiple placement patterns for presence speakers that support Dolby Atmos, creating an immersive sound field that's ideal for any install. Any layout can be appropriately reproduced, including the three-dimensional space of CINEMA DSP as well as Dolby Atmos. Furthermore, YPAO R.S.C. fine tunes the listening environment and takes full advantage of the detailed immersive sound technology of Dolby Atmos.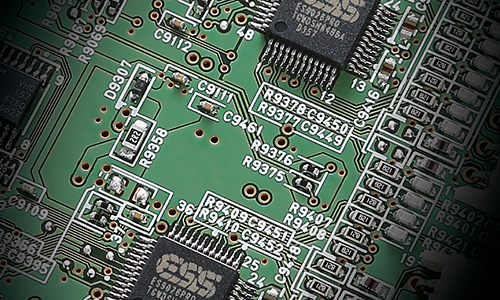 Professional-grade ESS DACs
The CX-A5200 features two of the latest ESS SABRE PRO Premier DACs (ES9026 PRO) delivering state-of-the-art 32-bit performance. Further, the DACs also minimize noise levels and achieve an exceptional signal-to-noise ratio.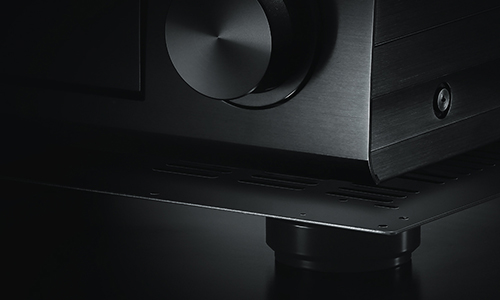 Heavy-Duty Bottom Plate
Stabilizing the chassis is the key to enhanced performance and sound. The CX-A5200 achieves this by employing a thick bottom plate which acts to steady and immobilize the entire structure and achieve optimal sound for your client.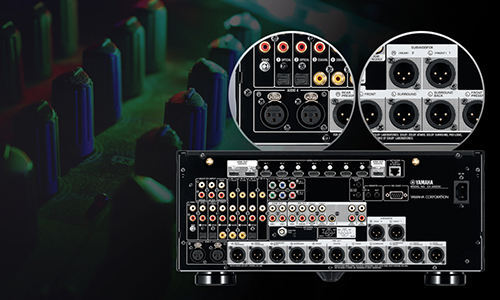 Balanced Connections and High-Quality XLR Terminals
Electrical noise is an inherent issue with cabling due to connection with other AV components, the connections between them and from other sources of external noise. To ensure that the CX-A5200 is not affected by such distortion, it uses balanced connections that are highly noise resistant – the same type as generally used in high-end professional audio equipment. Even the RCA unbalanced connections use a ground sensing transmissio n method that achieves simple balanced transmission. Moreover, XLR terminals allow for the use of long cables. The CX-A5200 also allows a balanced audio input connection from high-end source components such as CD players.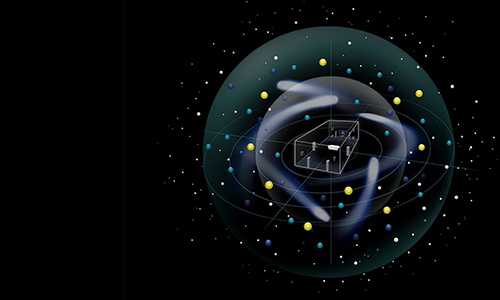 A New Dimension in Sound Integration
In addition to conventional channel-based audio, a 3D space can be created in which separate acoustic elements can move freely, giving a sensation of the motion of 'objects' above the viewer's head. Improved CINEMA DSP HD3 features signal processing algorithms to heighten this sense of realism further.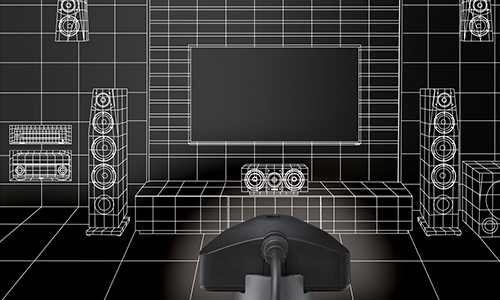 Automatically Calibrated, Advanced Sound Optimization
Give your client balanced sound in any room. YPAO R.S.C. (Reflected Sound Control) analyzes the acoustics of the room with the included YPAO microphone to tune the system for the best sound in any room. The calibration employs R.S.C. to correct early reflections for theater-quality surround sound. YPAO 3D provides automatic sound parameter optimization that maximizes the 3D sound field of CINEMA DSP HD3 as well Dolby Atmos and DTS:X. With 64-bit high-precision EQ calculations, this technology produces the most natural room acoustics possible.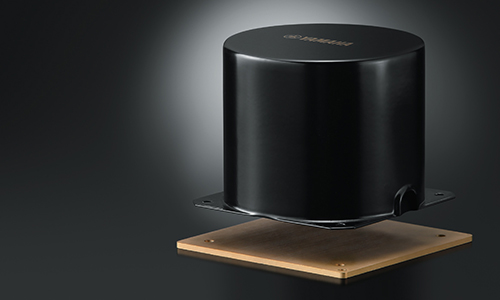 Redesigned Power Transformer
In pursuit of dynamic expression and quality output, the CX-A5200 employs a large, redesigned power transformer to maximize performance and hone in on precision. Deep and powerful sound is achieved with enhanced regulation of power while a thick brass plate dampens unwanted vibrations.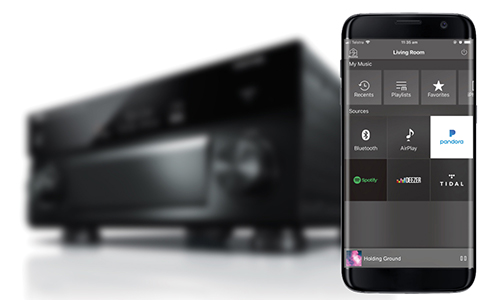 MusicCast Multi-Room Audio
MusicCast makes it easier than ever to create multi-room audio using your client's home Wi-Fi network. The CX-A5200 works seamlessly with other MusicCast products – including multi-room streaming amplifiers, sound bars, wireless speakers and Hi-Fi gear – all controllable from the MusicCast app or from a third-party control system such as Control4, RTI or ELAN. MusicCast gives your client access to their favorite streaming music services and music libraries, plus it lets them stream sources connected to the CX-A5200, including TV sound, CDs and vinyl records. The CX-A5200 delivers unsurpassed flexibility for a truly integrated home audio system.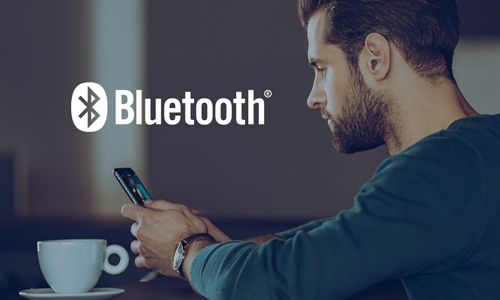 Bluetooth Output
In and out. The The CX-A5200 is equipped with Bluetooth technology, making wireless operation more convenient than ever for your client. They can stream music from the The CX-A5200 to Bluetooth headphones for private listening or to Bluetooth speakers. Bluetooth output has been improved, reducing lip sync delays from digital sources.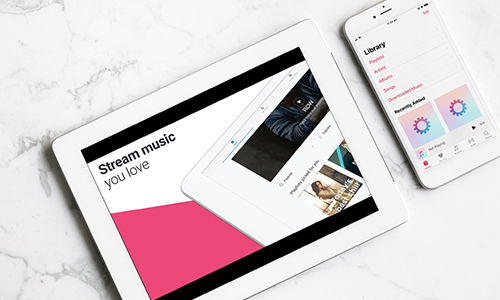 It's How We Connect
The CX-A5200 features Bluetooth for simple and convenient wireless music streaming from smart devices including phones, tablets and laptops. iTunes and iOS users can use AirPlay to wirelessly stream audio seamlessly from compatible devices.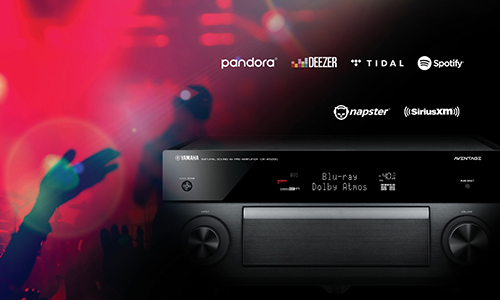 A World of Music
With built-in music streaming services* and connectivity options, your client can enjoy all their content including internet radio stations, and music from their smart devices with the CX-A5200 *Streaming service availability varies by region.
Specs
Specifications
YA-CX-A5200
Preamp only
0.01%
No
HDCP 2.3
Yes
Yes
HDMI 2.0b
7 In / 3 out
Yes
MP3 / WMA / MPEG-4 AAC: up to 48 kHz / 16-bit, ALAC: up to 96 kHz / 24-bit, FLAC / WAV / AIFF: up to 192 kHz / 24-bit
IEC detachable power cord
2 programmable, 0.1A
17-1/8 in. x 7-1/2 in. x 18-5/8 in.
AV Preamplifier with MusicCast
IEC power cord, AM Antenna, FM antenna, Remote Control, YPAO Microphone, microphone stand,
1
1
6 Ft.
120V AC
Shelf only
1
1 Front Panel
33.5 lbs.
5U
112 dB
None
11.2
2 Wi-Fi, AM, FM
B.T.2020
12-bit
Yes
Wi-Fi, Bluetooth, AirPlay 2, Spotify Connect, Ethernet
Spotify, Pandora, Napster, TIDAL, Deezer, SiriusXM, SiriusXM Music for Business, Qobuz
YPAO Room Calibration: R.S.C. (Reflected Sound Control with 3D, Multi-Point Measurement and 64-bit High Precision EQ)
Up to Four Zones
Control4, RTI, URC, ELAN, Crestron
Yes with MusicCast CONTROLLER app
Presets: 0
Voice Control:Alexa, Actions on Google, Siri, Josh.ai
Power Output @ 8 ohm
Total Harmonic Distortion (THD)
HDBaseT Connections
HDCP Compliance
3D Support
HDMI 4K Support
HDMI Compliance
HDMI Connections
HDMI Deep Color Support
Supported Formats
Power Connection Type
12V Trigger
Dimensions (W x H x D)
Features
Included Accessories
IR Inputs
IR Outputs
Power Cord Length
Line Voltage
Rack Mountable
RS-232 Ports
USB Ports
Weight
Rack Spacing
Signal to Noise Ratio
Alarm Features Desc.
Channels
Antennas
Colorspace
Color Depth
CEC
Connectivity
Streaming
Calibration Type
Zones
Supported Control Systems
MusicCast
Support
Manuals and Guides


Support Documents
Control Protocols and Drivers


Yamaha Limited Warranty
We want to make our Affiliate program as easy as possible. That's why we process all claims directly, without any third-party telephone tag. Click here for specific warranty terms and details from the manufacturer.
Keycap engravings
This feature is not currently optimized for mobile devices. We apologize for any inconvenience this may have caused. Please access Keycap engravings from a tablet or desktop computer.