MantelMount Pro Series Automated Robotic Mount | 55"-100" Displays
MM-860-A
Description
Specs
Support
Description
Description
The award-winning MantelMount presents a Smart Home Ready™ motorized TV mount that automatically lowers and swivels a TV to eye level for a comfortable home theater viewing experience.
MantelMount Pro Series Automated Robotic Mount
The award-winning MantelMount presents a Smart Home Ready™ motorized TV mount that automatically lowers and swivels a TV to eye level for a comfortable home theater viewing experience. It's the ideal solution for upscale installations high on a wall or over a fireplace.
The MM860 Mount is a superior home automation solution that works with or without all popular automation control systems.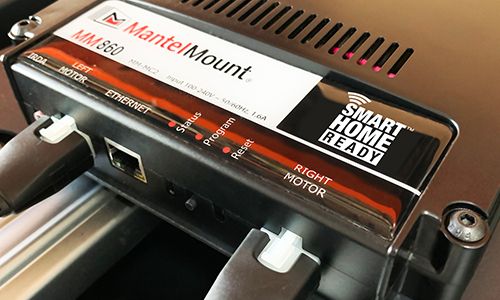 Home Automation Options
Works with Control4, Crestron, Elan, Logitech, Savant, RTI and URC.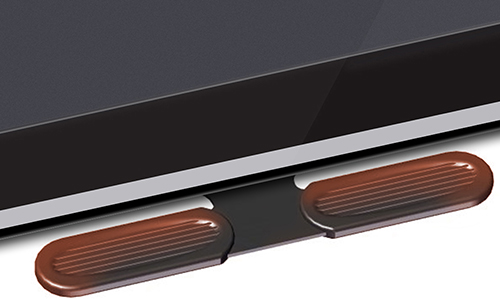 Heat Sensing Handles
Handles turn red if the temperature reaches 110°.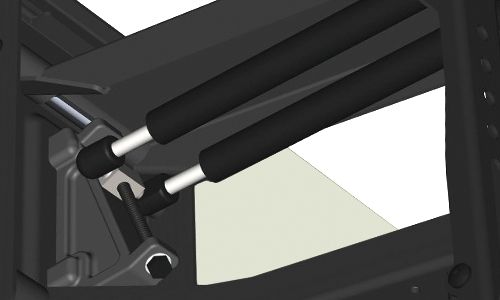 Automotive Gas Pistons
The pistons in this mount provide the smoothest travel motion for heavier TV's.

Simultaneous Drop and Swivel - Patented Multi-Axis hub, proprietary software and precision electronic actuators lower and swivel the TV in one quick fluid motion.
Remote Control Choices - Controlled through the included 433 MHZ RF remote, IR-based Logitech and URC remotes, and popular home automation systems.
Power Sensing Technology - Detects when the TV is turned on and automatically lowers it to a favorite preset. Provides automation even without a control.
Silent Operation - Two custom electronic actuators allow for smooth, barely audible movement.
Recessible Housing - Conceals the lifting arm and electronics in the raised position. Can be recessed for flush-to-wall installations.
Temperature-Sensing Monitor TV - Automatically retracts to its home position when an unsafe temperature is detected.
Multiple Memory Presets - Easily program multiple preset positions for favorite viewing locations.
Power Loss Recovery - Keeps its last location in memory, eliminating the need for a reset after power interruption.
Soft & Hard Travel Stops - Vertical and horizontal travel limits configured through both software and hardware, provide a virtual safety shield that prevents the TV from touching the wall or mantel.
Plug & Play Networking - DHCP enabled right out of the box. Easily identifiable on the network.
On-Board Web Server - For simple browser-based configuration.
Online Software Updates - Download the latest software and firmware updates from the internet directly to the control module.
Communication Protocols - Can be managed with IP via Ethernet or IR through an IRDA port.
Post-Installation Leveling - Allows for screen position refinement after the mount is installed.
Horizontal Braces with Paintable Covers - Make retrofitted installations fast and easy, for both recessed or surface installations.
Easy to Service - The mount installs in one piece. Electronics are contained in a single lightweight module that's easily shipped, removed and replaced.

Specs
Specifications
MM-860
55"
100"
125 lb
Heavy Duty Steel (3-5.5mm)
200x200, 200x300, 300x100, 300x200, 300x300, 400x200, 400x300, 400x400, 500x200, 500x300, 500x400, 500x500, 600x200, 600x300, 600x400, 600x500, 600x600
Vertical Drop: ±30.5"
20.5-24"
±25°
35.4" x 31.5" x 5.5"
73 lb
Minimum TV Size
Maximum TV Size
Maximum Load Support
Construction
VESA Mounting Pattern
Features
Distance Extended
Swivel
Dimensions (W x H x D)
Weight
Support
Manuals and Guides

Sales Resources

Distributed Brand Warranty
We want to make our Distributed Brand Program as easy as possible. That's why we process all claims directly, without any third party telephone tag. Specific warranty terms and details from the manufacturer are below.
This MantelMount product comes with a Lifetime Limited Warranty.
Keycap engravings
This feature is not currently optimized for mobile devices. We apologize for any inconvenience this may have caused. Please access Keycap engravings from a tablet or desktop computer.