OvrC Pro Lifetime License + Hub
OVRC-200-PRO-A
Description
Specs
Support
FAQs
Description
Description
OvrC Pro extends your visibility and access to the entire network of IP devices, including non-SnapAV products, all within the same OvrC platform you love. With OvrC Pro, you get access to enhanced troubleshooting capabilities and diagnostic data that makes remote support easy, eliminating unnecessary truck rolls and enabling you to provide world-class service to your clients.
OvrC Pro Lifetime License + Hub
OvrC Pro extends your visibility and access to the entire network of IP devices, including non-SnapAV products, all within the same OvrC platform you love. With OvrC Pro, you get access to enhanced troubleshooting capabilities and diagnostic data that makes remote support easy, eliminating unnecessary truck rolls and enabling you to provide world-class service to your clients.
This product features a lifetime license, so there's no recurring fees to worry about. And if you are already implementing a service plan in your jobs, OvrC Pro is the perfect solution to maximize your margins.

---

View System Health
Get access to the Location Dashboard view, which displays a quick snapshot of a location's system health for vital troubleshooting clues.
---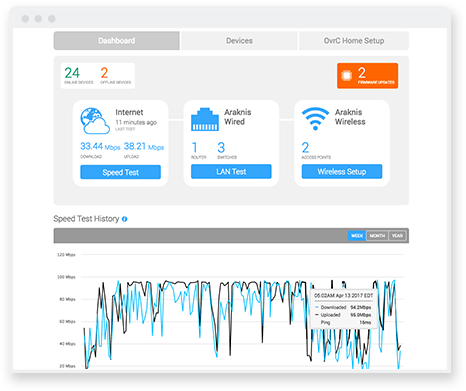 Device Status – View the number of online and offline devices, including SnapAV products and any Hub-found devices you choose to monitor.
Firmware Updates – See available firmware updates for SnapAV products.
Network Tools – Run an ISP speed test manually, check the latency of all products on the network, or quickly set up a new Araknis WAP SSID.
ISP Speed Test History – View ISP performance over time.
Araknis Router DHCP Client – View all DHCP clients on the network, along with its status and associated IP address. Reserve IP addresses with a click of a button.
Araknis Wireless Client List – View all wireless clients at the location, as well as signal strength, associated SSID, radio interface, and Tx/Rx values.

Network Diagnostics
Built-in Network Diagnostic tools allow you to better recognize ISP speed trends and understand the source of the network latencies, to identify whether the issue is internal or external.
---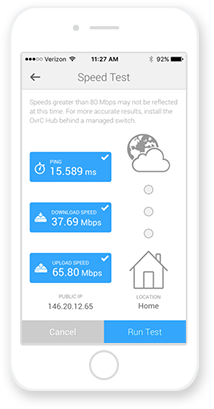 ISP Speed Test – Run manually or automatically on a schedule to see trends. Measures download speed, upload speed, and latency (note speed test limitation today).
Traceroute Analysis* – View the communication path from the Hub to any service or device inside or outside the network, along with the response times between hops. This helps determine the source of network latency(internal or external). See available firmware updates for SnapAV products.
Ping Test – Ping IP addresses on the network to see device response times and open ports with associated services.

Scan & Monitor Devices
Once installed, the OvrC Hub automatically finds all IP devices on the network, relaying relevant device information to OvrC and regularly pinging their online status.
---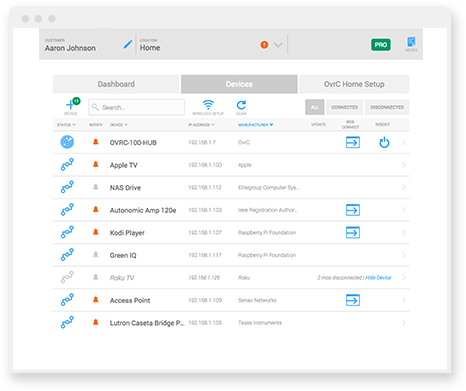 General Device Information – View device name, online status, MAC & IP address, manufacturer, latency, first seen and last seen time stamps.
Open Ports and Services* – Scan open ports and the available services, including HTTP, HTTPS, Telnet, and SSH. See Advanced Remote Access section.
SNMP Information* – See standard networking device information, including name, description, contact, location, uptime, and a list of any network interfaces with its associated connection speed, state, and in/out data stats.
ONVIF Information* – ONVIF is a standard camera protocol that allows dealers to view video stream URLs, camera snapshot, user list, and firmware versions on compliant hardware. Soft reboot the device for some select devices. (Capabilities may vary based on what is exposed via ONVIF).
Multiple VLANs Support – Set up the Hub to scan and monitor IP devices across multiple VLANs.
With the click of a button, you can designate specific devices to monitor. If the Hub doesn't receive a ping response from a device within 10 minutes, you'll be notified.
Online/offline Notifications – Receive email and push notifications whenthe device you are monitoringgoes online or offline.
For manufacturer-specific device information, see the "Product Integration" section.

Advanced Remote Access Devices
The Hub automatically scans the ports and services available on devices and makes them accessible with a click of a button, all without port forwarding, VPN, or any other network setup.
---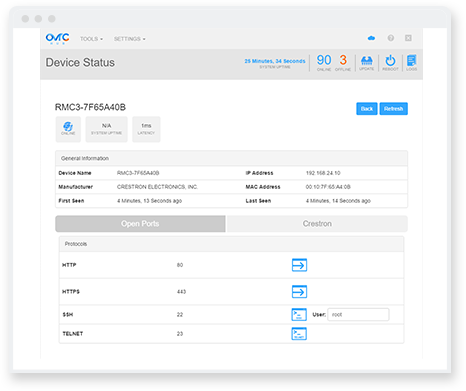 Web Connect (HTTP/HTTPS) – Securely access the local web UI of any supported device remotely for deeper configuration and control.
Console Connect (SSH, Telnet)* – Establish a secure SSH or Telnet connection to any supported device for enhanced diagnostics and troubleshooting.
Product-Specific Capabilities* – Additional information and capabilities are available for a growing list of non-SnapAV products (see Product Integration section).

Product Integration
Get enhanced diagnostics data and troubleshooting capabilities from an ever-growing list of supported products
---

View processor memory and CPU usage, network details, Zigbee and Zwave device details, including state, battery level, and signal strength. Soft reboot the processor without having to install a driver in the Control 4 system.

View processor name, version number, network details, hardware and system details. Soft reboot the processor without having to install a module in the Crestron processor.

View processor information, memory and CPU usage, network details, and soft reboot the processor from OvrC. This requires the installation of the OvrC driver on the URC processor. You can find the OvrC URC driver in the Support Tab.

View device details such as model, version, room name along with more advanced troubleshooting information, including port stats, topology, controller states, radio logs, etc. In addition, soft reboot the device.

Turn the device on/off, factory reset it, view firmware version, and check the input/output table. With one click, establish a Telnet connection for enhanced troubleshooting

Get enhanced integration with SnapAV amps. View device detail data such as system faults, line voltage, temperature, along with the input/output routing name and status.

Retrieve device information, settings, network details, display active app, and a list of all the installed apps.

View panel info, system trouble states, area status, zone status, voltage, output status, temperatures, and thermostat details.

View name, model, firmware build, brightness, connection speed, and data transferred.

View version, zone name, and now-playing data. Connect remotely or soft reboot the device.

View full status and configuration of WattBox units on the network, automatically. Observe cloud status, voltages, power, and outlet states. (WattBox configurations are available in the Hub, as well as OvrC)
*These features are currently available in the local UI of the OvrC Hub only. We are actively working to get these features into OvrC.
Specs
Specifications
OVRC-200-PRO
Thread Locking
1
4 x USB 2.0 (for future use)
(1) Human body model: ±15kV (air-gap discharge) & ±8kV (contact discharge)
5V DC, 2.5A
10W (max)
32-104°F
-4-140°F
20-90% RH (no condensation)
Powder Coated Metal
3.1" x 1.1" x 3.5"
1.1 lb
Product: CE, FCC
Power Supply: CE, FCC, UL
Power Connection Type
10/100 Base RJ-45 Ports
USB Ports
ESD Protection
Line Voltage
Power Consumption
Operating Temperature
Storage Temperature
Operating Humidity
Construction
Dimensions (W x H x D)
Weight
Certifications
FAQs
FAQ
General
What Internet speeds can be captured?

The 100 series OvrC Hub can accurately capture ISP download speeds of up to 80 Mbps. Anything higher will be shown as 80+ Mbps. Our second generation of hardware, coming in 2017, will capture higher speeds.

Can I transfer a Pro license from one location to another? I want to test it first.

No, this is not available today. Once activated, the Pro service is non-transferable between locations. Please be sure to activate OvrC Pro and install the Hub at the location you want it to ultimately live in, because you will not be able to move it.

Does OvrC Pro work without any other SnapAV products?

Technically, yes – but we've designed it in a way where once you use OvrC Pro with SnapAV connected products, the features are enhanced both ways. For example, the granular troubleshooting information on the Location Dashboard, such as number of firmware updates, wireless client signal strength, router client table, are all available only when you use SnapAV products. Vice versa, the capability to access the local UI of SnapAV products becomes much more reliable when you have OvrC Pro on site as it uses the Hub's technology.

What is the difference between OvrC and OvrC Pro?

OvrC allows you to remotely monitor and manage SnapAV connected products, while OvrC Pro extends those capabilities to everything else on the network, including non-SnapAV products, control system processors, LAN performance, and ISP speeds.

Is the OvrC Hub using Raspberry Pi?

Yes, the 100 series OvrC Hub is based on the latest model, Raspberry Pi 3 Model B. Rest assured, we have taken the Raspberry Pi 3 through our rigorous testing to ensure that we are delivering a solid product.

Can I monitor Zigbee devices on a Control 4 network using OvrC Pro?

Yes, with the new Hub firmware v3.1.0.9 you can monitor Control 4 Zigbee devices through the Hub's local UI. This will be made available through OvrC shortly.

To use a OvrC Hub, do I have to have OvrC Pro?

Yes, the OvrC Hub can only be claimed and used at an OvrC location that has been activated with OvrC Pro.

I renamed my Hub-found devices in the Device List, but some of them are showing up as "unspecified" on the LAN Test. What's going on?

The LAN test and the device list are actually using two different client table database in our system, therefore, you'll see slight discrepancies in the device names. However, we are working on centralizing all this information in the cloud so that you have a singular source of truth across every device, whether you are looking at a certain device on the Device List, LAN Test, Araknis Router client table, or Araknis Access Point client table. This is actually an opportunity in disguise as we have multiple sources of information about a single device on a network.

My Internet speed results seems different compared to other tests. What's going on?

There are no industry standards on how to measure ISP speed tests, so all the different speed test services use slightly different formulas. In addition, the speed results will vary based on what is happening on the network, both externally and locally, at the exact time the speed test was ran. For example, if you are streaming 4K video during a speed test, it will look much different than when little bandwidth is being consumed.

If you have ISP speeds over 100 Mbps, we found that it is best to install the OvrC Hub behind a managed switch to get the most accurate readings.

What are the four USB ports used for?

We are not currently using the USB ports, but we included it for future use cases.

Setup & Installation

Where do you recommend installing the OvrC Hub?

We found that it is best to install the OvrC Hub behind a managed switch to get the most accurate ISP speed readings. Some routers recognize that the OvrC Hub is not a gigabit device, and thus, limits the bandwidth to it. This makes the ISP speed tests inaccurate. When you install the Hub behind a managed switch, it eliminates this behavior.

What is the default Username and Password of the OvrC Hub's local UI?

The default username and password is ovrc / ovrc.

Could the OvrC Hub be powered via PoE?

No, today the OvrC Hub could only be powered using an external power supply included in the box.

The Web Connect functionality doesn't seem to work for me on my web browser. What's wrong?

This functionality requires that the pop-up blocker is turned off on your web browser. Please check your web browser settings and try again.
Warranty Information
This OvrC™ product has a 2-year limited warranty. This warranty includes parts and labor repairs on all hardware components found to be defective in material or workmanship under normal conditions of use. This warranty will not apply to software services, or to products that have been abused, modified or disassembled. Products to be repaired under this warranty must be returned to SnapAV or a designated service center with prior notification and an assigned return authorization number (RA).