WattBox® 250-Series Wi-Fi Surge Protector | 2 Individually Controlled Outlets (Wi-Fi or Wired)
WB-250-IPW-2-A
Description
Specs
Support
Description
Description
Finally: an ultra-compact, Wi-Fi enabled WattBox with every feature you could imagine! Now, delivering maximum uptime is easier than ever before, giving you every reason to put a WattBox on every job. The WattBox 250 IPW series is a compact Wi-Fi WattBox with individually controlled outlets, professional-grade surge protection, and the option for wired connectivity.
Wattbox® 250-Series Wi-Fi Power Controller | 2 Individually Controlled Outlets (Wi-Fi or Wired)
Finally: an ultra-compact, Wi-Fi enabled WattBox with every feature you could imagine! Now, delivering maximum uptime is easier than ever before, giving you every reason to put a WattBox on every job. The WattBox 250 IPW series is a compact Wi-Fi WattBox with individually controlled outlets, professional-grade surge protection, and the option for wired connectivity. The WattBox 250 is the only 2-outlet individually controlled surge protector that supports OvrC, the industry's #1 remote management platform. With its affordable price point and the truck-roll eliminating power of OvrC, putting this WattBox on every job will save you time and money. Thanks to its small size and wireless capability, you can power and control everything from digital signage or a smart TV to video conferencing equipment or an entire A/V rack. The only limit to where you can put this WattBox to enjoy its incredible benefits is your own creativity. Note: Wireless capabilities are activated after setup via local web interface and disconnection of wired LAN.
---
---

WattBox Goes Wireless
Your last excuse to not put at least one IP WattBox on every job is gone. Enjoy the added freedom of not having to run wire with the WattBox 250-IPW. You can now put the money-saving, truck-roll eliminating power of WattBox on every job more easily than ever before, without the hassle of pulling wire or having to find a nearby outlet. Thanks to this device's wireless capabilities and price point, you can put one everywhere to further increase the value of the WattBox + OvrC ecosystem. Want the added peace of mind of a wired connection? No problem. The WattBox 250-IPW can be configured to work wirelessly or wired, offering you the ultimate flexibility. With the new WB-250-IPW-1B-2, you can instantly deploy a solution to reset locked up devices or a slow-running internet connection – all without ever leaving your couch.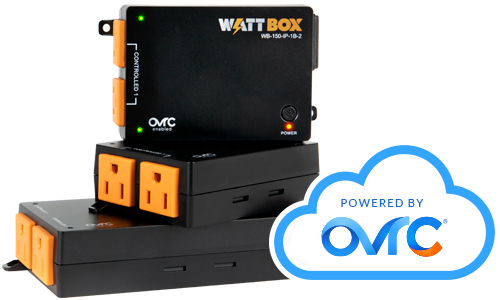 Small & Mighty
Don't let the size of this WattBox fool you. The compact WattBox 250 Series brings all of the control and troubleshooting capabilities of its larger siblings, and two individually controlled outlets allow you to create precise schedules and power cycles. You can control and power an entire system, smart TVs, streaming devices, digital signage, an NVR, or even a fish tank! Just looking for an easy way to power devices on and off? Just pair your WattBox with a control system, and your clients can do it themselves. Now, you can harness WattBox + OvrC's Three Lines of Defense in an infinitely adaptable form factor.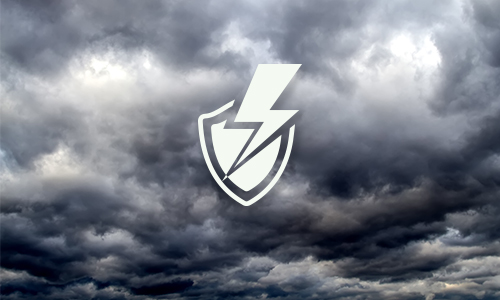 Surge Protection
This professional-grade WattBox is engineered to protect critical equipment on the job. Plastic-encased MOVs with UL94 V-0 rating that provides 1080J of critical surge protection to protect client's investments and maintain system uptime.

The Essential WattBox
Since the IP WattBox now works for every job at any budget and has Wi-Fi capability, it makes sense to have several WattBox 250s in your toolbox for your next install. The WB-250-IPW connects through Wi-Fi or a wireless connection, giving you an essential problem solver for any job. The ability to enable auto-reboot, set schedules, and regularly power cycle saves you time and money. With OvrC, you can proactively solve issues without rolling a truck. Then, send your client a notification to alert them that you fixed a small concern before it became a larger problem, constantly reproving the value of your service. You can even use IP WattBox products to offer ongoing tech support for a monthly fee, creating a recurring revenue model for your business.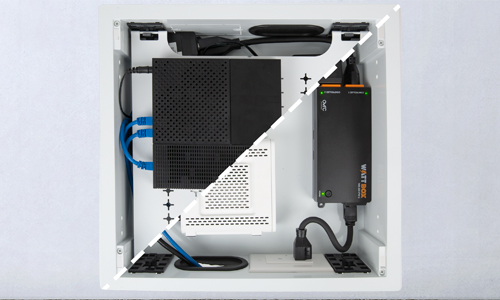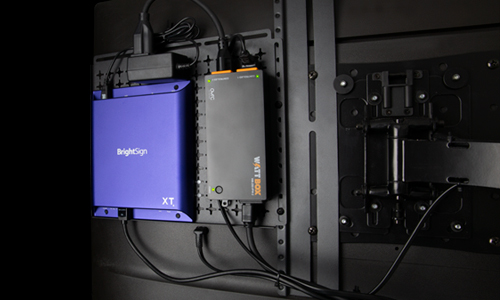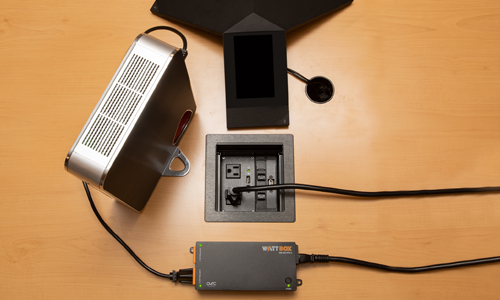 Every Spot, Every Job
We know that you'll ultimately find many more ways to use this ultra-flexible form factor than we can think of. However, here are a few ideas for how you can unlock the power of WattBox:
Use the detachable IEC cord to pair the WattBox 250 Series power controllers with a range of WattBox IEC cords with various lengths and styles to fit the needs of any job. Also, short extension cord pigtails allow an integrator to accommodate even the largest plugs and wall warts.
Auto-reboot a network from a structured wiring can or behind a smart TV.
Reboot CCTV recorders remotely or create a control system command to power cycle an auditorium DSP.
Program a workstation, POS system, or other energy-hogging systems to power down at night.
Take Control
This isn't your basic IoT device. Whether you're connecting to a Wi-Fi or a wired LAN connection, the WattBox 250-IPW is designed to power and control everything from a frozen video streaming device or a non-responsive network video recorder to hard-to-reach equipment in a conference room credenza. Take control of the two most critical components on every site – the modem and router – to automatically restore connectivity and get your client back online.
Control System Integration & NEW IP WattBox API
The WattBox 250 Series devices are compatible with the industry's most popular control systems, including Control4, Crestron, Elan, RTI, and URC, allowing you to untap features like discreet on and off control for each outlet. We've even added a next-generation Telnet API that lets you program unique features into your system or create custom solutions to deploy and monitor WattBox products across thousands of sites. With Telnet API, you can integrate with any third-party control system, monitoring platform, or other custom solutions.
Three Ways to Prevent Service Calls & Truck Rolls
This WattBox provides three lines of defense to fix problems and reduce service calls. Combine WattBox's scheduling and auto-reboot feature with OvrC remote management and a client-facing mobile app, and you have an iron-clad solution built for pros. Simply put, no other remote management system comes close to what WattBox and OvrC can do.
Self-Healing Auto Reboot
WattBox power products are uniquely designed to fix themselves without any outside intervention, helping to prevent service calls and dealer troubleshooting. The unit continuously monitors connectivity and when the connection is lost, it automatically reboots the troubled device as programmed. You can even schedule regular reboots through the local UI or OvrC platform.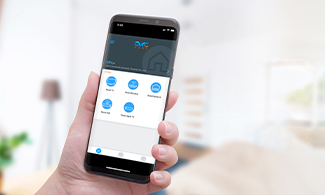 Client-Facing App
OvrC Home is a free client-facing mobile app included with all WattBox IP products that allows your customer to fix small problems on their own. Through this intuitive app, they'll be able to reset any device connected to individual WattBox outlets and use macros to execute a series of commands that you define. If for some reason customers still need to reach you, your company logo and contact information are easily accessible within the app.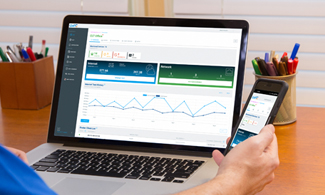 OvrC Remote Management
Through an easy-to-use desktop or mobile app, you can reboot devices, modify configurations, update firmware and more – all from anywhere in the world. Plus, if a WattBox falls offline, OvrC provides you with a detailed notification so you can address the issue before your customer even notices. Upgrade to OvrC Pro, and you'll get access to even greater diagnostics and troubleshooting tools across all OvrC-enabled products.
Specs
Specifications
WB-250-IPW-2
2 Watt, active wired LAN connection
Type: NEMA 5-15R
Number of outlets: 2
Outlet On/Off, Device on/off AC, RJ-45 link/activity
120V, 50/60Hz (Minimum 88V, Maximum 132V)
AC Input Connection: IEC C-14
Voltage Protection Rating: L-N 600V, L-G 600V, N-G 600V
UL Power Rating: 1440W
Voltage Protection Rating: 500V
Joule Rating: 1080J
45,000A
Field Replaceable 5X20mm 15A Fast-Blow Fuse 250v 15A; 217 Series Ceramic
Individual Outlets: No
Device: No
Yes, MOV Type with AC Disconnect Thermal Fuse
6 Ft.
Wired: RJ-45, 10/100 Ethernet
Wireless: Yes, 2.4GHz
IP Controlled Banks: 2 Individually Controlled
API: Yes, IP/Telnet (Full config & control)
Electromagnetic
Yes, configured in OvrC/API
Yes, configured in OvrC/API
Yes (Website & Client-/Integrator Mobile Apps)
Yes, via OvrC, API
Integrated Web UI: Yes, Limited to basic network config, outlet reset/on/off and access control
32 - 104°F (0-40°C)
Plastic, Matte black finish
Integrated eyelets, surface/in-wall box mounting (available in Aug 2019)
3.00 in. x 7.38 in. x 1.38 in.
8.2 in. x 2.5 in. x 5.6 in.
0.7 lbs (device only, no cord)
1.56 lbs
UL 62368-1, UL 1449, FCC 47 CFR Part 15 Subpart B
Power Consumption
Outlets
LED Indicators
Line Voltage
Inlet
Ratings
Peak Impulse Current
Fuse Type
Power Metering
Surge Protection
Power Cord Length
Network / Ethernet Desc.
IP Control
Relay Output
Self-healing Auto Reboot
Custom Scheduling
Remote/Cloud Management
Remote Firmware Updates
Web UI
Operating Temperature
Construction
Mounting
Dimensions (W x H x D)
Box Dimensions
Weight
Package Weight
Certifications
Support
Manuals and Guides

Support Documents
Control Protocols and Drivers
2-Year Limited Product Warranty
This WattBox® product has a 2-Year Limited Product Warranty which includes parts and labor repairs on all components found to be defective in material or workmanship under normal conditions of use. This warranty shall not apply to products that have been abused, modified, or disassembled. Products to be repaired under this warranty must be returned to Snap One or a designated service center with prior notification and an assigned return authorization number (RA).