BenQ HT3550 DLP 4K Ultra HD HDR 2,000 Lumen Projector
BENQ-HT3550-A
Description
Specs
Support
Description
Description
Get ready for true 4K HDR that compares to an authentic digital cinema. For audio-video enthusiasts who want to take in every detail, super-wide DCI-P3 color space provides film-like texture and playback that's true to a director's vision.
BenQ HT3550 DLP 4K Ultra HD HDR 2,000 Lumen Projector
Get ready for true 4K HDR that compares to an authentic digital cinema. For audio-video enthusiasts who want to take in every detail, super-wide DCI-P3 color space provides film-like texture and playback that's true to a director's vision. BenQ HT3550 4K HDR CinePrime Projector with CinematicColor™ technology ushers awe-inspiring movie magic into your customer's personal AV room.

4K UHD True 8.3 Million Pixel Perfection
Producing 4K UHD 3840x2160 resolution with 8.3 million distinct pixels for each frame, HT3550 utilizes the new generation 0.47" single-DMD DLP technology to minimize the projector's sleek, compact profile for modern lifestyles. With four times the resolution of Full HD 1080p, 4K UHD reduces pixel blur for awe-inspiring clarity and crisply defined fine details.

CinematicColor™ for Colors as Directors Envisioned
Enhancing optimal colors for precise picture quality, BenQ CinematicColor™ technology reaches the American Film Industry's 95% super wide DCI-P3 color space, covering a far greater visible spectrum than Rec. 709. With DCI-P3, HT3550 perfectly reproduces authentic cinematic quality with wide and precise color accuracy. High native ANSI contrast ratio and ISFccc certified calibration ensure incredible image performances and deliver detailed, sharp and crisp visuals.

Hyper-Realistic Video Quality with HDR-PRO™
Optimized for projection, BenQ exclusive HDR-PRO technology enhances the 4K HDR viewing experience via Active Iris and Dynamic Black™ technologies. Employing enhanced tone mapping, HDR-PRO offers greater contrast range to bring out every detail from 4K Blu-rays and streaming content.

Enhanced Tone Mapping Preserves Dark Details
While other HDR projectors can lose details and display incorrect greyscales, BenQ Enhanced Cinema-Optimized Tone Mapping with Active Iris and Dynamic Black technology* increases contrast ratio, so dark details project in total clarity.
*Active Iris controls the amount of light through the optical system for ideal contrast. Dynamic Black™ analyzes a scene's brightness levels to optimize light output and contrast by bringing out subtle details in shadows and preventing bright scenes from washout.

HDR Brightness Projection Optimized
HDR brightness optimization keeps ideal high contrast ratios while projecting different image sizes and various screen gains most commonly used in home theater, ensuring greater contrast range and superior image quality when HDR mode is activated.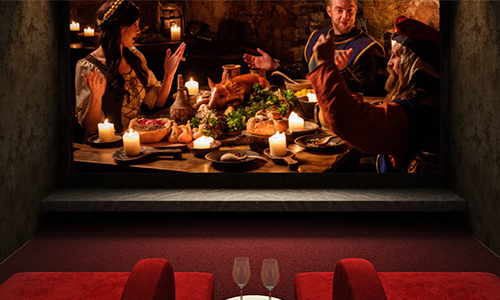 Supercharged by HDR10 & HLG
BenQ's HDR-PRO technology is supercharged by HDR10 & HLG (Hybrid Log-Gamma) support, offering incredible visuals whether you're blasting through a Blu-ray movie, streaming content, or taking in a sports match.
*HLG is a high dynamic range (HDR) standard that was jointly developed by the BBC and NHK, supported by video services such as the BBC iPlayer, DirecTV, Freeview Play, and YouTube.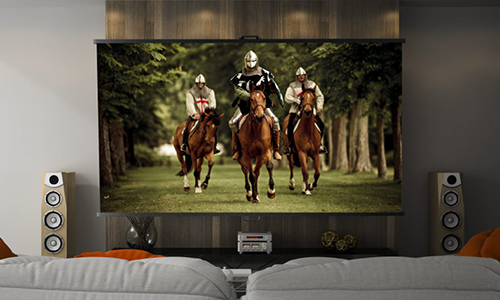 Optimized Movie Modes for Tailored Home Cinema
To achieve fully personalized home cinema experiences, HT3550's optimized movie modes are tailored to provide authentic cinematic colors in environments including professional AV rooms and living spaces.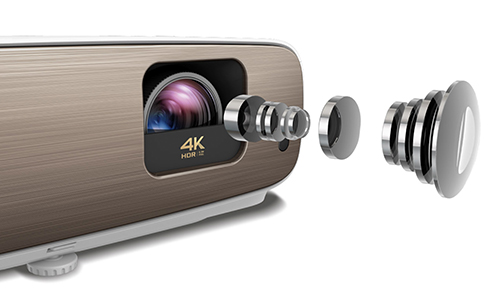 Precision 10-Element 8-Group All Glass 4K-optimized Lens Array
Super-high resolution 10-element lens array is structured into eight groups with metal barrel and cell framework, far outshining 1080p projector technology with greater light penetration for long-lasting 4K intensity with heart-stopping color performance, clarity, and sharpness across the entire screen.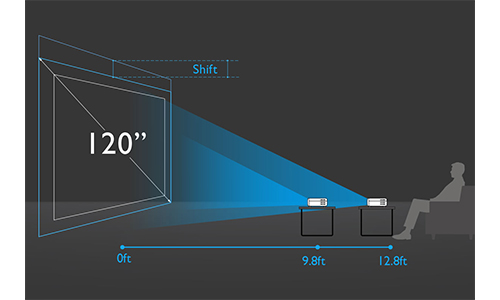 Lens Shift and 1.3X Big Zoom
HT3550 offers vertical lens shift 10% to fit perfectly into any room with a dynamic range of projection distances and heights. And the 1.3X big zoom offers a wide range of throw distances to significantly increase installation flexibility for diverse mounting and placement options, easily turning any space into a truly inspirational home cinema.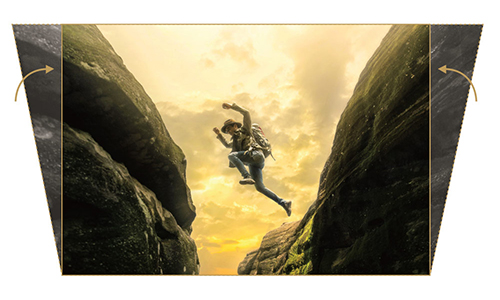 Auto Vertical Keystone for Easy Setup with Perfect Alignment
Countering the trapezoid effect when the projector must be placed off-center, such as simple placement on top of a table, the vertical keystone function adjusts the image for a professionally squared image. Keystone correction makes it simple to project ideally aligned images from a variety of locations.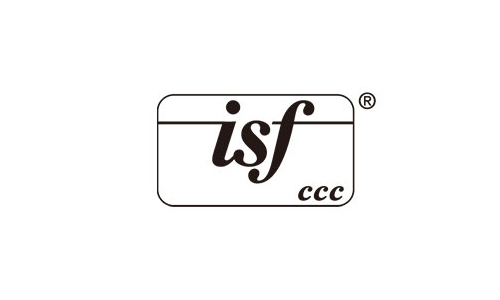 ISFccc® Certified Visual Calibration
By incorporating the Imaging Science Foundation's highly reputed ISFccc® Certified Visual Calibration, the image and color performance can be customized for any space, along with pre-set light balance modes for day and night
Specs
Specifications
BenQ-HT3550
3840x2160
2000
1.13:1 - 1.47:1
30,000:1
16:9
30"- 200.1"
1.30:1
Vertical
5W x2
Yes
Yes (DP-pin)
15" x 5" x 10.3"
9.3 lb
Supported Resolutions
Lumens
Throw Ratio
Contrast Ratio
Aspect Ratio
Maximum Image Size
Zoom Ratio
Lens Shift
Included Speaker
12V Trigger
RS-232 Ports
Dimensions (W x H x D)
Weight
Support
Manuals and Guides


Support Documents

BenQ Limited Warranty
We want to make our Affiliate program as easy as possible. That's why we process all claims directly, without any third party telephone tag. Click here for specific warranty terms and details from the manufacturer.