BenQ LH720 Laser 1080p 4000 Lumen Projector
BENQ-LH720-A
Description
Specs
Support
Description
Description
Built with BlueCore Laser technology, the BenQ LH720 Corporate Laser Projector delivers 1080p images and high-color performance that can produce 90% of the Rec. 709 spectrum.
BenQ LH720 Laser 1080p 4000 Lumen Projector
Built with BlueCore Laser technology, the BenQ LH720 Corporate Laser Projector delivers 1080p images and high-color performance that can produce 90% of the Rec. 709 spectrum. IP5X Dust Guard™ Pro provides long-term durability with InstaShow™, and QCast, and QCast Mirror ensure wireless presentation is hassle free. The LH720 also supports LAN control and network-delivered firmware upgrades, allowing IT administrators to monitor and maintain multiple projectors from a single location.
Important Note - To avoid HDCP errors when running MoIP via point to point or over a network, set the MoIP receiver to 1080p/50Hz for optimal display.

Revolutionary BlueCore Laser Technology
BenQ, the world's number one DLP brand, expands its full line of innovative BlueCore laser projectors with LH720. This projector is ideal for fixed lens installation, enabling powerful visual communication in corporate meetings and public venues. Your customers will enjoy superior brightness with a precision-aligned, high-output laser source that boosts luminous flux into the light tunnel, improving efficacy. Dual synchronized BlueCore color wheels utilize an additive yellow segment, stimulating precise RGBY spectra for optimal chromatic performance.

Full HD Resolution for Crisp Image Quality and Increased Content Density
With Full HD (1920 x 1080) native resolution in expended 16:9 aspect ratio, the LH720 offers subtle details, ultra-sharp readability, and highly enhanced display capacity for professional presentations.

DLP Technology for Lasting Vibrant Color
BenQ BlueCore laser projectors are based on the absolute reliability of the 1-chip DLP design. The highly durable DLP chip can last over 100,000 hours without degradation, ensuring true-to-life colors and pristinely legible text over countless uses.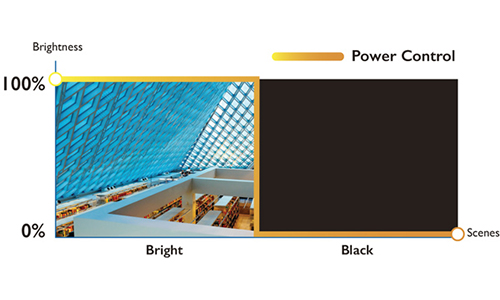 Laser-Powered Ultra-High Contrast
The LH720 Full HD Laser Projector creates strikingly clear images with a stratospherically high native contrast ratio of 10,000:1 for true deep blacks, vividly rich colors, and fine subtle details. The LH720 also features spontaneous response, requiring no wait to turn on or resume for flexible performance capability.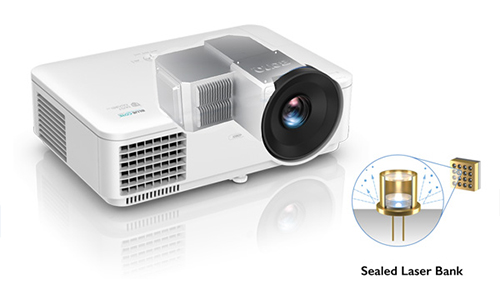 Superior Dustproofing for Severe Conditions
BenQ's LH720 Laser Projector is designed with sealed laser modules and enclosed light engines to protect the DMD chip, color wheel sensor, laser bank, and other optical components. Its design has passed the dust chamber test standard JIS Class IP5X.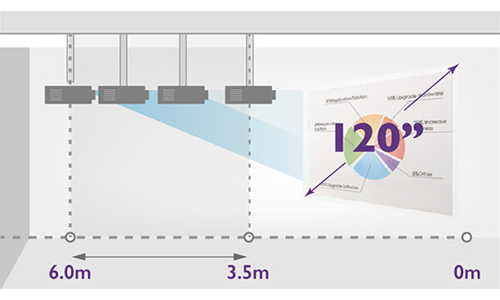 The 1.5x Zoom for Efficient Upgrades
With 1.5x Big Zoom, corporations can easily and economically replace outdated projectors by making use of existing ceiling mounts to project large-scale images in restricted spaces. The 1.5x zoom allows the LH720 to be mounted anywhere from 3.5 to 6 meters from the screen and project images of 120", which is the typical image size for corporate meeting rooms. This feature helps your clients avoid costly renovations or installation downtime.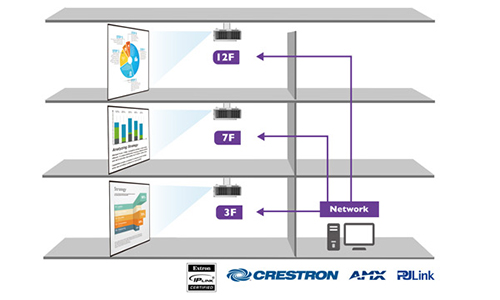 Comprehensive Control System Compatibility
The LH720 is widely compatible with leading projector control systems including Extron, Crestron, AMX, and PJ-Link, which fulfills network control via LAN, making it simple to integrate into corporate network infrastructures. When there is no LAN infrastructure, LH720 also supports RS-232 for reliable long-distance installations up to 15 meters.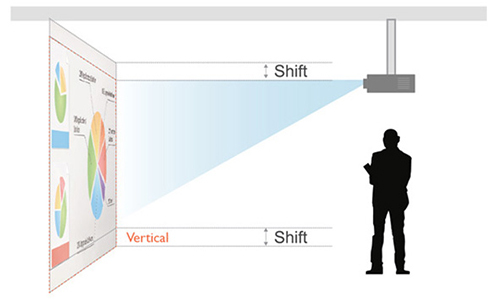 Vertical Lens Shift
The convenience of the vertical lens shift systems delivers perfectly proportioned images despite any existing installation or placement challenges in any venue.
Specs
Specifications
BENQ-LH720
Front/Rear
2
12.37 lb
1920x1080
4000
Blue Core Laser
1.38-2.13
100000:1
16:9
1.5x
Vertical: 116% +14%
30"- 300"
2;HDMI-1 (1.4a/HDCP1.4);HDMI-2 (1.4a/HDCP1.4/MHL)
x1
RJ45 x1
USB Type B mini x1
RS-232 Port x1
Speaker 10Wx1
16.14" x 5.04" x 10.79"
IR Receivers
IR Inputs
Weight
Supported Resolutions
Lumens
Lightsource
Throw Ratio
Contrast Ratio
Aspect Ratio
Zoom Ratio
Lens Shift
Maximum Image Size
Inputs
12V Trigger
Connectors
Features
Dimensions (W x H x D)
Support
Manuals and Guides


BenQ Limited Warranty
We want to make our Affiliate program as easy as possible. That's why we process all claims directly, without any third party telephone tag. Click here for specific warranty terms and details from the manufacturer.
Keycap engravings
This feature is not currently optimized for mobile devices. We apologize for any inconvenience this may have caused. Please access Keycap engravings from a tablet or desktop computer.