Dragonfly™ Ultra Black Fixed ALR Projection Screen
DF-SL-ALR
Description
Specs
Support
Description
Description
Avoid washed-out images in bright rooms with the Dragonfly Ultra Black Fixed ALR projection screen. This incredibly smooth screen material both absorbs and rejects a room's ambient light, so it can deliver a high-definition viewing experience no matter how many windows your customer has.
Dragonfly™ Ultra Black Fixed ALR Projection Screen
Our Ultra Black Fixed ALR projection screens prevent customers from seeing washed-out images in rooms with too much natural light.Due to its application, Ambient Light Rejecting material is manufactured at a higher quality than traditional screens; it absorbs and rejects all excess natural light in a room in order to deliver an out-of-this-world viewing experience. Not only does this screen pair seamlessly with 4K projectors, but it also offers high-definition experiences for 1080p systems.
Limited Warehouse Locations - Please note that Dragonfly screens are only stocked at certain warehouses, which may result in items shipping from a location other than your primary warehouse.
Care & Cleaning Instructions - Due to the delicate nature of Ambient Light Rejecting material, installers must wear the provided gloves when handling this screen. If the material gets smudged, it can ONLY be cleaned using microfiber cloths. Do not use water, chemicals, or other solvents to remove dust or other irritants. This will ruin the material.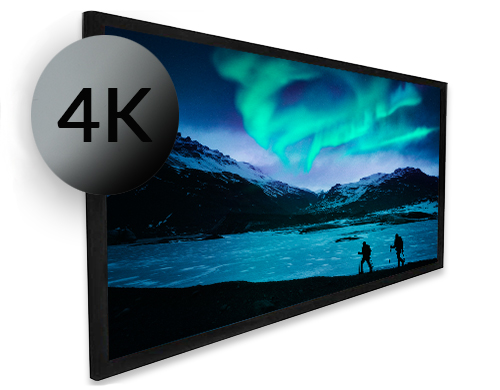 Delivers True 4K
Optimized for full 4K Ultra HD at over 8 million pixels, this Ultra Black ALR filmscreen is so versatile it offers amazing image quality for both 4K and high-resolution 1080p systems.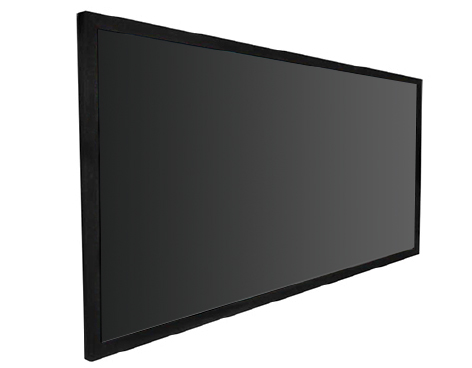 Better Than The Rest
Don't be fooled by the competition. Dragonfly's ambient light rejecting material was designed to be premium-grade: it delivers stunning performance and a sharper color contrast all at one competitive price. Not only does this unique material add a sleek, professional look to any install, it also absorbs and reflects excess light in a variety of versatile use cases. The difference is clear!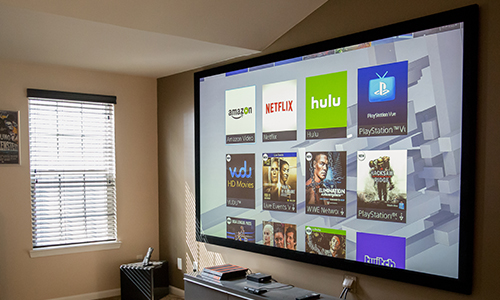 Light Rejection Equals Better Picture
You've never seen a projection screen like this. Our Ultra Black Ambient Light Rejection screen material has a smooth texture that reflects unwanted light and keeps it from affecting picture quality. These screens can now be used in applications that would normally need a TV to deliver the best quality picture. No more washed-out images!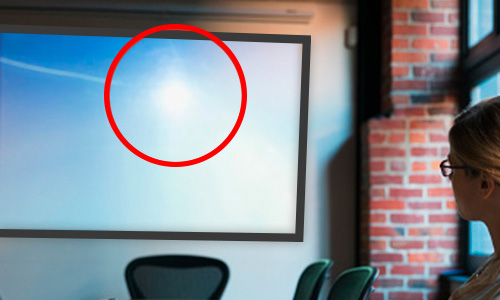 No Shimmer or Hotspots
Ever catch a glimmer of static or a weird blip of noise in the background of a projected image? Never let shimmer or hot spots ruin a customer's viewing experience. Our smooth Dragonfly material is precision-engineered to provide crisp images free of all picture quality interference, no matter what projector you're using.

Wide Viewing Angle
For customers who need more viewing space in multi-purpose rooms, home theaters, or any other versatile set ups, this filmscreen supports a wider spectrum of off-axis viewing, preventing image darkening and distortion at up to 160°.

Gain Confidence
This unique projection screen features a highly-efficient gain of 0.8, so it not only absorbs unwanted ambient light, but enhances color contrast—it makes deep blacks even blacker and all colors richer.

Same Day Shipping
We keep screens in stock so you don't have to. Enjoy same-day shipping from a central location to get your order processed as efficiently as possible. Select Partner Rewards levels also enjoy free shipping on filmscreens. Learn more about Partner Rewards >>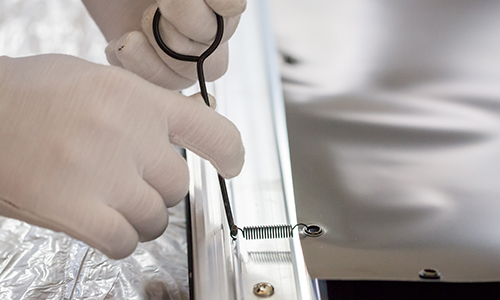 Installation Is Easy
Unlike traditional Dragonfly screens, ALR material doesn't have "stretch" to it and is cut to fit each frame during the quality control process. We designed a new spring connection system and paired this with a useful attachment tool so there's no chance of wrinkles. Simply thread the tool through the spring, attach one end to the screen material, and use the hook end to fasten the tool around the lip of the screen housing. Presto: there's your clean, smooth surface.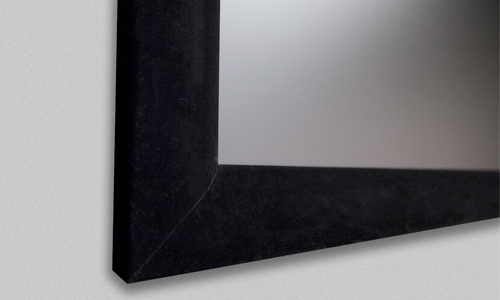 Velvet Covered Frame
Every fixed screen frame is hand-wrapped with VelTX™ black velvet, providing an elegant finish that absorbs any overscan for the perfect theater experience. The beveled 3-1/4 in. aviation grade aluminum frame is rigid, easy to assemble, and looks great too!
Specs
Specifications
| DF-SL-92-ALR | DF-SL-100-ALR | DF-SL-110-ALR | DF-SL-120-ALR |
| --- | --- | --- | --- |
| 92" | 100" | 110" | 120" |
| Fixed Frame | Fixed Frame | Fixed Frame | Fixed Frame |
| 160° | 160° | 160° | 160° |
| 85° | 85° | 85° | 85° |
| 95% | 95% | 95% | 95% |
| 16:9 | 16:9 | 16:9 | 16:9 |
| 0.8 | 0.8 | 0.8 | 0.8 |
| Ambient Light Rejecting | Ambient Light Rejecting | Ambient Light Rejecting | Ambient Light Rejecting |
| 45.08" | 49.02" | 53.94" | 58.82" |
| 79.92" | 87.17" | 95.87" | 104.57" |
| Extruded Aluminum | Extruded Aluminum | Extruded Aluminum | Extruded Aluminum |
| 56.45 lb | 62.62 lb | 68.13 lb | 80.48 lb |
| 86.54" x 51.42" x 1.375" | 93.5" x 55.35" x 1.375" | 102.2" x 60.24" x 1.375" | 110.9" x 65.16" x 1.375" |
Screen Size
Screen System
Viewing Angle
Half Gain Angle
Light Rejection
Aspect Ratio
Gain
Screen Material
Viewing Area Height
Viewing Area Width
Construction
Weight
Dimensions (W x H x D)
Support
Manuals and Guides

Lifetime Limited Warranty
All Dragonfly™ Fixed Projection Screens have a Lifetime Limited Warranty. This warranty includes parts and labor repairs on all components found to be defective in material or workmanship under normal conditions of use. This warranty will not apply to products that have been abused, modified or disassembled. Products to be repaired under this warranty must be returned to Snap One or a designated service center with prior notification and an assigned return authorization number (RA).
Keycap engravings
This feature is not currently optimized for mobile devices. We apologize for any inconvenience this may have caused. Please access Keycap engravings from a tablet or desktop computer.