Dragonfly™ Recessed Motorized Matte White Non Tab Tension Projection Screen (16:9)
DFRM-NTT-MW
Description
Specs
Support
Description
Description
These space-saving projection screens give you stellar visual performance in any multi-purpose room or home theater.
Dragonfly™ Recessed Motorized Matte White Non Tab Tension Projection Screens (16:9)
Our in-ceiling recessed motorized projection screens give you stellar visual performance. A lightweight, maneuverable design makes filmscreen installation easier than ever, while an industry-leading tubular motor delivers whisper quiet operation. It even includes IR, RF, and serial commands control to make system integration a breeze.
Limited Warehouse Locations - Please note that Dragonfly screens are only stocked at certain warehouses, which may result in items shipping from a location other than your primary warehouse.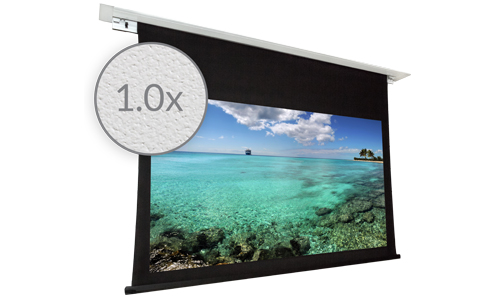 Matte White Screen
For applications where you can control ambient light, choose our matte white screen material. Engineered with a micro-diamond pattern, it delivers incredible off-axis viewing and makes any seat the best in the house. A 1.0 gain and 160-degree viewing angle even prevents hot-spots and color shifts while reducing light "ripples" and glare, creating an impeccable true-to-life experience.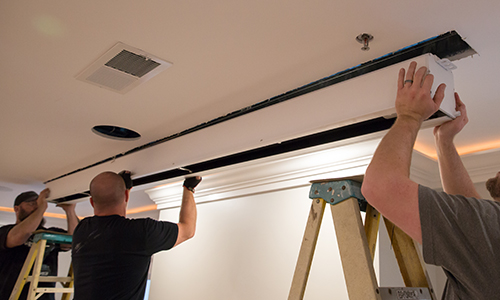 Flexibility
Our screens come ready to install right out of the box. Lightweight and maneuverable, each filmscreen includes your choice of brackets and a full hardware install pack in order to simplify the mounting process and provide a smooth, sleek finish.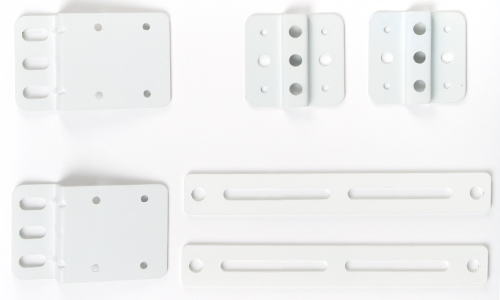 Installation Is Easy
Each screen features a full kit for installation right out of the box, and includes both flat brackets and Z brackets for retrofit installs or new build jobs. Use flat brackets for installs with new ceilings and access above the screen, and use Z brackets for installs with new or existing permanent ceilings, or when you have an attic or a crawl space above the screen housing.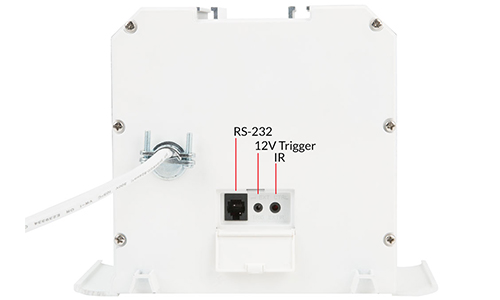 Flexible IR/RS-232/Contact RF Control
Screen control's in your hands with IR, RF, or serial commands. RF capability means you don't need to run an IR receiver or extender, because everything's hidden in the ceiling! An external IR receiver is also included for your convenience, along with an RF-capable remote, while control drivers allow for simple system integration. Our 12V trigger even supports anything from 3-12 volts.
---
UL Listed
Each Dragonfly screen component was rigorously engineered to pass UL's high safety and quality standards, and was tested to ensure premium reliability, wherever you mount it.

Quick & Quiet Motor
If you weren't lowering the screen, you'd barely know what was going on. Dragonfly motorized projection screens feature a revamped tubular motor, and will give your customer quiet and reliable operation, day in and day out.

Same Day Shipping
We keep screens in stock so you don't have to. Enjoy same-day shipping from a central location to get your order processed as efficiently as possible. Select Partner Rewards levels also enjoy free shipping on filmscreens. Learn more about Partner Rewards >>

Wide Viewing Angle
For customers who need more viewing space in multi-purpose rooms, home theaters, or any other versatile set ups, this filmscreen supports a wider spectrum of off-axis viewing, preventing image darkening and distortion at up to 160°.
Specs
Specifications
| DFRM-NTT-100-MW | DFRM-NTT-110-MW | DFRM-NTT-120-MW | DFRM-NTT-130-MW |
| --- | --- | --- | --- |
| 100" | 110" | 120" | 130" |
| 8.5" | 8.5" | 8.5" | 8.5" |
| 7.48" | 7.48" | 7.48" | 7.48" |
| Aluminum Alloy | Aluminum Alloy | Aluminum Alloy | Aluminum Alloy |
| 86.5 lb | 93.2 lb | 106.2 lb | 118.2 lb |
| 1.0 | 1.0 | 1.0 | 1.0 |
| 49.02" | 53.93" | 58.82" | 63.74" |
| 87.17" | 95.88" | 104.57" | 113.31" |
| Matte White | Matte White | Matte White | Matte White |
| Recessed Non-Tab Tension | Recessed Non-Tab Tension | Recessed Non-Tab Tension | Recessed Non-Tab Tension |
| 39.37" | 39.37" | 11.81" | 11.81" |
Screen Size
Depth
Height
Construction
Weight
Gain
Viewing Area Height
Viewing Area Width
Screen Material
Screen System
Maximum Screen Drop Distance
Support
Sales Resources

Support Documents

Control Protocols and Drivers

2-Year Limited Warranty
All Dragonfly™ Motorized Projection Screens have a 2 Year Limited Warranty. This warranty includes parts and labor repairs on all components found to be defective in material or workmanship under normal conditions of use. This warranty will not apply to products that have been abused, modified or disassembled. Products to be repaired under this warranty must be returned to Snap One or a designated service center with prior notification and an assigned return authorization number (RA).
Keycap engravings
This feature is not currently optimized for mobile devices. We apologize for any inconvenience this may have caused. Please access Keycap engravings from a tablet or desktop computer.