Visualint™ Line Series Micro NVR
VI-L-MICRO-A
Description
Specs
Support
Description
Description
Want a quick VMS-based solution in a sleek form factor? The Line Micro Series NVR is precisely targeted for surveillance applications, and is a perfect starting point for any system that primarily needs intelligent video analytics.
Visualint™ Line Series Micro NVR
Want a quick VMS-based solution in a sleek form factor? The Line Micro Series NVR is precisely targeted for surveillance applications, and is a perfect starting point for any system that primarily needs intelligent video analytics. This recorder features a user-friendly interface which lets you find specific recordings by trigger type, and also supports over 4000 IP cameras from ONVIF-certified manufacturers.
Important Note - This recorder does not support additional channel licenses. Please note that Visualint Viewer UI and control system integration are also not included with this model.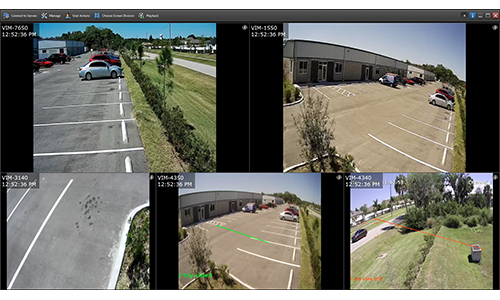 Observer UI Is Fully Functional
Visualint's Line Micro NVR offers a fully functional UI that is accessible through the Windows Observer application, various browsers, or the Line mobile app. Use Observer to search for any analytic events triggered by Visualint cameras. Find specific recordings by trigger type, or search the interface timeline, rewind, fast forward, and play back video just as you would on other recorders.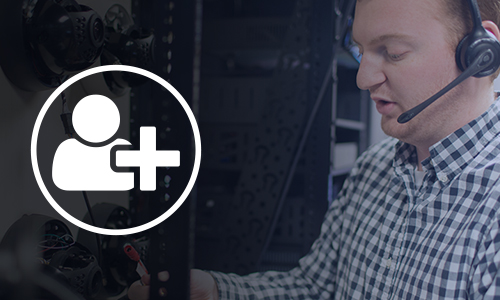 Virtual Technician & System Design
Don't know how to configure the analytic rules? Or don't have time to wait for "your surveillance guy" to take care of a job? Let Virtual Technician install it for you. When you purchase Visualint cameras, they come packaged with Visualint's professional setup service, which is completed in two phases. After you install the equipment, expert technicians will get camera and recorder-specific information to optimize picture quality, configure analytic capabilities, and set up system alerts or email notifications for your customers. You can also take advantage of our popular system design service, prior to VT setup. Learn more >>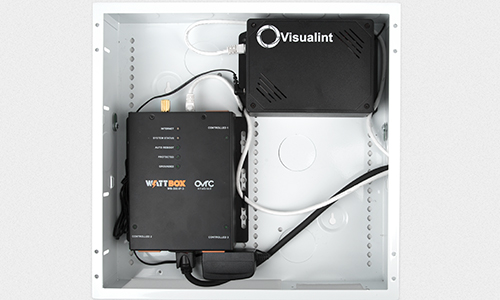 Small Form Factor Delivers Versatile Installation
This recorder's mini form factor means it can be installed almost anywhere. Put this recorder in a structured wiring can, above a security panel, mount it straight to a wall, or place it in an unfinished closet for jobs where you have to hide the gear.
Consumer App
Visualint's consumer app for iOS and Android is ideal for commercial and high-end residential use, and can be quickly set up for multi-site applications. Transcoding and connection optimization help customers navigate the simple user interface with ease. They can view live camera recordings, playback past events, and check in at any time.
Windows System Support
This NVR is supported by Windows operating systems. At this time, it has limited Mac compatibility through browsers only (including Safari, Firefox, and Chrome.)
---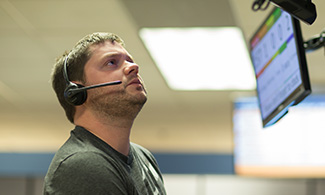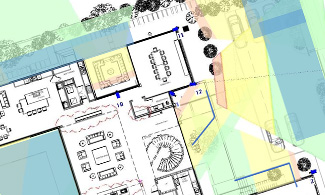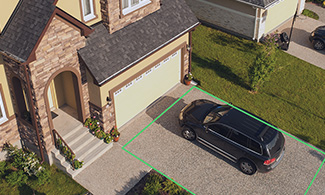 Have your Visualint system professionally designed and configured for each job.
Learn More
Specs
Specifications
VI-L-MICRO
5, Cannot be expanded
None
None
Internet Explorer 8.0 or above
CE, FCC
4.5" x 2.25" x 7.25"
Power Adapter x 1
32° - 113° F
24W Max
No
2 lb
Up to 4MP for IP Cam Resolution
Motion Detection, Signal Loss, Signal Restore, Audio threshold exceeded, Recording Error
Yes
Yes
None
No
Yes
None
Ethernet: 10M/100M, Network IP: Static/Dynamic, Multi-Remote Client: Yes, 32 Clients Simultaneously, ONVIF: Yes, v2.4, Profile S
Upload frame to FTP
SATA HDD bays x 1; (1) 1TB HDD preinstalled Not expandable or user replaceable
Off / Continuous / Motion
None
Time / Date / Name / Stream
Up to 25 FPS @ 2560x1440
Time Search, Event Search
Daylight Saving Time Privacy Mask
PTZ Control: through IP
Digital Zoom: up to 16x
Save Frame
Go to Camera Preset
Start Patrol
Language: English
1, 4, 5
None
1920x1080P@60Hz, 1920x1080P@50Hz, 1280x800@60Hz, 1440x900@60Hz, 1366x768@60Hz, 1280x720@60Hz, 1280x720@50Hz, 1024x768@60Hz, 800x600@60Hz
H.264, M-JPEG
None
Live View, Record, Playback
40Mbps
12V 2A DC
Channels
POE Ports
Audio Inputs / Outputs
Available On Internet
Certifications
Dimensions (W x H x D)
Included Accessories
Operating Temperature
Power Consumption
Rack Mountable
Weight
Supported Resolutions
Alarm Features Desc.
Audio Backup
Audio Streaming
Alarm Contact Inputs/Outputs
DDNS Feature
E-Mail Feature
ESATA Connection
Network / Ethernet Desc.
FTP Feature
Hard Drive Storage (Internal)
Record Mode Desc.
OSD & Control Interface Desc.
OSD
Recording Frame Rate (FPS)
Search Features Desc.
Setup & Functions Desc.
Display Split Window
External USB Backup Device
Video Resolution
Video Compression
PoE Features
Operation Modes
Bit Rate
Power Input
Support
Manuals and Guides
Sales Resources

3-Year Limited Warranty
Visualint NVRs have a 3-Year Limited Warranty. The warranty includes parts and labor repairs on all components found to be defective in material or workmanship under normal conditions of use. This warranty will not apply to products that have been abused, modified, disassembled, or improperly installed. Products to be repaired under this warranty must be returned to SnapAV or a designated service center with prior notification and an assigned return authorization number (RA).