Binary™ 900 Series 4K Media over IP Transmitter with Audio Downmixing
B-900-MOIP-4K-TX-2AC-A
Description
Specs
Support
Description
Description
Binary™ 900 Series 4K Media over IP Receivers, when joined in a system with MoIP Transmitters and one MoIP Controller , create a highly scalable, flexible IP media distribution system delivering visually lossless 4K HDR (HDR 30Hz and HDCP 2.2 compatible) video and all multichannel formats including Dolby Atmos and DTS-X.
Binary™ 900 Series 4K Media over IP Transmitter with Audio Downmixing
Binary™ Series 4K Media over IP (MoIP) Transmitters with Audio Downmixing, when joined in a system with a MoIP Receiver (B-900-MOIP-4K-RX or B-900-MOIP-4K-RX-RAC) and one MoIP Controller, create a highly scalable, flexible IP media distribution system delivering visually lossless 4K HDR (HDR 30Hz and HDCP 2.2 compatible) video. Operating on a cost-effective gigabit Layer 2 PoE switch, this setup is the fastest and simplest out there. Plus, with Audio Downmixing and Audio Lip Sync adjustment, you'll have ultimate audio flexibility. Additionally, OvrC remote management allows for quick system setup, easy troubleshooting with access to live screenshots of source streams and fast, simple firmware updates. MoIP Transmitters also include a selection of audio features that allow dealers to solve issues on every job, including HDMI loop-out, audio breakout, and the ability to fix the audio to stereo or 5.1 multichannel. Lastly, RS-232, IR, and IP drivers for popular control systems provide tremendous flexibility in system design.
When installing Binary MoIP in an existing or new system, please ensure the latest firmware is installed. View the release notes.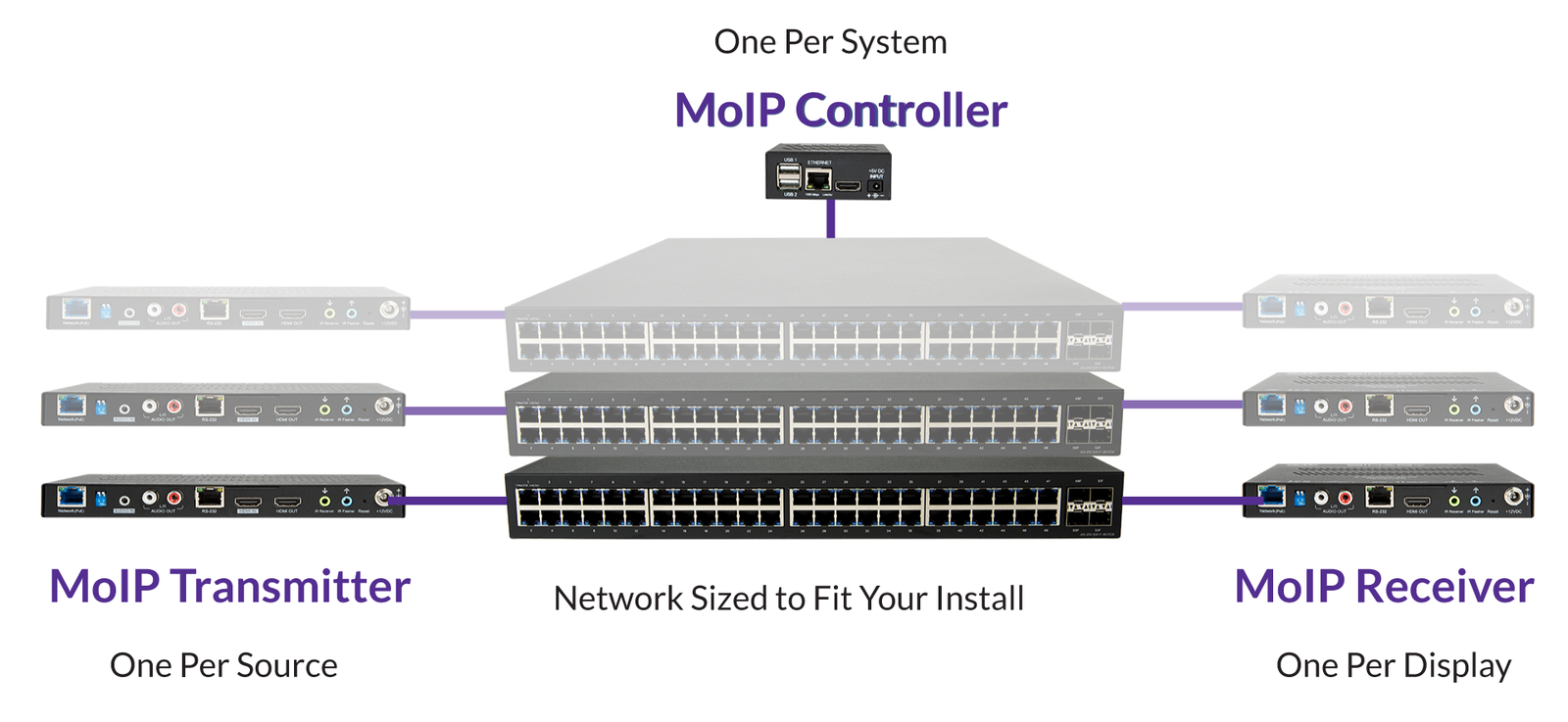 A MoIP system can consist of any combination of 1 controller, a Layer 2 or above PoE Switch, MoIP transmitters with and without audio downmixing, and MoIP receivers with and without audio downmixing.
4K HDR

PoE
Up/Down Scaling

HDCP 2.2

Audio Breakout
---
---
Advanced Audio Capabilities
Dolby and DTS Audio Downmixing
Our Binary™ 900 Series 4K Media over IP Transmitter with Downmixing allows downmixing of multi-channel audio to 2-channel audio, eliminating the need to choose multi-channel or force downmixing, providing immersive multi-channel audio in one area while sharing throughout the space in 2-channel audio format.
Supported Audio
Binary™ 900 Series 4K Media over IP Transmitters and Receivers support Dolby Digital, Dolby Digital+, Dolby TrueHD, DTS, DTS-HD, and DTS-HD Master downmixing for ultimate flexibility in video and audio integration.

**The SPDIF input on the Receiver and output on the Transmitter is available for future use only.
Audio Lip Sync Adjustment
The Binary™ 900 Series 4K Media over IP Transmitters and Receivers with Downmixing support lip-sync adjusting for the analog output from 0ms to 250ms for perfect audio/video synchronization.
MoIP Backward Compatibility
The B-900-MOIP-4K-RX-2AC receiver and B-900-MOIP-4K-TX-2AC transmitter are designed to coexist with B-900-MOIP-4K-RX receivers and B-900-MOIP-4K-TX transmitters, letting you downmix when needed. Plus, decoders at each endpoint provide additional system flexibility. Downmix audio from each source into a multizone audio system, expand audio from a MoIP receiver to a secondary listening zone with only 2-channel audio, or both!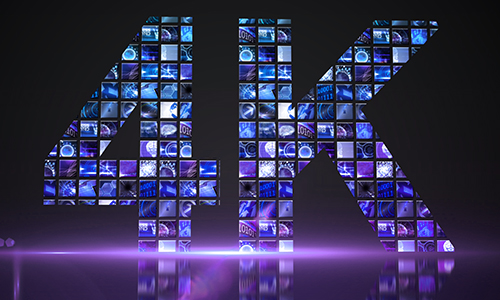 Visually Lossless 4K Video
MoIP encodes video up to 4K HDR using visually-lossless, variable bit-rate compression technology. The system is HDR and HDCP 2.2 compatible, resulting in an ultra-stable video stream, perfect audio/video sync and ultra-low latency (one frame).
Limitless Control Options
Switching of inputs (TX) to outputs (RX) is done through IP commands from a control system sent to the MoIP controller. Out of the box, the system supports three methods for controlling sources and displays: IR, RS-232 and CEC. IR or RS-232 commands can be issued via IP and generated at each endpoint. If desired, IR and RS-232 virtual routing can also be configured from any TX to any or all RX(s). Desired methods for issuing commands are selectable via the local UI. Lastly, for more basic installs where display on and standby is all that is needed, MoIP also supports CEC.
Real-Time Video Diagnostics
MoIP provides peace of mind when you leave the job. Not only is it inherently reliable, but there are a host of tools to assist in troubleshooting. Each transmitter provides a live screenshot of the source output, so you can quickly determine if the source is generating video. Additionally, deeper insights are readily available – such as resolution, refresh rate, color depth and HDCP version detected. Best of all, thanks to OvrC, all of this is easily accessed remotely so you can resolve issues caused by unpredictable sources – or customers – without rolling a truck.
Control System Integration
Our engineers have written drivers for the industry's leading control systems, including Control4, Crestron, ELAN, URC and more – so controlling the system has a familiar feel. Advanced features like IR routing and RS-232 over IP deliver even more flexibility and customization – and we've even provided the MoIP controller's API to create your own drivers if needed.
Perfect for Commercial Applications
From small offices to large-scale bars and restaurants, Binary MoIP allows you to distribute multiple sources to any number of screens, or even create stunning video walls. Binary is also compatible with applications like DTVGameControl, which helps your clients control and manage their devices.
---
The Binary MoIP Difference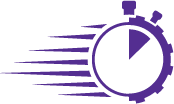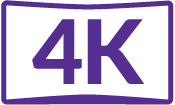 The Fastest, Simplest Solution
Gone are the days of head-scratching system design, next-level network know-how and confusing configurations. Binary MoIP removes all that complexity, requiring only a Layer 2 PoE switch (210 and 310 Series), so you don't need a network guru to install it. OvrC-enablement, simple setup and intuitive user-interfaces enable you to go from power-on to picture in 5 minutes or less.
Flexible & Scalable
The Binary MoIP solution allows you to fit, scale, and upgrade the solution to match your client's specific needs. Need a 6x8 for one job and a 7x13 for another one? No problem. What about adding a video wall? Done. Instead of replacing the entire system, you can simply purchase new transmitters or receivers when adding sources or displays.
Ultra-Reliable HDR
With Binary MoIP, legacy EMI interference and HDCP/EDID issues are eliminated. Each source is encoded, visually lossless, at the highest quality possible (ex. 4K HDR). Then at each display, the signal is decoded from the network and scaled to the desired resolution (ex. 1080p or 4K HDR). Built-in scaling in the RX means that mixed 1080p/4K systems are no longer a problem, plus pass-through of all audio formats like Dolby Atmos and DTS:X are fully supported.
The Power of OvrC
Binary MoIP delivers something no other media product can – award-winning remote management. OvrC quickens initial setup by auto-discovering the controller, plus it provides unparalleled troubleshooting tools like real-time video screenshots.
Standalone App
Thanks to our standalone app that's embedded into the controller firmware, your client's MoIP system can be operated outside a traditional control system. Follow easy installation steps to give users access to switching of sources, displays, turn off displays, and save scenes (ex: "Game Night") for easy recall.
Specs
Specifications
B-900-MOIP-4K-TX-2AC
Each
Mounting ears, Mounting ear screws, Rubber feet
Interlaced Video Support: Yes
HDR Support: HDR 20/24Hz
Video Wall Support: Yes, 2x2, 3x3 and 4x4
Video Compression: Visually Lossless
Max. HDMI Bandwidth: 8.91Gbps
Max. HDMI Pixel Clock: 297MHz
Up to 4K HDR@30Hz 4:2:2 | 4K HDR@30Hz 10 bit | 4K UHD@30Hz 4:4:4 8bit
Plus Full 1080p HD and lower resolution including interlaced video formats
HDR Content when available 4K HDR@30Hz 10 bit
Integrated scaler to support 4K|HDCP 2.2 on 1080p|HDCP 1.4 displays
Yes
IN: 1 x 19 pin Type A Female
OUT: 1 x 19-pin Type A Female
RGB, YCbCr
4:4:4, 4:2:2, 4:2:0
8, 10, 12bit
2CH PCM, LPCM 2.0, LPCM 5.1, LPCM 7.1, Dolby Digital, Dolby True HD, Dolby Digital Plus, DTS, DTS-HD Master Audio, DTS NeoX, Dolby Atmos, DTS:X
Audio Sample Rate: 32kHz, 44.1kHz, 48kHz, 88.2kHz, 96kHz, 176.4kHz, 192kHz
Audio Bit Depth: up to 24-bit
Stereo Injection/Audio In: 1 x Mini Stereo 3.5mm Jack (replaces HDMI In audio)
Stereo Breakout/Audio Out: 1 x L/R RCA Audio (Extraction audio only when 2ch audio present)
Analog Audio In: Yes
Analog Audio Out: Yes
SPDIF output: For future use
TX/RX Switching: via MoIP Controller
2-Way IR Routing: Yes, independent of video
RS-232 via IP or virtual routing, Modify IR via 2-way routing or IP, Add Standalone App embedded into controller
20-60 kHz
1 x 3.5mm Stereo (blue), 12V
1 x 3.5mm Stereo (green)
Supports single switch deployments: Yes
Supports multiple switch deployments: Yes (multiple gigabit uplink required)
On-screen Device Identification: Yes
Auto Device Discover: Yes
IR RCVR PWR OFF/ON
Serial/RS-232 DTE/DCE
RS-232 over IP
1 x RJ-45 (EIA-561)
N/A
Required Managed Switch: Layer 2 Managed w/ IGMP Snooping
Req. Port Throughput: 1Gbps
Max. Distance from Switch: 100m (328 ft)
Compatible Category Cable: CAT 5E/6/6A/7
150-300 Mbps (Avg) 850 Mbps (Max)
1 x RJ45 (T568B) LAN + PoE
1 frame (16ms - 60Hz, 33ms - 30Hz)
10/100/1000 Mbps
Assigned by controller
12VDC 2A (optional accessory)
7.5 Watts (Max)
20-90% RH (no condensation)
32-104°F
-4-140°F
w/o rack ears: 8.2" x 0.83" x 6.14"
1U
CE, FCC, RoHS
Sold As
Included Accessories
Video Features
Transmitter Video Resolution
Receiver Video Resolution
HDCP Compliance
HDMI Connections
Colorspace
Chroma Subsampling
Color Depth
Supported Audio Formats
Audio Features
Audio Inputs / Outputs
Control Features
IR Signal Frequency
IR Inputs
IR Outputs
System Configuration
DipSwitch 1 Controls
DipSwitch 2 Controls
RS232 Control Desc.
RS-232 Ports
CEC
Networking Features
Bit Rate
Ethernet Ports
Latency
Ethernet Pass Through 10/100Mbps
IP Address
Power Consumption
PoE Consumption
Operating Humidity
Operating Temperature
Storage Temperature
Dimensions (W x H x D)
Rack Spacing
Certifications
Support
Manuals and Guides
Sales Resources


Support Documents
Control Protocols and Drivers
2-Year Limited Warranty
This Binary™ product has a 2-year limited Warranty. This warranty includes parts and labor repairs on all components found to be defective in material or workmanship under normal conditions of use. This warranty will not apply to products that have been abused, modified or disassembled. Products to be repaired under this warranty must be returned to Snap One or a designated service center with prior notification and an assigned return authorization number (RA).
Keycap engravings
This feature is not currently optimized for mobile devices. We apologize for any inconvenience this may have caused. Please access Keycap engravings from a tablet or desktop computer.