Autonomic® eSeries Digital Amplifier | 50W x 8 Channels
AU-M-401E-A
Description
Specs
Support
Description
Description
The Mirage M-401e Multi-Room Digital Amplifier is a state-of-the-art, IP controllable, multi-room amplifier with some of the highest performance specifications in its class.
Autonomic eSeries Digital Amplifier | 50W x 8 Channels
The M-401e Multi-Room Digital Amplifier is a state-of-the-art, IP controllable, multi-room amplifier with some of the highest performance specifications in its class. Boasting 50 watts per channel into an 8-ohm load, the M-401e has the power to drive higher end architectural or floor-standing speakers. Its IP controllability makes it the perfect choice in a controlled environment, and coax and TOSLINK digital connectors on all inputs ensure clean and pure sonic performance in every room.
Use it as a stand-alone, IP controllable distribution amplifier, or pair it with a Mirage Media Server to create a complete whole home audio solution, the Mirage Audio System. The M-401e is a 4-zone, IP controllable amplifier, expandable to 96 zones, with extensive zone linking capabilities.
Firmware Updates
-
To ensure your product has the latest features and enhancements, please update to the latest firmware version prior to installation. Refer to the Firmware Update Guide for directions.
Important Note - Autonomic Amplifiers (models M-801e, M-401e, and M-120e) do not short speaker negative terminals. Use of any devices that use a common ground, including but not limited to, speaker level volume controls, speaker selectors and speaker level subwoofer connections are not supported for use with the M-801e, M-401e or M-120e. Use of any of these devices will result in damage to the amplifier and will void the amplifier's warranty.
---
---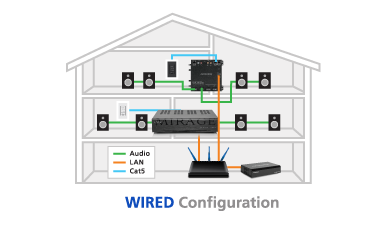 eAudioCast™
Built-in eAudioCast technology allows eSeries MMS network streams to be transmitted and received, then distributed across zones on each amplifier. Configure a complete, whole-home audio system that is entirely decentralized, residing solely on the network.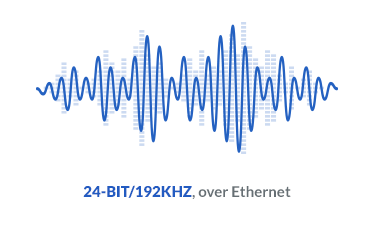 High-resolution Audio
All eSeries amplifiers support proprietary Autonomic eAudioCast™, enabling high-resolution audio (HRA), up to 24-bit/192kHz, over Ethernet. The M-401e supports either coax or TOSLINK digital audio on every source input, which allows source material to stay in the digital domain all the way to the final amplification stage, providing reference quality distribution of content all over the home.
Multi-Zone, Multi-Source Switching
The M-401e amplifier can route audio signals from any one of its 6 inputs (4x analog or 6x digital) into any one or more of its 4 amplified zone outputs under manual control or with IP or RS-232 automation control.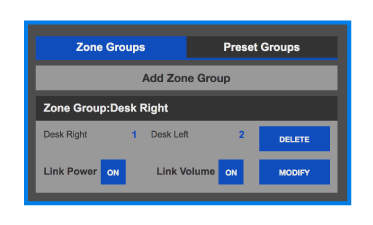 Zone Linking
A zone group can be created to link multiple zones. Zone linking ties the source selection together across the group. It can optionally coordinate volume and the power state of linked zones. This is useful for closely coupled audio areas where it is advantageous to separate volume levels, but the same audio source, or coordinate the same volume with separate power control.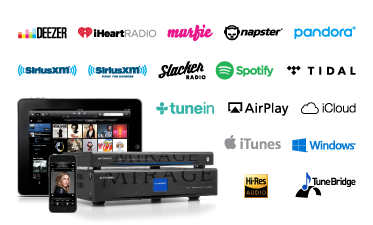 Whole Home Amplification
Mirage amplifiers integrate seamlessly with Mirage Media Servers/Streamers to create a harmonious and modern audio system featuring all of the most popular streaming music services and digital music files. The integrated system is controllable via iOS, Android, Windows, and Mac computers. The KP-6 in-wall controller is also available to complete the installation.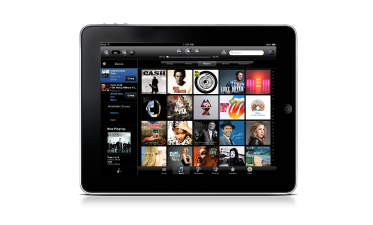 Flexible Control Options
When paired with a streamer, standalone control options include the TuneBridge app for iOS and Android devices, Airplay control, and the Autonomic web interface. Plus, pre-programmed control modules are available to integrate major control systems. Refer to the support tab for available drivers.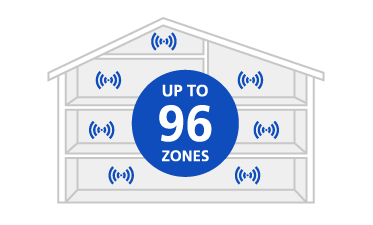 Scalable to 96 Zones
Working on a large project? It's no problem for Mirage amplifiers, which can be bridged (including control and source inputs) using any combination of M-401e and M-801e amplifiers all the way up to 96 zones.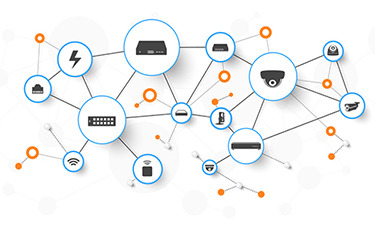 Part of the OvrC Ecosystem
View system uptime, amp temperature, online/offline and IP settings, and more with the help of OvrC, our signature cloud control platform. OvrC even allows you to remotely update firmware, reboot the device, and view vital amplifier information, so you can limit truck rolls.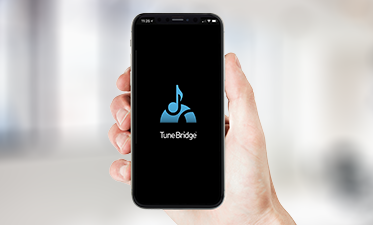 TuneBridge App
When paired with an Autonomic streamer, the TuneBridge app allows your customers to easily control their music system from their mobile device or tablet. Designed with a music-first approach, this app allows them to search songs across services, add favorites, create scenes, group rooms, and more. Available for iOS and Android devices. Learn More >>
Specs
Specifications
AU-M-401E
22KΩ
75W per channel
55W per channel
0.1% (50 Watt, 8 Ω load)
48 KHz sample rate: 10Hz - 22 KHz
96 KHz sample rate: 10Hz - 42 KHz
(2) 100Base-T, MAIN IN and Switch EXT OUT
17" x 4" x 15"
(6) Digital Coaxial RCA
(4) Analog (L/R) RCA
(2) TOSLINK
(6) 3.5mm Jack: IR1 - IR8 current limited to 25mA
650W
110–240V AC 50–60Hz
(1) USB mini-B female 5 pin
15.4 lb
2U
95dB (IHA-A, 0.75V input / unbalanced)
4Ω–8Ω
Analog Input Sensitivity: 0.75V RMS (Vol 100, Gain 0dB, 55W Output)
Digital Input Sensitivity: 0dBFS
(4) RJ45 sockets Keypad controller ports
(1) 4 pole 3.5 mm terminal block connector (Data,12V, IR,0V)
8-Channel
(4) zones, Expandable to 96 zones, attaching additional M-401e or M-401e amplifiers
Triggers/Presets: (1) 8 pole 3.5 mm terminal block connector; (Zone trigger 0V out, Zone trigger 1 - 8 12V out, Common, Preset 1 - 2 in)
±12dB, 100Hz (Bass)
±12dB, 10kHz (Treble)
Impedance Input
Power Output @ 4 ohm
Power Output @ 8 ohm
Total Harmonic Distortion (THD)
Frequency Response
Ethernet Ports
Dimensions (W x H x D)
Inputs
IR Outputs
Power Consumption
Line Voltage
USB Ports
Weight
Rack Spacing
Signal to Noise Ratio
Nominal Impedance
Sensitivity
Port Desc.
Channels
Zones
Tone Control
Support
Manuals and Guides


Support Documents

Control Protocols and Drivers
Third-Party Partner Warranty
Autonomic products carry a manufacturer's warranty from Autonomic. We want to make our Third-Party Partner program as easy as possible. That's why we can assist in processing all third-party product warranty claims directly.
Autonomic offers a 2-Year Limited Warranty on its products. This warranty includes parts and labor repairs on all components found to be defective in material or workmanship under normal conditions of use. This warranty shall not apply to products which have been abused, modified or disassembled. All implied warranties with respect to Products or parts sold by Supplier to Distributor, including but not limited to implied warranties of merchantability and fitness for a particular purpose, hereby are excluded, except to the extent that such disclaimers are held to be legally invalid. Products to be repaired under this warranty must be returned to Autonomic or a designated service center with prior notification and an assigned return authorization number (RA). End-users should contact an authorized dealer who can work with us to obtain RA number in order to submit any warranty claim.
Keycap engravings
This feature is not currently optimized for mobile devices. We apologize for any inconvenience this may have caused. Please access Keycap engravings from a tablet or desktop computer.