Visualint™ Virtual Officer Outdoor PTZ All-in-One Solution + Virtual Technician
VI-7000-VO-VT
Description
Description
When you want to monitor a busy construction site, a very remote location, or take a time-lapse video through a series of pre-programmed FTP JPEG snapshots – and can't install a traditional system – Virtual Officer is the perfect rapid deployment surveillance solution.
Visualint™ Virtual Officer Outdoor PTZ All-in-One Solution + Virtual Technician
When you want to monitor a busy construction site, a very remote location, or take a time-lapse video through a series of pre-programmed FTP JPEG snapshots – and can't install a traditional system – Virtual Officer is the perfect rapid deployment surveillance solution. Everything you need is inside the NEMA utility box. This all-in-one system includes a Visualint Micro NVR that supports up to 5 cameras, a 5-port Araknis switch, a WattBox, and a top-of-the-line Visualint PTZ camera. Set up to 16 different locations using intelligent video analytics, and get each product optimized by experts using our included Virtual Technician service. All you have to do is plug the network connection into the switch via hardwire or install a 4G router, get the box connected to power, and boom – you have an instant surveillance solution.
Important Notice - For safety reasons, Virtual Officer requires that a licensed electrician connect power to the system.





---
Key Features
It's All In The Box
Virtual Officer includes our most powerful 2MP PTZ camera with Super Starlight (VIM-7000), a Line Micro NVR (VI-L-MICRO), a 5-port Araknis switch (AN-110-SW-C-5) and a WattBox (WB-200-1WT) for easy power. Best of all, it's all powered by full Visualint video intelligence.

Super Starlight
Whereas traditional surveillance cameras quickly switch to black & white mode as the sun goes down, Visualint's Super Starlight color sensor records bright, vivid pictures all the way down to 0.01 lux. Because the sensor in this PTZ camera is larger than others, it can capture more light over time. This enables daylight-level image brightness and clarity well into the night, and provides light levels that are out of this world. View Videos
Embedded Intelligent Analytics
With up to sixteen different analytic presets, Visualint cameras continuously adapt to their surroundings. When properly configured, embedded intelligence tracks objects and makes automatic picture adjustments using seven main configurable rules, resulting in superior alert detection with 97% less false alarms.
Auto-Tracking
Most Visualint PTZ cameras automatically track a person or object which moves into its field of view, and follows it through that scene until the object is no longer visible. What's truly notable is that these PTZ cameras can also communicate with other Visualint cameras through our camera to camera communication. For example, if another camera detects someone walking into one specific area, it alerts the PTZ to spin from its "home" position and begin to track that person through the scene.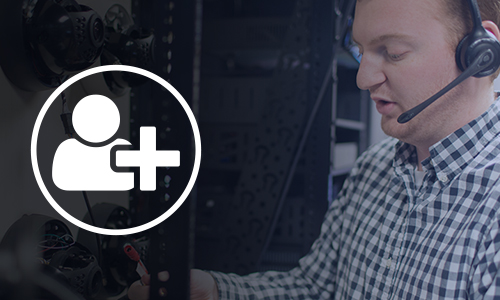 Virtual Technician & System Design
Let Virtual Technician do all the analytic legwork—all you have to do is physically install the equipment, and we'll take care of the rest. Visualint's premium setup service is completed in two phases. After the equipment gets installed, expert technicians will get camera-specific information to program and optimize picture quality, configure analytic capabilities, and set up system alerts or email notifications for your customers. See Details >>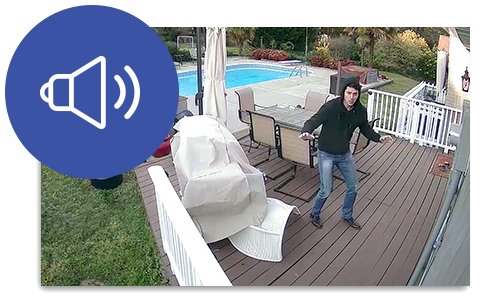 Enhanced Monitoring With Built-In 100dB Loudspeaker
When using third party monitoring systems, Virtual Officer's included PTZ features a built-in loudspeaker so that when an alert is triggered, a third party can make announcements, discourage suspicious activity, or report that the police have been contacted.
Lease A System
Worried about the cost of a temporary surveillance install? Make your money back by leasing Virtual Officer to general contractors for short-term rental periods. You'll be able to provide them an instant jobsite solution, and they'll be able to save on insurance because their construction site is monitored full time. And when the project is complete, move it to the next job. Everybody wins!
Connection Options
Virtual Officer only requires power and an internet connection to work. Connect to power at the site or use solar power with a battery backup, depending on your facilities. And get online through an existing hardline, or connect a 4G cellular modem inside the NEMA enclosure. You can customize each site to fit your needs.
Versatile Applications
Take advantage of quick-deploy video monitoring by installing Virtual Officer in many temporary applications. Put a pole on the side of a construction yard trailer to survey a jobsite, or install it on an oil rig or a cellular tower to deter vandalism and ensure loss prevention. Because all footage is recorded locally, it's all self-contained, and each product is ready to weather the elements with ease.
Included Spotlight
Virtual Officer also includes a built-in white light spotlight that's ideal for stopping events before they occur. When an intruder is spotted, the monitoring operator can turn on the spotlight, to let any surprise visitors know that they are being watched.
---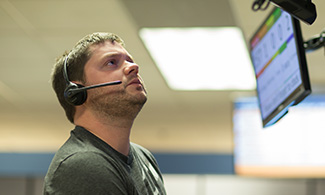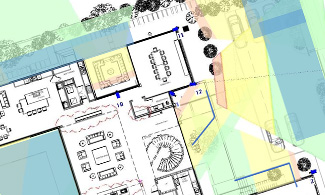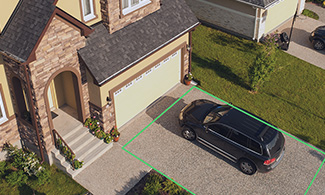 Have your Visualint system professionally designed and configured for each job.
Learn More
FAQs
FAQ
Features & Support
How do you fine tune the auto tracking on the Visualint PTZ camera?

In the configuration menu, Go to Scene Set under VCA. Set Arithmetic to "Intelligent tracking". Adjust the height settings with Set Speed Dome Height > Set meters (start at 2m). Note that this is unique per scene you create. Then click Save.

General

Is there a way to power the Virtual Officer if the site does not have power?

It is possible to power the Virtual Officer with a solar panel / battery solution. We recommend that you consider a

VorpEnergy product

.
2-Year Limited Warranty
This Visualint™ product has a 2-Year Limited Warranty. The warranty includes parts and labor repairs on all components found to be defective in material or workmanship under normal conditions of use. This warranty will not apply to products that have been abused, modified, disassembled, or improperly installed. Products to be repaired under this warranty must be returned to Snap One or a designated service center with prior notification and an assigned return authorization number (RA).
Keycap engravings
This feature is not currently optimized for mobile devices. We apologize for any inconvenience this may have caused. Please access Keycap engravings from a tablet or desktop computer.