---
Bring All Your Devices Together
OvrC Pro's dashboard allows you to view, access, or configure connected devices and settings in one convenient place.
Deliver VIP Service
Through proactive maintenance, you can treat every client like they're your best customer.
The Pro Dashboard
---
Test Speed & Performance
Track ISP performance or use the Hub to scan and ping all IP devices for common LAN connection issues like device wiring or connection status.
Configure & Monitor All Devices
Access the local UI from a secure portal, grab device information through a quick scan, or receive critical notifications from any connected IP product in real-time.
Quick Summary of Network Health
View the number of connected or disconnected network devices, as well as any firmware updates available for each job location, or get a holistic picture of overall network performance.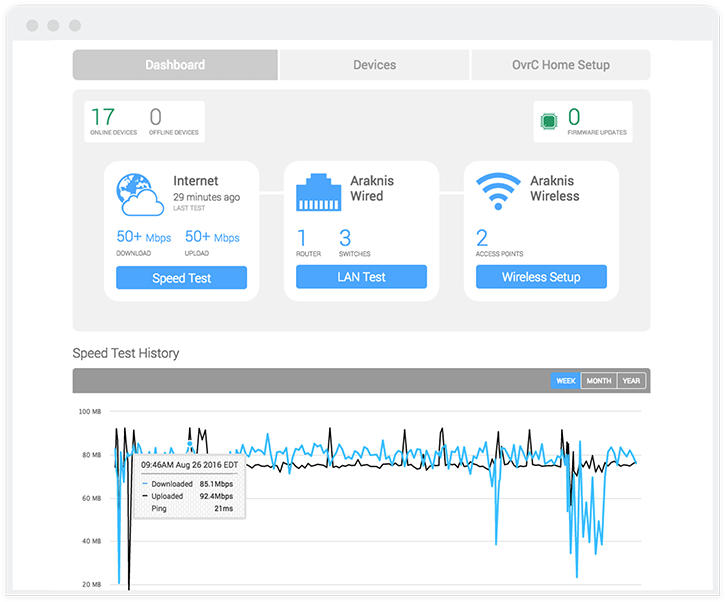 Monitor Control System Processors
Get added visibility to Control 4, Crestron, and URC processors through the OvrC Hub or control system drivers. We plan to offer more compatible control capabilities in the future.


Updates Available
OvrC regularly releases new mobile and desktop features. Check out our blog to learn more about the latest platform changes.
Get More Info
"What a game changer...we will be using this in EVERY INSTALL moving forward!"
- Blair W., MA
OvrC Pro gives you unparalleled visibility and control over connected devices.